From time to time, every home needs some changes that will transform it. These changes will also give you a chance to add some personal touch to your space and to make it cozier. But, before you start to look for ideas that will give new look to your home, you shouldn't forget one thing. Remodeling and renovations are expensive! Most people can't afford them or don't want to spend their savings on home decorating. But, don't give up just yet! There's no reason for you to spend a lot of money when you can decorate your home on a budget. With some simple and cheap tricks, you'll be able to make your home more elegant and unique.
Paint your walls
If you want to make some changes in your home, but also stay under the budget, repainting your walls is a must! Every apartment needs to have freshly painted walls! So, after you move to your NYC apartment with the help of a Manhattan moving company, start thinking about the color of your walls. We'll be honest with you – picking the right color for a room isn't an easy task. Decide whether you'll go with neutral or with bold colors. The choice is only yours, there are no wrong answers.
Create an accent wall
Picking bold colors for a room isn't everyone's first choice. But even if you decide to go with the neutrals, you can do it in an unconventional way. Paint all your walls in beige, white, or grey but create an accent wall, too. There are different ways of making an accent wall, and using different paint is only one of them. So, in order to create an accent wall, pick a bright and bold color and paint only one wall with it. You will be amazed when you see what difference one differently colored wall can make.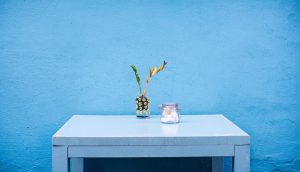 Brighten up space
When moving to the NYC apartment, there's a big chance you'll be moving into a smaller apartment than you've expected. In NYC the apartments are so small and this is something most people don't like about this great city. But, don't give up hope just yet! You can create an illusion of a bigger space by following these tips:
Improve the lighting – bring more natural light into your home because dark rooms look smaller. If there's not enough natural light, consider buying some cool lamps, but remember to stick to the plan to decorate your home on a budget.
Add mirrors – they will reflect the light and will also create an illusion of a bigger room just by hanging them on the wall.
Choose brighter colors – even though you like dark colors, you should stay with the lighter ones for painting a small room.
Declutter
Decluttering is the best example of how one free action can make big changes in your home. Usually, we start to get rid of our things when we prepare for the move. Having less stuff will lead to more affordable moving companies prices, right? Well, decluttering is something that all of us need to do every once in a while, not just before the move. This will give us more space in our home and we will have the chance to organize it better. Not to mention that less stuff will also make your room look bigger.
Rearrange the furniture
Another good way for you to decorate your home on a budget is to get rid of really old furniture and to rearrange the rest of it. Move your bulky items around the room and find the perfect placement.If you want to get rid of some belongings, keep in mind that there are many NYC organizations that will accept your donations. So find them. And one more tip! If you want to also make your home more zen, you should pay attention to the placement of your furniture. You should place it in a way that will allow the energy to flow freely through every room.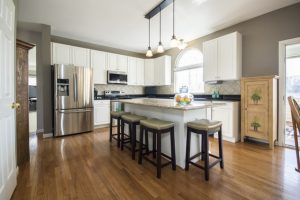 Decorate your home on a budget with style
One of the most important things when decorating your home is to know how to do it with style. You don't need a lot of money to create a fancy place. But, don't overdo it! Too many colors and accessories in one room can ruin your space. Instead of this, you should learn how to create a new and interesting space with some easy DIY cheats.
Add a splash of color
If you can't afford painting your walls, you can add a pop of color in a different way! Your boring beige room can become more interesting if you find a piece of furniture in a complementary color. Europeans know how to do this the right way, so find some time and learn more about European apartment decoration ideas.
Replace old pillows
You can add a pop of color with cool pillows, too. Get rid of your old ones, and find those that come in your favorite color. You'll need different textures, too. But remember the rule – don't overdo it!
Get indoor plants
Every space looks better with indoor plants. And guess what? There's no such thing as having too many plants! Just find the best place in your home where your plants will get enough sunlight. Don't forget to water them regularly.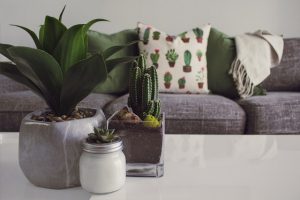 Create your own artwork
Creating your own signature artwork is a must when you want to decorate your home on a budget. Get creative and think about your DIY project. You can create wall art, or maybe a centerpiece for your table. You can even try to restore your old furniture and find a different use for it. This will be a great chance to express yourself and to decorate your home at the same time. With our tips and your creativity, we're sure you will create a one of a kind place for yourself and your family.