Keeping true to our status in the NYC moving & storage industry, your satisfaction is our primary goal throughout the entire moving process. We guarantee to move or store your items efficiently, professionally, and inexpensively.
Founded in 1979, Big Apple Moving & Storage soon became a frontrunner in the NYC moving, storage, and warehousing industry. Among the services we offer: Local moving, interstate moving and international moving. We employ an expertly trained staff, and offer a wide range of specialty services tailored to support your every moving need.
Our main goal at Big Apple is to maximize our customer satisfaction rate. No job is too small, and we value each of our customers equally. We pride ourselves on realizing and meeting the individual moving needs of each individual client, and for this purpose we provide the option for customized planning. By choosing Big Apple, you choose professional and efficient moving or storage services of the highest possible standards, adapted for your particular needs and preferences.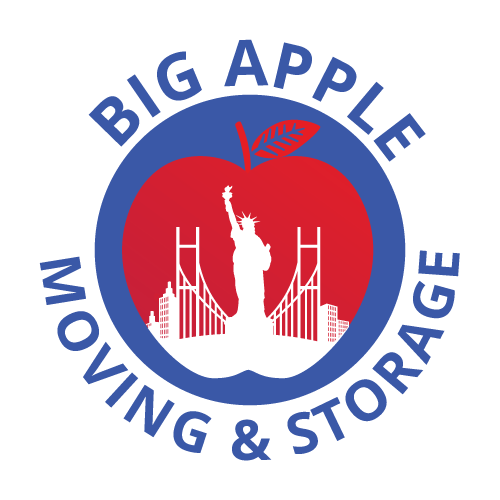 THE BIG APPLE DIFFERENCE
WHY CHOOSE US?
We have long been New York's preferred movers, and not for nothing. Our services, credentials, successes, and awards are only some of the things that have placed us a cut above the rest.
INDUSTRY LEADERS
Since it was founded in 1979, Big Apple Moving & Storage has successfully managed to become New York's favorite moving company, established with a particular goal in mind: to create a moving, storage, and warehousing company that wound always place its customers' needs first. Among the services we provide are residential moving services, commercial moving services, specialty services, and secure storage options – all at affordable prices and the highest professional standards, as evidenced by our high satisfaction rates and ever-expanding customer base.
FIRST-RATE CUSTOMER SERVICE
We pride ourselves on our reliable, trustworthy services, our courteous and helpful staff, our careful handling and managing of your belongings, our competitive rates, and our well-trained, experienced and hardworking moving professionals who employ a wide variety of moving methods and "trade secrets". We would be delighted for the opportunity to provide you with the high quality service we are famous for, and are confident in our ability to earn your repeat business for any future moving services you might require!
FULL CUSTOMER SATISFACTION GUARANTEED!
Since the foundation of Big Apple in 1979, we have amassed thousands of satisfied customers in and around New York City. We take great pride in the confidence that our customers continue to place in us, and will continue to provide quality, professional service to earn that trust. With us, your satisfaction is guaranteed!
COMMUNITY
BIG APPLE IN THE COMMUNITY
As a community based company, our mission statement includes the importance of giving back to the community. At Big Apple, we have always been firm believers in business being about more than just the profits. We are proud to contribute our infrastructure and resources for the benefit of several charitable organizations.
CREDENTIALS
LICENSES & ASSOCIATINS
We will happily present you with all of the credentials required for the operation of moving and storage companies.
NYS DOT #T9942
USDOT #382368
MC #205-240
Storage License 808817
CAREERS
HARD PAY FOR HIGH STANDARDS
We are constantly on the lookout for new moving, warehousing, and storage experts to join our team. The wide range of services we provide require us to have a motivated, diversely specialized staff. Whether you're just starting out or are already a highly experienced professional, we are certain that we have a suitable position just for you. Go ahead and take a look at our available jobs – we would love to have you join our team!
READ MORE