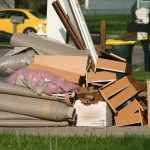 Has your recent move left you with unwanted junk or debris scattered around your home? In fact – do you happen to have junk laying around, for any reason, and lack the time to rid yourself of it? No worries – this is precisely why we offer a junk removal service, intended to save you the time and hassle of tidying up by yourself. Our junk removal services are perfect for your home or business, including retail locations, construction sites, offices, and many more. As far as we're concerned, our job doesn't end at simply collecting, transporting, and disposing of it – we will recycle any recyclables, and take great care in donating what we can to those less fortunate.
We are equipped to handle and clear out anything unwanted you might have lying around, from old furniture and broken appliances to tires and yard waste. Don't waste time and energy managing your junk – leave it to our experienced, courteous junk removal staff to handle it for you!
15-30 minutes before your scheduled 2-hour window, you will be contacted by our helpful, uniformed junk removal team. Once they've arrived, the only finger you'll need to lift is the one pointing them at the direction of the junk you want to get rid of – you don't even need to carry it out to the curb. We'll handle the loading, the cleanup, and hauling everything away, taking care to dispose of it properly. Contact us now to get your junk removed from wherever, whenever!