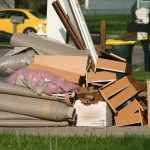 Has your recent move left you with unwanted junk or debris scattered around your home? In fact – do you happen to have junk laying around, for any reason, and lack the time to rid yourself of it? No worries – this is precisely why we offer a junk removal service, intended to save you the time and hassle of tidying up by yourself. Our junk removal services are perfect for your home or business, including retail locations, construction sites, offices, and many more. As far as we're concerned, our job doesn't end at simply collecting, transporting, and disposing of it – we will recycle any recyclables, and take great care in donating what we can to those less fortunate.
We are equipped to handle and clear out anything unwanted you might have lying around, from old furniture and broken appliances to tires and yard waste. Don't waste time and energy managing your junk – leave it to our experienced, courteous junk removal staff to handle it for you!
15-30 minutes before your scheduled 2-hour window, you will be contacted by our helpful, uniformed junk removal team. Once they've arrived, the only finger you'll need to lift is the one pointing them at the direction of the junk you want to get rid of – you don't even need to carry it out to the curb. We'll handle the loading, the cleanup, and hauling everything away, taking care to dispose of it properly. Contact us now to get your junk removed from wherever, whenever!

Hi, I was very happy with your service and extremely pleased that they stayed within the time framed quoted. Thanks again and I will recommend you to friends~ Best, Tracey Heyboer.
-Tracey Heyboer

The guys you sent me were awesome, I was extremely impressed by their work ethic and great attitude. If i know anyone who needs to move, I'm definitely going to recommend your company. Thanks again Miguel.
-Miguel Pires

Everyone who I dealt with was courteous and on top of things. The crew that came out was on time and friendly but professional. They went out of their way, especially in helping pack the storage unit at the destination -- while staying within the estimated time. Thanks again. I would use you again in the future, and if given the opportunity, give a positive reference.
-Stephen Parkert

Hello, Big Apple moving was very helpful and patient with all my questions and phone calls. I was somewhat nervous about the entire process, but Denise was very reassuring and always returned my calls promptly. I would highly recommend Big Apple moving & storage!!!. The entire crew was great from the moment they came to pack to the end result of deliverance. They were very professional, nice and fun!! They took all the stress and pressure off that can occur from moving. Great group of guys!!
-Barbara Salvatoriello
UNBEATABLE PRICES
UPFRONT PRICES - NO HIDDEN FEES
We believe that everyone should be able to enjoy the highest quality service at a price they can afford, no matter their financial constraints. Give us your requirements and we will work within your budget to find you the perfect solution, tailored to your specific needs. Call us now, and let us show you that excellent storehouse can be much less expensive than you've even imagined!
ONLINE QUOTE
SATISFACTION GUARANTEE
YOUR SATISFACTION IS GUARANTEED
When you choose to let Big Apple handle your moving or storage experience, you can rest assured that you will always receive the highest standard of service that you can expect from a renowned, trusted leader in the moving and storage business. Our goal, first and foremost, has always been 100% customer satisfaction. The staff in our moving company is skilled, experienced, and fully equipped to handle any project. Or advise you on any questions you might have. Moving services from our NYC packers and movers will never exhibit anything less than the utmost professionalism and courtesy, or your money back, guaranteed.
READ MORE