Moving New Yorkers Since 1979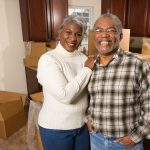 We offer a dedicated service designed to assist senior citizens in moving to their retirement location. This can be a delicate, sensitive position, and our movers are here to help you through it every step of the way, and even go above and beyond our service requirements in order to facilitate the move as smoothly as possible. We categorize these moves as a "Gentle Transition" move, meaning that our staff and movers are fully aware of the delicate nature of the move. Are movers are trained to offer you extra courtesy, and any extra help you might need.
We will work with you to meticulously plan every aspect of the transition, and we aim to make it as stress-free as possible for you. We will help plan the timetables of the move, and ensure that there is no need to worry you with any of the busy work. A supportive, informed moving supervisor will assigned to you in order to oversee the entire process, ensuring that your movers handle your items carefully and handle any aspect they can so that you don't have to. Our full service senior citizen moving operation is designed with the express goal of allowing you to sit back and relax while we handle absolutely everything.
We are also equipped to assist you with additional services such as professional packing, unpacking, and junk removal. We offer a professional home organizer who will handle everything from shelve installation to setting up your dishes. We take special care to guarantee that all of your personal belongings are safely and neatly packed and transported. Rid yourself of the pressure and enjoy the benefits of a professional and courteous team, committed to handle everything for you and provide you with a relaxed, stress free experience.