Get a Free Storage Quote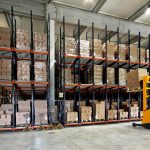 Whether you're looking to keep your items safe while you're finishing a move for a new home, or waiting for new permanent storage for your business – if you need your items stored temporarily, short-term storage is the perfect solution for you. Your belongings will be housed in a professional, top of the line storage facility for a limited period of time. There are several different ways to define short term storage, depending on who you ask – some place this label on any items stored for under one year, while others extend it to include any storage paid for on a monthly basis.
We have several short term storage options available, to match different possible requirements. The most basic option for storage is the mini self-storage – this is typically a concrete or metal storage space assigned to the customer, usually accessed by a rolling door, for purposes of easy access and as little hassle as possible. This solution is ideal of you simply need a temporary solution for anything you simply don't have room for, such as personal belongings or pieces of furniture, and is designed for items that can be moved when necessary with relative ease.
Call us now, and enjoy a short term storage solution that is affordable, convenient, and will provide you with a secure, state of the art storage facility for your items, while still allowing you to access them or move them with ease.
Make An Informed Choice
Choose Your Short Term Storage Wisely
When dealing with short-term storage solutions, it is easy to cut corners. Some companies try saving money at the cost of weak security, or old and unkempt facilities; others, by making it difficult or inconvenient to get to and from your unit. With us, that will never happen. Our state-of the art short-term storage are clean, secure, private, and designed to make your storage experience as convenient as possible.
Privacy
Your Privacy Comes First
Our facilities feature top notch security elements including security cameras, controlled access, alarm systems, and a manager who is always available on the premises.
Convenience
We Care About Your Convenience
We provide easy access every day of the week, and the facility permits direct access for cars or trucks, allowing you to drive right up to the sliding door of your storage unit without the inconvenience of steps or elevators.
Cleanliness
You will find no trash or junk on the premises, and the grounds and always well-kept, cleaned, and snow plowed when necessary.
Contact us now receive a short-term storage estimate, free of charge, or simply use the provided online calculator. We would be happy to advise you, and provide you with clean, convenient, and affordable short-term storage solutions to meet your requirements.

Hi, I was very happy with your service and extremely pleased that they stayed within the time framed quoted. Thanks again and I will recommend you to friends~ Best, Tracey Heyboer.
-Tracey Heyboer

The guys you sent me were awesome, I was extremely impressed by their work ethic and great attitude. If i know anyone who needs to move, I'm definitely going to recommend your company. Thanks again Miguel.
-Miguel Pires

Everyone who I dealt with was courteous and on top of things. The crew that came out was on time and friendly but professional. They went out of their way, especially in helping pack the storage unit at the destination -- while staying within the estimated time. Thanks again. I would use you again in the future, and if given the opportunity, give a positive reference.
-Stephen Parkert

Hello, Big Apple moving was very helpful and patient with all my questions and phone calls. I was somewhat nervous about the entire process, but Denise was very reassuring and always returned my calls promptly. I would highly recommend Big Apple moving & storage!!!. The entire crew was great from the moment they came to pack to the end result of deliverance. They were very professional, nice and fun!! They took all the stress and pressure off that can occur from moving. Great group of guys!!
-Barbara Salvatoriello
UNBEATABLE PRICES
UPFRONT PRICES - NO HIDDEN FEES
We believe that everyone should be able to enjoy the highest quality service at a price they can afford, no matter their financial constraints. Give us your requirements and we will work within your budget to find you the perfect solution, tailored to your specific needs. Call us now, and let us show you that excellent storehouse can be much less expensive than you've even imagined!
ONLINE QUOTE
SATISFACTION GUARANTEE
YOUR SATISFACTION IS GUARANTEED
When you choose to let Big Apple handle your moving or storage experience, you can rest assured that you will always receive the highest standard of service that you can expect from a renowned, trusted leader in the moving and storage business. Our goal, first and foremost, has always been 100% customer satisfaction. The staff in our moving company is skilled, experienced, and fully equipped to handle any project. Or advise you on any questions you might have. Moving services from our NYC packers and movers will never exhibit anything less than the utmost professionalism and courtesy, or your money back, guaranteed.
READ MORE