Oh, the spring is coming and all the wonderful things with it! Sunny days and beautiful colors of nature will make you fall in love with this season. But, we have to admit, when it comes to spring, there is one thing that irritates us all – spring household cleaning! It's time to refresh your home! Good and detailed cleaning will create a clean, healthy and pleasant atmosphere in your environment. Indeed, there are many things to do, starting with cleaning dust, washing carpets, and reorganizing closets. If you are one of those to whom spring cleaning is a headache, then you'll find this article very useful. Let's look at some interesting household spring cleaning tips that can ease your work!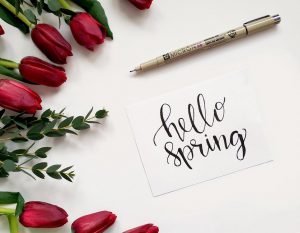 Reorganizing closet
When we think about household spring cleaning, this is the first thing we have to do. When you start reorganizing your closet, you need to take care of winter clothes first. Try to reorganize your closet by replacing clothes for the winter with those for the spring/summer. That is the first step. But before arranging clothes. Wipe the dust off the shelves and put lavender bags in the corners of the closet to protect clothes from moths and other insects. Also, there are certain clothes that are old and take up space in your closet that you may need. Try to get rid of the clothes that you don't usually wear or and you'll have more space. While arranging t-shirts and jeans. You can organize them by color so you won't have to search for a certain shirt in the morning while preparing for the job.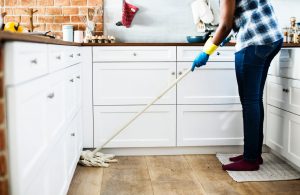 Wet-clean wooden floors 
Cleaning the floors is something we do at least twice a week. But we have to be careful. Some types of wood are not sufficiently resistant to moisture. Instead of cleaning them every week, you can wet-clean them thoroughly during spring cleaning time. If you have to clean floors more often, use hardwood cleaner sprays suitable for the type of flooring that you have. Another important thing, choose the right broom and mops because you don't want to scratch the floor. If you have to clean outside pick much stronger and stiffer bristles. If you clean inside your apartment buy one with finer bristles. While moving furniture in the room, make sure you move couches and chairs easily. You can put towels or cloths under furniture in order not to scratch the floors.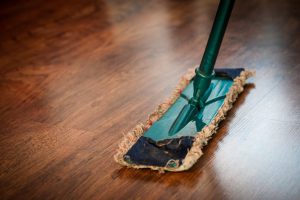 Household spring cleaning starts with cleaning windows
Clearing all the windows in the house is one of the most difficult parts of spring cleaning, especially if you live in the house. It's important to wipe down the inside, but you need to pay more attention to the outside of the glass windows. You must have your favorite glass cleaner, but did you know which days are the best for cleaning? Sunny days? No, you're wrong. It's the best to wash windows on a cloudy day so the sun will not dry the cleanser before you finish wiping. If you want to save some money you can make your own DIY cleanser. Put 2 cups of water, 2 spoons of liquid soap and ¼ cup of white vinegar into a spray bottle. Then simply spray onto the glass and clean it. This is one of the best household spring cleaning pro tips.
Take care of carpets/rugs
Admit that you used to hate to vacuum carpets, let alone wash them. If you don't have enough budget to pay for dry cleaning and washing, don't worry. You can always ask your friends and family to help you with it.
We suggest you wash carpets/rugs several times a year, and to vacuum them at least twice a week, because of health reasons. Before washing a rug, make sure you vacuum it on front and back to remove dirt and dust. If you have pets, you should brush the rug to remove pet hair. Also, you can save money by making your own rug cleaner by simply mixing liquid soap with warm water. Be sure to use a transparent liquid soap to prevent accidentally painting the material. If you have a house you can leave it in your garden to dry, in other cases, you can use a wet/dry vacuum.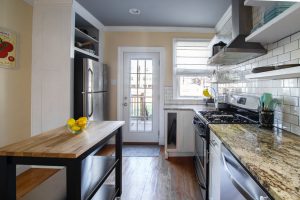 Clean the grill
The spring brings with it sunny and warm days. And this includes more socializing with friends and family in nature. If you have a garden, it is likely that you have some kind of grill. This household spring cleaning tip can help you with cleaning the grill.
You certainly did not use the grill during the winter, and if you did, it's time to wash it thoroughly now. In addition to dust and dirt. It can happen that the grids are rusting. You must have thought to take a sponge and liquid soap and scrub the grill. But we have a better idea. Did you know that you can clean your grill with an onion? Instead of scrubbing the surface and damage your hands. Heat up the grill. Then use some white vinegar and spray it onto the grates. After that, cut the half an onion. Scrub it easily and the acid from onion will make your grill shine.
If you live in a big city, such as New York, maybe you do not have much space in the apartment where you could keep the grill. If you have already invested in a good grill, and you want to be safe, while not spending a lot of money, search where to find cheap storage NYC. You will not spend a lot of money, your grill will be safe, and you will get more space in your apartment.
Throw away things you don't need
You have certainly received many presents during the winter holidays. Many unnecessary things, glasses, clothes, blankets, old New Year decorations flooded your home. You surely don't need all that stuff, so get rid of it! Everything you do not need, pack in the boxes and throw away. If some things can be recycled, then do it. You can also give some new things to others. If you want to give something special to your friend but you don't know how to pack it because it's delicate and fragile, ask professional packing NYC to help you with it!
Now that you've cleaned up the entire house and got rid of unnecessary things, you can fully enjoy it in the spring. We hope you found these household spring cleaning tips useful and interesting!