Having a pool table in your home is great until you have to move. Moving a pool table – that's not so great. Luckily, you don't have to do it alone. That's what Big Apple Movers NYC are here for! We will disassemble, pack, transport and reassemble your pool table for you. You won't even have to break a swear! And with unbeatable prices, reliable service, and polite professionalism, we guarantee that we are the best pool table movers in Brooklyn. Give us a call and find out why New Yorkers have trusted us with their pool tables for years!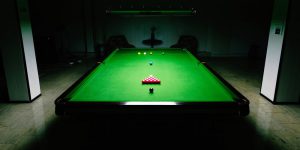 Not everyone can move a pool table – here's why!
If you've ever tried to move a pool table yourself, you'll know how heavy they are. This is largely due to the most important component of the pool table – the slates. Slates are large slabs of bluish-grey rock inside the table. They are the main reason why the surface of the table stays level and flat. So if you plan on using the table again after moving it, it's absolutely crucial that the slates stay intact! Any damage, even just a crack or a scratch, is enough to render a slate useless. And it'll come as no surprise that the slates are also the most expensive part to replace.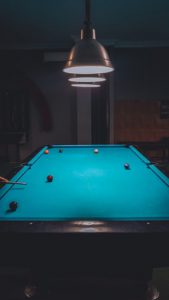 So how much exactly do pool tables weigh? That depends on the size and construction of the table! Some tables are made with a single slate which can weigh as much as 800-1,000 lbs. Most, however, are made with three slates each of which weighs between 150 and 250 lbs. A fully assembled pool table can, therefore, weigh anywhere between 500 and 1,200 lbs. Moving a fully assembled pool table, as you can imagine, is not a good idea. But disassembling a pool table is not easy either. It requires steady hands, a lot of strength, and above all, knowledge about pool tables. So you can't leave your pool table in the hands of just anybody!
Pool table movers will make your pool table relocation faster, easier and safer
Pool table movers specialize in disassembling, relocating and reassembling all kinds of pool tables. No matter what type of pool table you own, they will know how to take it apart, pack and transport it, and put it back together safely. They'll use special tools to remove and pack each component, delivering it back to you without so much as a scratch. You won't have to waste your time learning how to properly disassemble a pool table or do any of the heavy lifting. Instead, a team of trained professionals will take care of everything from start to finish!
Give your pool table the treatment it deserves with Big Apple Movers NYC
Not all pool table movers NYC are the same. And for your pool table, you only want the best. That's where Big Apple Movers NYC comes in! We will treat your pool table with the utmost care. Whether it's an antique passed down as family heirloom through generations or just your new favorite way to pass the time, your pool table will be safe in our hands! Let us take care of your pool table relocation and become one of the thousands of happy customers who've trusted us to make their move easier.
We are a licensed and insured moving company with an excellent reputation
Big Apple Movers NYC keeps no secrets from you because we have nothing to hide. For almost four decades, we have operated in the industry as a licensed and insured moving company with exacting standards. So feel free check us out on FMCSA, BBB, and social media. We welcome all inquiries about our company and how we operate and will be happy to answer any questions you may have!
We are here for all moving needs and budgets
Experience has taught us that each move is different and that there is no one-size-fits-all solution when it comes to relocation. That's why we offer a wide variety of services which you can tailor to your needs:
our moving services include both commercial and residential relocation to any distance even on short notice
you can use our storage services to keep your possessions safe for any amount time
we can help you with packing and unpacking using only packing materials of the highest quality
our specialty services don't end with pool table moving; we also move antiques, fine art, and pianos
All of this and more can help improve your moving experience regardless of your budget because we believe in providing only the best services at only the best prices!
Our specialized pool table movers are experienced experts
In order to always provide the best moving services, we only hire moving experts with plenty of experience who go through a rigorous vetting and training process. You will only ever deal with utter professionals who know exactly what they're doing if you hire Big Apple Moving NYC! So you can rest assured that our pool table movers are specialists in their area. With knowledge and experience on their side, they are sure to move your pool table without any problems.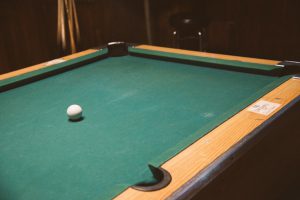 Your satisfaction is our goal
Your relocation is all about you and your needs and we strive to satisfy those needs every step of the way. From planning to packing to transportation to unpacking, we will be there from your start to finish! It is our goal to make your relocation easier, safer and more stress-free. Seeing you satisfied with our services is a price in itself for us!
The best pool table movers in Brooklyn at your service!
Why don't you get in touch with our pool table movers and let us know how we can help? We promise that if you have a pool table that needs moving, we are the right people for the job! And we would love the opportunity to prove to you why Big Apple Movers NYC is the best choice for pool table moving in all of New York City and beyond.