Moving New Yorkers Since 1979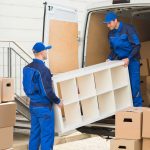 Our years of experience have taught us that moving your furniture requires extra caution and dedicated methods – there is a reason we label 'Furniture Moving' in its own special category. What makes our furniture moving services a cut above the rest it that we will individually plan it, every single time. Our moving experts have devised specific furniture moving techniques that have proved effective in moving your furniture.
Though it is often overlooked, the safety and security of your furniture is a crucial aspects of moving them. At Big Apple, we are committed to keeping your furniture safe from any harm during packing and transport. You will be provided with a moving supervisor, whose sole job is to oversee the move and make sure that your furniture is handled properly.
We will go above and beyond to protect your furniture from any sort of damage, including weather damage. Our staff is required to work cleanly to avoid leaving any marks or smudges on your couches, rugs, or chairs. Anything fragile, such as glass furniture will be treated extra carefully and wrapped with bubble wrap and moving blankets, and positioned safely inside the truck. Our movers are trained to think several steps ahead, and plan everything to the letter to ensure that nothing potentially harmful to the furniture will occur.
Our aim, in any sort of move, is to make things easier for you. With Big Apple, you can sit back, relax, and trust our expert movers to handle your with the utmost care. They will arrive at their destination safely, and unharmed, every time.