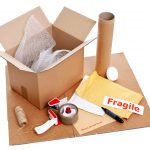 Reckless or unprofessional packing posits a real risk to your valuable belongings. Don't take chances when it comes to the wellbeing of your items – take the proper steps to protect your belongings from damage during transit. Packing is one of the most crucial elements of any successful relocation, and an unfortunately tedious one. Whether you plan on pack by yourself or employ our efficient, professional packing services, it is worth going the extra mile the guarantee the safe arrival of your goods.
If you do decide to handle the packing on your own, keep in mind that you are taking on the responsibility for damage to your items. Considering that, you may prefer to leave the packing of your most delicate valuable items in the hands of the professionals, or choose to rid yourself of the stress entirely and take advantage of our full-service packing crew.
Our trained and certified packing team are experienced, quick, familiar with every aspect of proper packing, and committed to take any necessary step to protect your belongings from potential damage by using high-quality materials and tried-and-tested packing techniques.
Free Quote