Moving is one of the most difficult tasks a person has to do. It involves a lot of time, usually a lot of money, energy, and stress. In addition to this, relocation is always emotionally hard, no matter what are the reasons. But, there is one thing that is even harder and that is moving with children. Moving with children to  New York City is hard enough as it is. But the emotional complications may just be too much to bear. Just like you need to know how to pack for an NYC move and how to reduce moving costs, you also need to know how to deal with your children during a relocation. It is no secret that is going to be hard (which is why we recommend hiring professional Big Apple movers) but in the end, it will all be worth it.
Let your children have a proper goodbye
One of the hardest things about relocation is leaving everything behind. It doesn't matter if you are leaving because you got an awesome job, or something much harder. You still need to say goodbye to everything. This is also difficult for adults, but they can rationalize it see the big picture. Kids, especially if they are small can't. If they are teenagers it will also be pretty difficult to talk some sense into them. That is why it is much better, before you move your family, to let them have a proper goodbye.
One of the easiest ways to handle this is to throw a farewell party. Moving with children to New York City will be handled much better if you give them space to do this. This way you are, in a way, celebrating your departure, and all of your friends, family, and colleagues can be there. Your children will enjoy this. It will also give them a sense of closure and a chance to get some parting gifts that they can take with them. This is the best way to handle NYC relocation of entire families. 
NY moving with children will be successful only if you take care of their emotional needs
When creating the to do list for your relocation to NYC with children, right next to finding cheap NYC moving company and finding good NY  self-storage space, you should put – talking with your kids. Moving with children is difficult mostly because the children don't understand and don't support the decision. Although having this kind of talks is unpleasant and emotionally draining, it still needs to be done. And, sorry to disappoint you, but it will have to be done more than once.
If you are moving because of some traumatic event, such as loss of a spouse or divorce, the stress might be too much for kids to handle. In some cases, consulting child experts might be beneficial. Uprooting your entire family will be good in the long run, but right now, it will probably cause you a lot of problems. If you don't handle them right away, they might end up causing some serious damage.
Get to know your neighbors after moving with children to New York City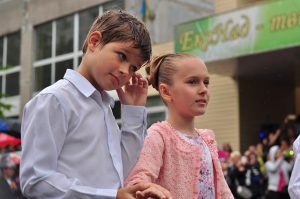 Accommodation to a new place is difficult to everyone. You don't know anyone, nobody knows you, and they are not even trying. But, that is the reality of the relocation – you will get a new job, and your kids a new school. Your neighbors, local markets, everything will be different. So, what is the best way to handle this! Well, just jump in the water!
Moving with children to New York City will be much easier once that places stops being unfamiliar. Everyone is afraid of what they don't know. So, get to know everyone and everything! Bake cookies for your new neighbors. Participate in school projects. Remember people's names and ask them how their day went. Throw a house warming party and let new people inside your home, life, and daily routines. Ask your neighbor to help you find the best local gym. Maybe not everyone will be friendly but soon you will know who you can stay friends with. That is how a new life begins, for you and your children.
Keep your kids busy after NYC relocation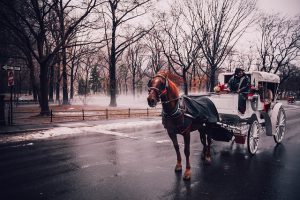 One of the best things about your relocation is that you are moving to New York. What could be better than living with your family in the Big Apple? There are so many things to do! Kids are resilient and deal with change better than adults. Wait until the initial shock has passed and let them come to you. Once you see that they are ready to accept the new living situation, give them every chance possible to fall in love with New York.
You can start with something simple, such as Central Park, Zoo, and the Ice Skate ring. When you are out of options, start exploring some more. There are plenty of outdoor activities for kids in New York, you just need to find something your kids are going to love. Let them choose what they will like, and dedicate them plenty of time. This way their relocation isn't going to cause them any trauma or unresolved issues. Instead, they will associate the move with spending more time with their parents, exploring and having fun. Moving with children to New York City might be the best decision you ever made!
One thing every parent needs to have in mind when relocating with their children is that they are doing what is best for them. It is easy to let that slip and focus on the negative and troubling sides of moving. Moving with children to New York City is a decision that will benefit all of you, as a family. So, during your relocation, when things get hard, have this in mind, and it will be much easier for you to get to the other side. The benefits of relocation are huge, for both adults and kids. Have your eyes on the prize, be patient and slowly but surely, everything will resolve itself. If not, we are always happy to help!