Your home is your sanctuary. That is why you always want to improve it and make it fit your needs and desires. You want to do anything you can to make it more zen and relaxing. However, renovations can cost thousands of dollars and take up a lot of your time and effort. Making your home better while staying on a budget is not always an easy task. On the other hand, there are simple yet cheap ways in which you can spruce up your home. We have gathered the best home improvement ideas under $100 that are sure to make you happy. Read on to find out the little ways to improve your home, which can make a big difference.
You can paint your front door under $100
If you want to make a good first impression on anyone who comes to your home, your front door is the place to start. The first step is to find a paint that is good for exterior painting, such as acrylic latex paint. This type of paint is relatively cheap, a gallon ranging from $15 to $30. Make sure that your door is clean before you start to paint it. When it comes to home improvement ideas under $100, painting your door is probably the easiest. It will only take you a couple of hours but it will make a big impact. When you choose the color, think about what feelings you want to evoke. To feel more energized, choose a bright color. On the other hand, muted tones will make you more relaxed.
If you live in New York and are looking to relocate, you should find a moving company that offers moving services Brooklyn. It's important to find a reliable local company to help you with your transfer.
Home improvement ideas under $100 – change up your lights
While light fixtures can sure cost you a pretty penny, you can get creative! There are many DIY home renovation projects that you can use to spruce up the lighting in your home, or outside of it. For example, you can use old Christmas lights in your backyard or even your bedroom to create a warmer atmosphere. Additionally, you can use things you already have around the house to cover your naked bulbs. You can use old wine bottles or mason jars, globes, or even colanders. This will make for a unique light fixture that comes easy and cheap.
Plant a garden wall in your backyard
We all have neighbors that we wish to escape at times. If you have a backyard and know all of the perks that come with it, it's your lucky day. There is a cheap and eco-friendly way to have some privacy from your neighbors when you are enjoying your backyard. Evergreen plants and bamboo are fast-growing and an excellent way to decorate your yard. If you choose to plant evergreens, you can place them in pots and handle them more easily. You can also move them when you need to. On the other hand, bamboo is harder to manage but will ensure that your oasis is safe from prying eyes. Moreover, bamboo is among the top home improvement ideas under $100 because it is inexpensive as well as the fastest growing plant in the world.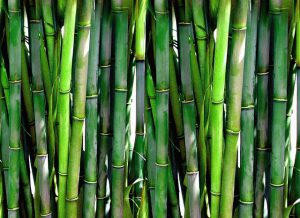 If your neighbors are getting too unfriendly, you should consider relocating. You can find cheap movers Brooklyn and avoid dealing with pesky neighbors.
Home improvement ideas under $100 – upgrade your stairs
Unlike other home improvement ideas, this one requires some grunt work. However, it is as inexpensive as the ones before. While it is not so simple, it can really change your entire home as well as your outlook on it. If you have carpeted stairs, the first thing you'll want to do is to remove the carpet and the staples. Next, you need to sand your staircase so there are no sharp edges. Finally, stain and paint the stairs into a color you like. You will feel like your home is cleaner and more modern after this improvement.
Organize your closet
While more elaborate closet organizers can be pricey, you can make your own without breaking a buck. You can buy cheap wire shelving at any DIY store. These shelves are great for shoes or other accessories that are cluttering your closet. On the other hand, you can opt for wood shelving, which is a bit more expensive but also more high quality. Moreover, you can buy basic closet organizer kits for under $80 and then add your own drawers or shelves.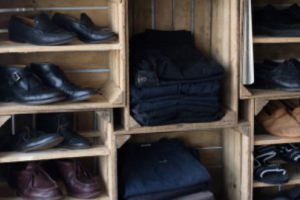 Home improvement ideas under $100 – replace your showerhead
Over time, the showerhead in your bathroom can lose the pressure it once had. If there is calcium build-up inside the showerhead, you can try cleaning it with heavy-duty bathroom cleaner. On the other hand, you can replace it with a newer model. Most high-quality shower heads are not more than $90. Additionally, they have much better pressure than older models, and they save water as well, so you will end up saving money.
Put in a ceiling fan in your bedroom
While this may seem simple enough, it is sure to improve your daily quality of life. Moreover, if you already have a light fixture on the ceiling in your bedroom, all the easier to install a fan. Ceiling fans rarely go over $100, and you can put them in yourself. If you live in an especially hot or humid climate, the ceiling fan will become your favorite home improvement.
Home improvement ideas under $100 – add light dimmers and timers
Do you often forget to turn off the light when you leave a room or even the house? When you install light timers and dimmers, you won't have to worry about this problem anymore. First, dimmers will create a different atmosphere in any room. What's better than some mood lighting? And second, it will save energy and ultimately save you money. Both timers and dimmers are great home improvement ideas under $100 because you will end up saving more money than you spent to install them. However you choose to improve your home, make it something that brings you joy. Consider whether this is something you would want to look at or use every day.