There are a lot of things to do from the moment you decide to move, to the moment you finally settle in your new home. In order to avoid missing doing something important, we suggest you make checklists and follow them vigorously. Moving from one place to another requires you to plan and organize everything well in advance. So, when the moving day comes, you could have it a little easier. Keeping your home clean during relocation is one of the things that will help you save time and energy later. That is why you should find the best ways to do it. Since you will be having a lot of work after the local movers NYC leave your home, see what you can do in advance. And don't worry, good moving companies employ workers who are tidy and will not make more mess than it's necessary.
What should you do for keeping your home clean during relocation?
First things first. As you probably already know it, before you even start packing for the move, you should try to get rid of as much stuff as possible. Some of them you will sell, others you can regift. Everything else that isn't in good condition, should go to trash. And while you are purging, make sure to clean after yourself. We are telling you this so you could know that keeping your home clean during relocation actually starts well before the moving day.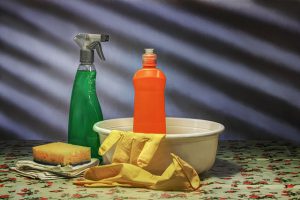 So, what you should do is clean stuff at the moment you are deciding what to do with them – selling or regifting. Unless you are throwing them away, of course. Then you can skip the cleaning part, obviously. That goes for the stuff that you plan to put in the storage NYC as well. You don't want to pile up unclean items there. Also, don't forget to clean the space you are taking that stuff from. That will make it a lot easier when you transfer them to your new home, and they are not as dirty and dusty as they could be.
Don't make more mess than it's necessary
In order to avoid the unnecessary mess, you should avoid multitasking. This is an activity where that isn't welcome. You should pack one room at a time, and move to the next one after you finish the previous one. A smart thing to do is hire professional packing services, because they have more experience than you, for sure. That means they will finish the job much faster and they will certainly clean after themselves. Which will make your life a lot easier.
Also, if you have the opportunity to choose how you pack your stuff, try to avoid the materials that make a lot of mess. Sometimes that is not possible, however. For example, if you are packing fragile glass vase or china, you will probably use foam packing peanuts to keep them safe. Of course, you shouldn't trade off the safety of your belongings for keeping your home clean during relocation. You can always clean afterward, but sometimes you can't repair the broken things.
The kitchen is a big item on your checklist
This is probably the room that needs the most cleaning. Whether you are moving out or moving in. Unless you are moving into a brand new home, then it will already be clean. However, you still have a lot of things to do at your old address for keeping your home clean during relocation. You already know that your appliances should be turned off before moving services Brooklyn arrive at your place on moving day. But, while you are turning them off the day before, make sure to clean them as well.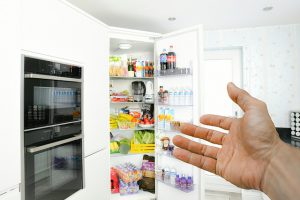 Firstly, because you will not have enough time on a moving day to do that. Secondly, because you will have more important things to do when you arrive at your new place. So you shouldn't leave the cleaning for that time. Also, you don't want to bring a smelly fridge and oily stove into a clean new kitchen, do you?
That is why you should throw everything out from your fridge and freezer and clean them thoroughly. And don't spare your energy, it's not like you will be doing this again any time soon, right? The same goes for other appliances and dishes. And while you are there, make sure to clean out your pantry. Throw out all the stuff that is out of date or close to empty. Don't stop with the kitchen, but move along to your bathroom as well. It's time for new beginnings at your new home, and a big shopping, of course.
Floors are endangered!
When your home is full of people going in and out, carrying heavy items, your floors are in danger. In both the old and the new place. So, in order to keep them safe, you should do the necessary preparations. And cleaning the floors, of course. Especially if the weather conditions are not in your favor. Since you can't expect moving company workers to take their shoes off because it's raining or snowing outside.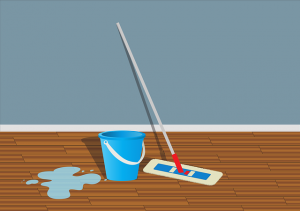 So, try to acquire as much stuff as possible to protect your floors. You can use:
old rags and carpets,
ripped blankets and bedsheets,
open and ripped cardboard boxes.
Place them all strategically over the walkways, so people could step on them and not directly at your floors. Also, if it's snowing outside, make sure to obtain the salt and put it on the ground. That way, you will avoid people taking in the snow in your old and new home. And, of course, for keeping your home clean during relocation you need to have your broom and mop with you at all times. When you see a big mess, it's best to pick it up immediately, to avoid stretching all over your home. And, don't worry, if you did the cleaning of your stuff before relocation, you will have a lot less work to do when workers abandon your home.