You've just moved to your new home, settled down and now you want to do some changes. Or maybe you've lived there for a quite a while, and you need to change something asap. The problem is, you can't spend hundreds of dollars on a new sofa or a fancy rug. Don't worry. Changes are possible to make even if you are on a budget. With a bit of creativity and some of our ideas, you will be ready to start some of the weekend projects and spend no more than 50 dollars!
How to find inspiration?
Ideas are everywhere. Of course, we will list some of our favorites below, but you can also find some of your own. It depends on what kind of space do you want to change or decorate. You can get some information from the movers NYC when they deliver your things. Usually, these guys have a lot of experience in using space effectively. Furthermore, we live in the age of social networks like Instagram and Pinterest, where you can follow users' profiles dedicated just to the DIY projects and home decor. You just need to type what are you interested in – kitchen decor, baby room decor, etc. Furthermore, if you like visiting cafes, there you can find a lot of inspirations. Cafe owners are sometimes doing their best to decorate or change something and not to spend a lot of money.
Living room weekend projects
The living room may be the space you spend the most of your time in, so making some changes there seems the most attractive. Here are some things you can do:
Hang some shelves! This is the universal tip, you can do it basically anywhere. So-called "floating shelves" are the perfect piece that you can arrange and move however you want. They can be used for different wall art arrangements, you can put some picture frames, books or figures on them. You can also install them very easily – using some wall anchors. You can also use some spray paint to color them in a bright yellow, for example. This way you will add that pop of color and brighten up the room.

Floating shelves always add that extra touch

 Add some light! We often don't think about the light as a huge factor, but it can really make a difference to your living room. A basic, dull light in a room can also affect your mood and creativity. So instead of having just one light source, use that old lamp you have and change its shade for a new one. You can also paint it, draw on it and make it more interesting. Check out some of the more interesting lamp shades DIY projects that basically cost nothing.
Upgrade your curtain rods! After you hang them for the first time, you probably never pay attention to them anymore. But curtain rods can really make a difference. Go to the local home improvement store, pick up some spray paint and some curtain rod decor, like interesting caps, and improve your living room. White rods seem clean and nice, while dark ones are elegant. So take a look at your furniture and combine the colors.
Kitchen Weekend projects under 50$
If you like spending time in the kitchen and having meals with your family there, you will get bored with the current situation easily. Having a nice and organized kitchen is the first step to inspiration and creativity in cooking. So here are the things you can easily do over the weekend and improve the looks of your beloved kitchen: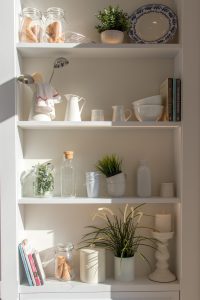 Remove cabinet doors – the trend of having an "open kitchen" has been present for a while. Instead of having closed, bulky cabinets, it has become popular to have open shelves to store your dishes and cups. You don't have to spend a lot of money and buy a whole new kitchen. Instead, you can use your weekend to remove your cabinets (or some of them) and arrange the shelves in some interesting way.
Color your kitchen cabinets – if you don't like having open cabinets and shelves there are some other things you can do. Using a bright color paint you can completely change the look of your kitchen, without having to spend a lot. You can use a sunny weekend to do this. Remove the cabinet doors, and paint them outside. This way you will avoid the paint smell and they will dry faster.
Change the kitchen cabinet hardware – one of the simple weekend projects under 50$ can be changing the knobs and handles on your cabinet doors. This also can be done on your bedroom drawers for example. Find the ones that you like the most, and you can change the look of your kitchen completely – from old style to modern for example. Check out your local home improvement store or see some ideas online for different cabinet hardware.
Bedroom improvements
Feeling good when you go to sleep and wake up in the morning is a must. That's why you can do some little, inexpensive weekend projects and improve your bedroom a bit.
Organize – empty your closets and organize your clothes by color or season. Use some colorful boxes for socks, ties, and other small things.
Wallpaper – a piece of wallpaper for one wall is not expensive, but can make a huge difference in your bedroom's look. You can stick it to your wall by yourself using a wallpaper glue and save some money.

Colorful wallpapers on one wall can change the room completely

A charging station – use an old jewelry box, for example, and drill some holes for cables. Make a charging station for your gadgets that will hide cables and look nice on your nightstand.
After the process of moving, finding good and reliable movers, getting a good NYC moving quote, packing, etc you need some time to rest. After that, you can check these fun and easy weekend projects that will cost you less than 50$ and will improve your home decor a lot. Inspire and get to work! And after some time, if you save some money and decide to move, you know that you can always contact moving and storage NYC to help you!