Tired of your plain, white ceiling? You're ready to make some changes in your home? Well, start from the top and remodel your ceiling! You won't believe how some minor modification can transform the appearance of your home. Here are some tips that will transform your ceilings into the centerpieces of your rooms.
Repair damages to your ceiling

Properly inspecting the property in New York before renting it is very important. Once you sign the lease, all the damages that you didn't acknowledge and ask your landlord about, are your responsibility. The same goes when buying a property. A good inspection is very important and can save you a lot of money.
Still, if your home is a bit older, it's bound to have some cracks and things to repair. Before you start to remodel your ceiling, make sure to repair any damaged surfaces. In order that your remodel has a good effect, you will need a smooth surface.
Before you start with repairs, carefully take off any chandeliers or ceiling fans. Put them in a safe place, preferable to the cardboard boxes. If you don't have any old boxes, there's no need to buy them for this purpose – just check where to get free cardboard boxes and save a few bucks.
Remodel your ceiling with color
There is the inner designer rule that you should always paint your ceilings in white. Especially if they are lower. Still, that doesn't always have to be the case. While white paint will make your room seems bigger and taller, it is rather dull. All that surface can be used in a much more creative way. Adding a splash of color is always an innovative way to upgrade your apartment. But, by adding bright colors in the places that are almost always white, that's a twist.
Here are some ways to remodel your ceiling with color:
Paint it all – It will be really tricky how your ceiling will look painted in any other color than white. Still, that can exactly be the refreshment that your home need. If your walls are white, then go ahead – paint your ceiling in some bright color. However, if your walls already have some color, then maybe painting the whole ceiling can be a bit much.
Stripes – Adding horizontal, vertical or diagonal stripes on your ceiling will have a very interesting effect. Just make sure that the stripes are in the same color as your walls.
Circles – Make a circle of color around your chandelier. You can make many circular stripes in different colors. That will really look dashing.
Sun or stars – Painting a sun with few clouds or moon with stars maybe seems infantile, but when it's done correctly, it can look amazing.
Make your ceiling into the masterpiece
If you like art, then transform your ceiling into a unique piece! You have all that empty space that is like a canvas waiting to be filled. You can look up in your home and admire the recreation of your favorite painting.
Still, if you're not a professional painter, it's best to hire someone that is. Like you would hire some Manhattan moving company for your relocation, use the same principle to find an artist to paint your ceiling. Make sure that it is reputable, that has a lot of experience and that you like its work.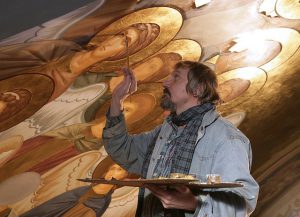 Since the surface is big, this can be a very costly remodeling job. Painting a picture or a mural will also require some time, so if you're in the hurry to remodel your ceiling, better choose some quick solution.
Transform ceiling with photo wallpaper
There are many companies that are creating the custom photo wallpapers, in any size and shape that you want. Still, it may be a bit more expensive, but it is totally worth it. Imagine waking up every day with the view of our favorite beach or dearest photo.
With the photo wallpapers, you can remodel your ceiling and make it totally unique. Just choose the photo that you like, make it into wallpaper and tape it on your ceiling.
Remodel your ceiling by covering it up
If you only wish to cover an unsightly ceiling, there are many ways to do that. Some of them you can do yourself, while for others you will need assistance. Also, some of them require a bigger budget, while others are very cheap home remodeling projects.
Take a look on these cover up ideas for ceiling and see which one the best suits your taste and funds.
Panel and Faux Beam Ceiling
A rather simple way to make changes to your ceiling is to install a panel and beam ceiling. There's no need for heavy remodeling since the beams aren't structural.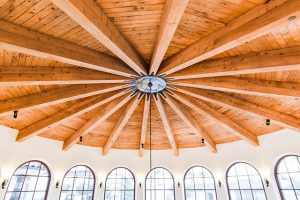 Styrofoam Ceiling Tiles
Covering ceiling with styrofoam ceiling tiles is also one of the cheaper ways to transform your ceilings instantly. Since the ceiling tiles attach directly to the existing ceiling using an adhesive, the process of installation is also very simple. An additional benefit is that there are many different patterns, so you can probably find the one to your liking.
Paneling
Paneling was very popular 50 years ago and it's once again back. Since it's again popular style, many are using this technique to change the appearance of their ceilings. Still, this method requires a solid framework to attach the paneling to. You should also take into account the weight of the paneling and see if the frame can hold it.
Tin ceiling
Tin ceilings never go out of style. It gives any home elegant and a bit glamorous look. Nowadays, the metal ceiling tiles are very easy to install, and they come in a variety of styles, so you can create a unique look of your ceiling.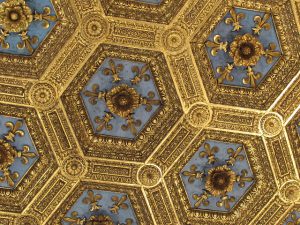 Cheap ceiling tiles for a Drop ceiling
If you have very low remodeling budget and you don't mind your ceilings look like a commercial building then this is the great solution for your pocket. Not only that is the most economical, but this is also the easiest method of remodeling your ceiling. If you have a popcorn ceiling, this will be the perfect way to get rid of it. They are outdated and you will see that your home will immediately shine when you get rid of them.