Are you ready for the best time of the year? Christmas is finally around the corner! You can start to plan where and how you will enjoy it. We assume you already know that you must be in NYC during the Christmas if you want to celebrate it the right way. But, if this is going to be your first time in NYC during holidays, you will need to know where to find top Christmas festivities NYC. The list is long, but we will try to make it shorter for you. And all you have to do is try visiting as many magical festivities as you can.
People are loving top Christmas festivities NYC
If you are planning to spend Christmas in New York City, you'll need to know that people are nuts for this holiday. So, don't be surprised when you hear how they are talking about Christmas. And not just this. Wherever you'll go, you'll notice how people are cheerful and happy. This is the part of the year where people finally feel less stressed out. And when you feel good, even surviving New York traffic doesn't seem like a big problem. People tend to spend more time with their family and their friends. Every house is decorated in its own, charming way.
And, at night, you'll be amazed when you see the beauty of NYC under the Christmas lights. Having this many Christmas festivities fans, no wonder why people can't wait for December to come. They are perfect for children, young couples, old couples, groups of friends. Everyone loves them! Here are some of the best things to visit and do during Christmas.
The Rockefeller Christmas Tree
The Rockefeller Christmas Tree is something you can't miss! This is the best tree lighting ceremony and one of the top attractions in NYC. A symbol of celebrating Christmas in the Big Apple. Every year, thousands of people are coming to New York City in order to see its lights. This year, the Rockefeller Christmas Tree was lit on November 28th.  There was a huge ceremony, with many celebrities and free shows. This ceremony was even broadcasted live. And once the tree was lit up, you had the chance to see Swarowki's big star on top of it.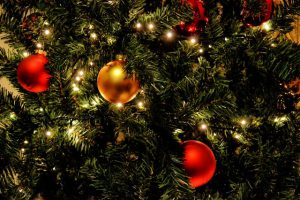 If you missed it by any chance, don't worry! The tree will remain lit until January 7. This gives you plenty of time to visit it and take some cool selfies in front of this huge Christmas tree. Apart from this, you'll have the opportunity to ice-skate under its lights and try one of the best hot cocoa in New York City. In order to witness all of this, make sure you move before winter comes to NYC.
The Bryant Park Winter Village
If you by any chance forget that Christmas is coming, Winter Village will remind you. In this part of the year, you have a chance for ice-skating on a 17.000 square foot ice-rink! This an ideal family activity, your kids will love it! Apart from the ice-skating, you can also choose from more than 170 Christmas shopping kiosks. Here, you can find delicious snacks, hot beverages, and interesting Christmas gifts. The Winter village opens its doors every year in October. So, if you don't know how to ice-skate, you'll have enough time to learn it. Also, this gives you a chance to stop by every kiosk and buy small gifts for your family members. You can even ask where to find free cardboard boxes in NYC and use them to pack your gifts.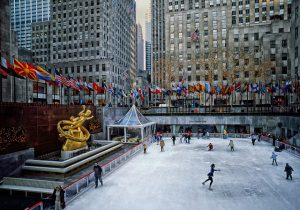 Holiday Window Displays
Christmas brings out the best in people. And New Yorkers love that. One of the ways they show their love is by putting an effort into making the most beautiful decorations. When you move to NYC, you will have to take a walk down Fifth Avenue and look at the Holiday window displays. As soon as you start looking at them, you will feel the Christmas spirit. And you will be happy about moving to New York City. So, like a true New Yorker, embrace the holiday spirit and don't forget about tipping movers in NYC after your relocation.
Christmas Markets
Christmas markets are one of the top Christmas festivities NYC if you ask any New Yorkers. You can find these small shops all around the NYC. But most of them are in the city center. You can buy many things, which is why this makes Christmas markets the best place for buying your gifts. Some of the most popular markets are:
Columbus Circle Holiday Park
The Bryant Park Winter Village
Union Square Holiday Market
Grand Central Holiday Fair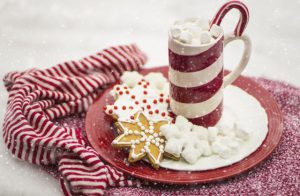 Christmas musicals and shows
Since we are informing you about Christmas happenings in NYC, we have to mention the most spectacular Christmas musicals and shows. Therefore, you will have to visit them because they represent  NYC's Christmas tradition. Many people come to see them every year. Two of the most popular Christmas shows in NYC are:
The Rockettes – a show you can't miss! Almost every New Yorker has seen it more than five times. Thus, you'll need to find out what is so special about it and what makes it one of the top Christmas festivities NYC. Hurry up and get your tickets at Radio City Music Hall.
The Nutcracker – a different way of telling a classic holiday story. Talented singers, dancers and circus performers will leave you speechless.
As you can see, there are many things you can do during Christmas. These top Christmas festivities NYC will become your tradition once you move to New York. For some, they are even one of the reasons for moving to NYC. But, no matter what your reasons are for moving there, you'll be happy about doing it. Merry Christmas to all!