Moving business is not an easy task. Even though the reasons for moving your offices are different, the process is pretty much the same. But the moving process is not the same as moving your home. Here, you have office equipment, employees, working hours, etc. The more offices you have, the more complicated it gets, but don't you worry. We will show you how moving your business to Brooklyn can be a smooth, stress-free process. 
Reasons for moving your business to Brooklyn
Wherever you are moving from, moving your business to Brooklyn is a great idea. Here are some main reasons for relocating your office here:
It is an exciting place to run a business – Brooklyn is a hip, exciting place to run a business, and offers a lot of opportunities.
Young professionals live here – running an office in Brooklyn means it will be easy for you to find young professionals and other new companies you can work with
Finances – Even though prices of rental costs are going up all around the world, Brooklyn is still financially more attractive than some other NYC neighborhoods.
It is easy to find moving companies in Brooklyn -since a lot of new companies and professionals are coming to Brooklyn, it has become easy to find commercial movers that can help you to move your offices smooth and easy.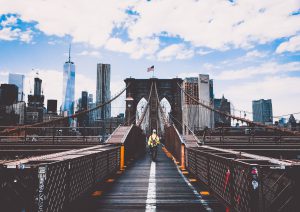 Rule number one: Start on time
Planning your office move on time is the key to success. Depending on the size of your business, it can take from a couple of months up to a year to plan and organize the move. For example, if you have a medium size office, it would be best to start planning six months in advance. The things you need to think about are the new office space, the moving process, employees, etc. So that's why to have enough time is the key.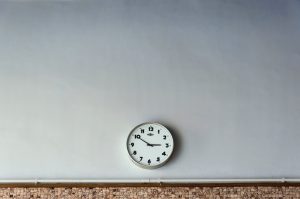 What is the best time to move your office?
It is important to choose the best day and hours for your office move. Choose a day when you will not have to interrupt any business activity. That way you will not impose a lot of stress on both yourself and your employees.
Inform people working in the office
Employees need to know about the move as early the possible. Moving your business to Brooklyn means that some of them will have to change the commute style or route, plan with their families, etc. That's why you need to tell them as early as possible. Furthermore, your employees can help you with sorting out and packing the office, so it will beneficial for you to tell them about the move.
Inform your customers
Relocating your office can have a bad effect on your business if your customers don't know where you are. Inform them about the move using social networks of your company, or tell them as you do business in the last months working in the old office. "Prepare" them for the move, so you can continue working after relocating without slow down.
See where you are moving your office
Before moving your business to Brooklyn, get the layouts of both old and new offices. That's how it will be easy for you to compare the offices and see exactly where to put your furniture and office equipment. When you arrive at your new office space, you don't have to waste time planning the space. Check the electricity plan, storage spaces, etc.
Sort out your office items
In order to pack and move efficiently, it is important to know what exactly you are moving. That's why it is crucial to have an inventory list of things you are going to move. You will know how much money, time and boxes you will need, and if you need to buy some new things.
Get rid of the things you don't need
While sorting out and preparing for packing, try to get rid of all the things you don't really need at your new office. Moving is the perfect time to go through the old documents, papers, drawers and check what you can recycle.  Look at your electronics – do they need an upgrade? You can maybe sell some of those and buy new items when you relocate. This way you will reduce your moving costs and save a lot of time and space when packing.
Pack carefully
When packing, pay a lot of attention to fragile items. These include electronics and valuable documents. Electronics, such as computers, TVs, cameras, etc. need to be packed with care. They are easily damaged by temperature changes and moving. Use some extra blankets to protect them. Valuable documents need to be put in plastic bags and then in boxes, in order to avoid possible damage.
Hire professionals to help you
Having a business usually means having a lot of stuff that needs to be moved. When moving your business to Brooklyn, get some NYC help for your commercial move. This way you will be sure that your items will be transported by professional moving companies who have a lot of experience, ideas, and resources. When hiring a moving company, be sure to:
get a precise moving quote – having a detailed estimate of your moving costs is very important. You can make a rough estimate by using this online moving costs calculator.
check if the company is registered – each moving company should have a license and a USDot number so it can be easily tracked.
check if the moving company has insurance – get a copy of the insurance and have it with yourself during the move.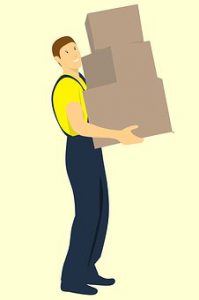 As you can see, moving your business to Brooklyn is not an easy task. So you need to be organized and determined during this process. Starting on time and planning each step is the key to avoiding biggest moving mistakes. Our advice is to hire professionals and lower the risk of losing or damaging your office furniture. Good luck with the move!