There are a lot of things you need to worry about when moving to Manhattan – and the budget might be the top of your priorities. Let's be honest, Manhattan can get pretty expensive. This is why you might want to hire Manhattan movers in order to figure out the best, most affordable way to move. However, there is something else you should think about. Before moving, you will need to pick and choose from all the expensive neighborhoods in Manhattan. If you are hard-pressed for money, then you will want to go with something cheaper and on the more affordable side. This is why in this article we present to you some neighborhoods you might want to stay out of if you are moving on a budget.
How much do expensive neighborhoods in Manhattan cost?
First, let us look at the numbers. As you already know, Manhattan is a fine representative of expensive real estate. After all, it is one of the most famous places in the world! This is why living here can be so expensive – yet prestigious! This is why it also has some of the priciest homes in the whole world! If you want a bite of New York City, then you will need to spend around $1,376 for a square foot. Keep in mind that this is only an average – and just in Manhattan.
When you start looking for something more luxurious, you might end up paying much, much more! In January of 2019, a condo sale in the south of Central Park sold for a record-breaking $238 million! But worry not, if you stay out of these expensive neighborhoods in Manhattan, you will not need to pay that much!
SoHo is trendy and fancy
With so many shops and coffee places, SoHo might seem like the place to be for Millennials! However, this is often far from true. As a matter of fact, it is one of the most expensive neighborhoods in Manhattan! This makes it pretty unapproachable if you do not have a good moving budget and a real estate buying capacity!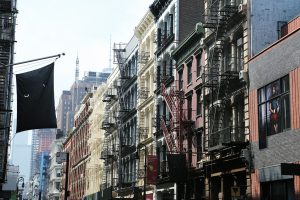 This is because SoHo has a historical value to itself. The apartment buildings you see here were warehouses in the 19th century. After converting them, they serve to give the neighborhood its unique appeal – as well as its real estate cost. Many celebrities have been drawn to these buildings, only raising the costs more!
However, if you always wanted to own an oversized penthouse – then SoHo is for you! There are so many of them all around the neighborhood because of the size of the warehouse buildings. But just like the size of the apartments – the costs can skyrocket too! To illustrate, the historic Puck Building has condos that went for a staggering $28 million! But if you are lucky, you can snag a place for just a couple of million, because the median price is $2.8 million.
Tribeca is another of the most expensive neighborhoods in Manhattan
If you are moving from Brooklyn to Manhattan, and want to live somewhere where you might run into celebrities, then it is Tribeca you should head for. Jay-Z, Meryl Streep and Jon Stewart all live in this famous neighborhood, which has more celebrities per capita than any other NYC place! However, this boosts the price of the real estate in Tribeca similar to those in SoHo.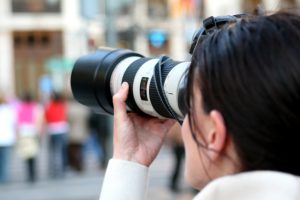 Just like in SoHo, there are warehouses all over Tribeca as well. They went into renovation, getting large lofts with high ceilings and huge windows, as well as high-end finishes. What once was an olive oil and feta factory, nowadays sells for around $5.5 million! The median sale here is also $2.8 million, but you might want to consider renting too. This is what many people choose to do in the south of the neighborhood, exchanging pricey living for amazing views of the New York Harbor.
Flatiron District crosses Fifth Avenue and Broadway
The name of this expensive neighborhood in Manhattan comes from the historic Flatiron Building. If you are moving to New York from San Francisco or a similar far-away place, then you might not know it. However, the corner that it sits on is quite familiar. It is the corner of Fifth Avenue and Broadway.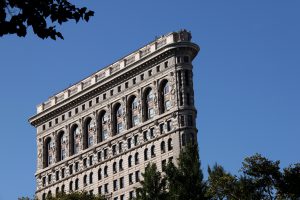 Flatiron District is therefore quite desirable since it is in the very heart of Manhattan. Just walk a little to the south, and you will run into Union Square. Go a bit north, and Madison Square Park is there for your enjoyment! What's more, there are a lot of luxury hotels and fancy restaurants popping around the district in recent years. Adding the expensive boutique condos which many celebrities have here, you are bound to find penthouses listed for around $40 million here! The median price, however, is somewhat lower than the previous too neighborhoods. It clocks at $1.8 million.
Finishing it off with Midtown Manhattan
The final neighborhood on our list is Midtown Manhattan. Once upon a time, waking through its streets, you might have run into office buildings and office towers. Nowadays, though, Midtown Manhattan has a plethora of luxury residences – some of which are the best in the city!
In 2015, there was a penthouse in the this expensive neighborhood in Manhattan that went for $100.5 million. 432 Park Avenue is also the tallest residential building in the city – and living in its penthouse costs $95 million. This is because there are many perks to being in the center of the world, though. Central Park and Fifth Avenue are within a short walking distance from this expensive neighborhood in Manhattan! The median price, meanwhile, is $1.2 million, so – if you have money to invest in this real estate – go for it!