New York City is home to thousands of bars and restaurants. And if you are tired of visiting your usual place or you are just moving to New York. You should definitely check out this list of best rooftop bars in NYC to try this summer. Rooftop bars are perfect for summer months. You can enjoy the sun and cooling breeze at the same time while drinking your favorite drink. Not to mention the warm summer evenings. So if you happen to be moving to New York this summer it will be perfect for you to start absorbing the city by visiting some nice rooftop bars. Of course, there are places that are better than others. And your movers NYC will gladly help you with some local advice. But you should anyway check out this list of the best rooftop bars in NYC for you to try out this summer.
The list of New York's most appealing high – level bars
After you finish your move you will be tired of boxes, packing, and unpacking. Maybe you had a good relationship with your NYC fine art movers but now it's time to relax and to forget about the move. You are in New York and now it's time to explore.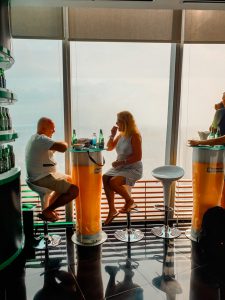 There are hundreds of rooftop bars in NYC. And there are many lists of best rooftop bars on the internet. They all consist of a confusingly large number of suggestions. You will probably notice something like "50 best rooftop bars in NYC". But who would need a list of fifty bars? You would need a separate top ten list for that fifty-bar list. So that is why this list consists of only five rooftop bars. But these are the very best of the best.
The Crown Rooftop at 50 Bowery, certainly one of the best rooftop bars in NYC
St. Cloud Rooftop
The Roof
The Spyglass
The Skylark
The best rooftop bars in NYC – The Crown Rooftop at 50 Bowery
This summer The Crown Rooftop at 50 Bowery hotel is trying out a new concept, "Royal Summer" at the Crown. If you choose to have a royal summer at the Crown you can expect regular brunch parties, specialty events with regularly scheduled live sets, DJ's and various art installations.  A fresh new cocktail menu is prepared for this royal summer at the Crown. You could try out "The Night Market", "Royally crushed", "Resting Peach Face" or "Red Skies at Night". The food menu includes light food prepared mostly for sharing and delicious desserts.  So if you are new to NYC this is the place to visit. You can enjoy the outdoors as well as indoors with stunning views of the Manhattan and Brooklyn skylines.
The best rooftop bars in NYC – The St. Cloud Rooftop at Knickerbocker Hotel
If you are roaming around Times Square and you need someplace to escape from all the hustle, head over to the Knickerbocker Hotel. That is where you will find one of the best rooftop bars in NYC, the St. Cloud Rooftop. They offer a wide selection of drinks and appetizing bites which you can enjoy altogether with the stunning views of the skyscrapers. It is a high-class, luxurious bar on top of the five-star hotel. And once per month, there are so-called Full Moon parties with live DJ performances and special cocktails.
The best rooftop bars in NYC – The Roof
If you happen to be moving from New York, there is no better way to say goodbye than visiting a rooftop bar with a stunning view of central park and Manhattan. And the perfect place to do that is a rooftop bar called The Roof. It is a covered terrace and lounge that offers some stunning views of Central Park.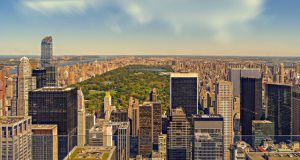 It is designed in the modern yacht-like style with brown leather and walnut sofas and carefully selected images of sea, sky, and clouds. The menu consists of an extensive variety of beers, small-batch spirits, wine and selection of Gerber Group's cocktails, complemented by small but delicious plates. Gerber Group is the hospitality leader and they own 15 original cocktail bars across New York, Atlanta, Washington D.C. and Santiago, Chile.
The best rooftop bars in NYC – The Spyglass at The Archer Hotel
Another exceptional bar nested at the top of the hotel, The Archer Hotel New York, is the Spyglass. It is a very unique spyglass you can use to enjoy a fantastic view of the Empire State Building. Designed in the elegance and style of Jimmy Steward's movie "Rear Window", it is perfect for organizing a private party or just to go out with friends. It has indoor and outdoor spaces so it is working all year round. With the carefully crafted cocktails and easy food bites from famous chef Charlie Palmer you just can't go wrong.
The best rooftop bars in NYC – The Skylark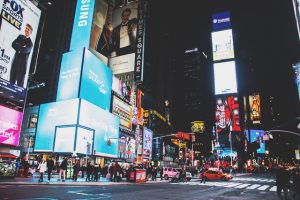 A mesmerizing view of the Hudson River, the Empire State Building and midtown Manhattan will leave you breathless if you choose to visit the Skylark. Classic-style cocktail lounge set thirty stories up over the Times Square is a multi-level, all-season experience. It has an exclusive custom menu of cocktails that are made from only the freshest ingredients. The offer includes a variety of small bites, and it is a good option to visit after work or in the evening.
Moving to New York is a beautiful experience
When you are moving to NYC surely you are looking forward to exploring the city and its bars and restaurants. There are many rooftop bars that you could visit to soak up essential New York and to enjoy the fantastic views. They are a totally different experience than the usual ground –level bars. So when you are moving to NYC find some good NYC moving tips and reviews on the internet and prepare yourself for life in the center of the world. You will need them.