Halloween has come and gone. You prepared your costumes, set out the sweets, but did you manage to find the perfect place to spend this holiday? If you found yourself in Big Apple this Halloween, you're lucky! New York City is the most exciting place to celebrate Halloween with family and friends. You could enjoy parties to the fullest and get a whole new level clubbing experience. We sure enjoyed the spooky celebrations this year. Check our list of the best 2019 NYC Halloween parties. They may inspire you for next year. And hey, if you find yourself drawn to NYC because of this, you can hire local movers NYC and relocate your household without stress before the winter holidays!
Discover the best 2019 NYC Halloween parties and events
NYC offers much more than just "trick or treat" Halloween fun activities. No matter if you're living in Brooklyn neighborhoods or somewhere near Times Square, there are plenty of activities for the Halloween holiday. During the day you can enjoy Manhattan's legendary Village Halloween Parade. You can enjoy spooky tours on haunted houses with friends or take your pet to the Tompkins Square Halloween Dog Parade, known as the largest dog costume parade in the world. But October 31st is reserved for parties. Get tickets for the best nightclubs and rooftop bars in NYC. And if you're moving to Big Apple soon, find reliable residential movers NY to help you relocate efficiently before that.
The Monsters Ball and Costume Party
The first on our list of the best 2019 NYC Halloween parties is a famous The Monsters Ball and Costume Party. The location is one of the most fashionable event spaces in Times Square – the STAGE48, close to some of the cheapest housing in NYC for newcomers. We had the chance to enjoy high fashion décor and a lux environment. There was a "trick or treat" costume contest with cash prizes and a live performance by the world's best DJs. 4 dance floors, expansive bars, and the best drinks are waiting for you next year too! Costumes are required! Note: You can attend the party if you're 21+. Don't try to sneak in, 'cause you'll have to show your ID at the entrance.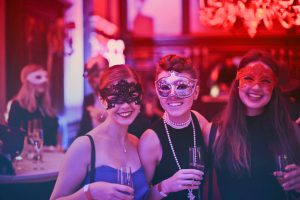 Halloween Party at the DL Rooftop & Lounge
Everyone knows where the best party in New York is. The rooftops. This is why the best 2019 NYC Halloween parties are often hosted at the rooftops in Manhattan. If you're interested in this kind of party, get your tickets for Halloween Party at the DL Rooftop & Lounge next year because we had an absolute blast in 2019. The DL Rooftop is the hippest club located in the Lower East Side. It's both a multi-level restaurant and event space with a rooftop. You can take stunning pictures scenes of the Williamsburg bridge, or selfies with friends inside an all-red room featuring bright, sexy, furniture and spooky lighting. The space is decorated in red, with massive crystal chandeliers and baroque décor. Expect great fun, but only if you're 21+.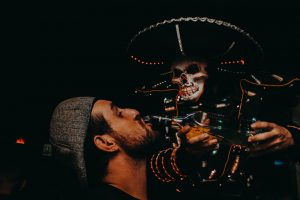 If you regret not joining this party, don't despair! There's always next year. In the meantime, winter holidays are approaching. So why not check New York winter resorts and vacation ideas? You'll still gt to enjoy partying and New York, but this time with snow!
The Hitchcock Halloween Party
Halloween is the spookiest holiday. The horror motives such as murders, horror movies, witches, ghosts, zombies, mummies, are part of Halloween's decoration, food and – parties. If you're a fan of horror movies but you also like dancing like we do, The Hitchcock Halloween Party was among the best 2019 NYC Halloween parties! It took place at the McKittrick Hotel and took inspiration from Hitchcock movies like Psycho and The Birds. The whole hotel was transformed with art, installations, costumes, and live performances. We especially enjoyed the Sleep No More performance. The tickets started with a price of $125 and included an open bar, but if you wanted to enjoy Sleep No More too, it cost $250. If that sounds interesting, start saving now – next year's lineup may be even better!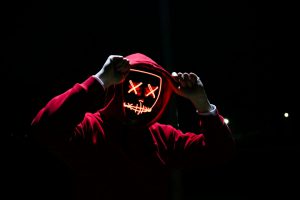 Halloween Night 2019 in NYC
Halloween Night 2019 in NYC is another amazing party we got to enjoy this Halloween in New York. Hosted in LeGrande Lounge at The Time Hotels, it offered the scariest and craziest Halloween night! We enjoyed the best Latin Hits, House, Brazillian, 80s, Salsa and other popular music. Tickets started at $30. Costumes, masks or wigs were required. But the best costumes also won some great prizes:
Scariest Costume: $250. Cash & a Dinner Gift Certificate 
Creative Costume: $180. Cash & a Dinner Gift Certificate
Sexiest Costume: $150. Cash & a Dinner Gift Certificate
Funniest Costume: $100. Cash & a Dinner Gift Certificate
Halloween Party at the Playboy Club
We felt both the spooky and sexy atmosphere for Halloween at the Playboy Club. Haunted Mansion at Playboy Club Manhattan is one of the most iconic Halloween parties in NYC every year for a reason. People celebrated and danced with other "bunnies" or showed their most seductive costume this Halloween. Black leather, red velvet and gold fixtures synonymous with Playboy itself were everywhere! We drank the best wines, beers, and cocktails and even competed in the costume contest. Costumes were MUST as well as being 21+. If this sounds like fun, you should go looking for more fun in New York! Call your friends, get ready and find a party bus in NYC! It may not be the Playboy Club, but it'll be fun!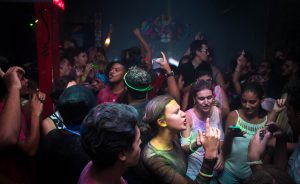 Sunday in Brooklyn's 3rd Annual Halloween Party
Scary tales and fictional stories are an important part of Halloween. Sunday in Brooklyn's 3rd annual Halloween party was inspired by them. A ticket included 3 drink tickets, but also snacks, face painting, and a chance to get a real tattoo. Guests got to enjoy live performances and win prizes for the best costumes! Plus there was a hefty delivery coming from Domino's at the end of the evening which totally helped make this one of the best 2019 NYC Halloween parties. Moreover, 100% of profits from this event benefit the ACLU (American Civil Liberties Union). What's better than enjoying the creepiness while supporting a good cause?