Consider moving to New York as a student? Don't get too excited. Since you're about to live in probably the most expensive city in the U.S. you'll need a good plan. Currently, there are more than half a million students in NYC, attending one of 80 different universities and colleges. And they are all searching the same thing – affordable student housing options in NYC. If you're searching the same, check our article and explore student housing options according to your budget. But before we start, no matter if you're moving from Miami to NY, or from some other city, find a reliable moving company to help you relocate.
Consider the average costs before finding student housing options in NYC
Whether you're a student moving from FL to NY, or some other metropolis, you've probably lived in a less expensive place than New York. This is why you should prepare a budget, and consider the average costs before finding student housing options in NYC. The cost of living in Manhattan was 138.6% of the U.S. average in 2018. Besides, the average rent for an apartment in New York in April this year was $3519 which is a 2.9% increase from 2018 when the average rent was $3417! But, it's possible to keep housing costs under $1,000 per month, if you find a roommate and affordable neighborhood. Just make sure to find a home near your University or pay unlimited metro monthly card $116.50. The fact is that about 56% of New Yorkers don't own a car because of the high costs.
Decide the best housing option for your budget
When moving to Big Apple as a student, make sure to find the cheapest housing in NYC for newcomers. These are the most common student housing options in NYC, among which you must decide the one affordable for your budget.
on-campus housing
renting an apartment
shared apartment with a roommate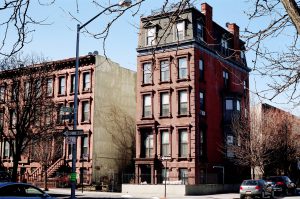 Living in a dorm
Moving to New York City as a student? Inform about the costs of living in NYC for a student: dorm or an apartment and see what's more affordable. If you're about to move and live alone for the first time, university housing is a great option. The rent of the housing actually tends to vary. The average difference in the expense is about $700 per month. For example, New York University starts with a price of $350 per week, or $1,500 per month. But students get great accommodation, the security of NYU and a great location in Greenwich Village. The bad thing is that on-campus housing is limited. Also, the cost of a private bedroom in a shared suite falls between $9643 and $11,065. Besides, some universities, like Columbia, reserve housing for doctoral students. Masters students are encouraged to use the Off-Campus Housing Assistance Office.
Renting an apartment
As we mentioned, the average rent for an apartment in New York in April this year was $3519,  which is definitely a really high price to pay. Being a student means you have a certain amount of money that represents a housing budget. The best way to live in an apartment in NYC as a student is to share it with a roommate. The cheapest housing type is a 1-bedroom apartment. But lofts and junior apartments located in older industrial buildings, are popular housing type to share with roommates. For students who have a large budget, and want more luxury, there are popular but more pricey types of housing, especially in Brooklyn neighborhoods are the parlors.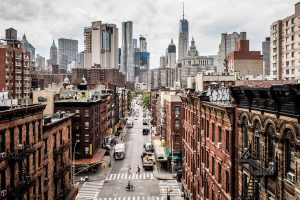 Find a roommate and save money/live near the city center
Students who want to live in the heart of NYC, or have lower housing costs, should find a roommate. Sharing an apartment with a roommate is among the popular student housing options in NYC. Considering the average rent in NYC, if you share an apartment you can save $1,056/month! The fastest, but also the best way to find a roommate in NYC, is through social media and applications. Download applications such as RoomieMatch and SpareRoom, and find a compatible roommate. These apps allow you to choose a neighborhood, add the amount of rent affordable for you, and details like working hours, sleeping habits, owning pets, and others.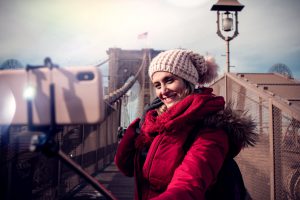 Choose the most affordable neighborhood
When it comes to the best student housing options in NYC, it's not just about choosing the right type of housing. It's about finding the most affordable neighborhood. We'd all love to live in Manhattan, but that means paying high rent for a small space. And if you're a student, try to avoid the most expensive neighborhoods: Manhattan, Tribeca, and Soho. On the other side, the cheapest New York neighborhoods are Saintalbans, East Brooklyn, and High Bridge. If you're attending Pratt or Brooklyn College, find affordable housing near Crown Heights and Prospect Heights. And if you're about to attend Columbia University, choose among Upper West Side, Morningside Heights, or Harlem.
Student housing options in Manhattan
Student housing in Manhattan is the most expensive option. Manhattan is the most expensive borough in NYC. If we just take a look at statistics from September 2019, the median rent for a studio in Manhattan in July and August was $2,700. Still, if you're attending New York University and Columbia University in Manhattan, you can find some affordable housing options. Especially in areas such as Midtown East, Murray Hill, and Yorkville. The cheapest neighborhood in Manhattan, Inwood, has the average monthly rent is more than $1,600. But you should keep in mind that this is a prime location.
More NYC housing options
Well, this was a short guide for the college student living in NYC. Of course, there are more housing options to consider. Housing in Brooklyn is less expensive, as well as in the Bronx or Queens. Brooklyn's median rent is near $3,000, but you can find way cheaper options in the neighborhoods of Bed-Stuy and Prospect Heights. If you're going to attend the City University of New York, the best housing option is to look for off-campus housing in Queens. This is because the neighborhoods around the university such as Long Island City are the most expensive. The housing for students in the Bronx is great. For example, in neighborhoods like Belmont, where a decent 2-bedroom flat will cost between $1,500 and $1,700.