Moving to the Big Apple has been your dream for so long. And now you finally did it. You are here. But here, for most newcomers, means a tiny studio apartment. It's the reality most New York newbies face upon arrival. Nevertheless, you want to feel as comfortable as possible in your new place and you need some NYC apartment design ideas. To make the best of a small living space you will need to think creatively, but it's definitively possible to make it work. After all, you were able to find a good moving and storage NYC deal. Now the apartment design part will be a piece of cake.
Rule No. 1 of small NYC apartment design – multipurpose
When it comes to living in confined spaces, it's crucial to have only the necessary items. This means you will not have room for an indoor bike which you would never use, anyway. It means you won't be able to have three blow-driers, only one.  All the items in your apartment must be purposeful, preferably multi-purposeful. For example:
your ottomans can serve as decorative seating and storage space.
your big plasma TV doesn't have to go up on the wall. It can be used as living/bedroom space divider. If you place it in front of your bed and face it towards the couch it will split the room in two.
your couch can turn into a bed. When you live in a small studio, you have to adapt. And your furniture has to adapt too. Fold-out couches are perfect for small NYC apartment design.
your bookshelf can also serve the purpose of a room-separating wall. Place it in your bedroom area and your living room area to create a sleeping nook that's isolated from the rest of the apartment. At least visually.If you adorn it with photos and souvenirs it will look great.
your coffee table can be more than just a coffee table. It can have a built-in storage space, for all your magazines, coasters, remote control etc.
Wherever you can add a purpose to a piece of furniture, go ahead and do it. You won't regret it.
Rule No. 2 of small NYC apartment design – use light colors
When choosing the color palate for a small apartment you call home in NYC, go with light colors. They open up the place and create the illusion of spaciousness. On the other hand, dark colors will make your apartment look even smaller. This doesn't mean you have to avoid dark colors altogether. The rule applies only to the walls, whereas the details can be in any color you like.
Rule No. 3 of small NYC apartment design – mirrors, mirrors everywhere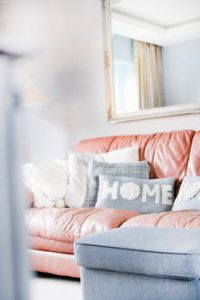 It's a well-known fact that mirrors make a room seem double the size it actually is. Use this knowledge to your own advantage and buy a large mirror. You can hang it horizontally or vertically, depending on what your apartment looks like. If you adorn it with an effective frame, it can be the focal point of your living room.
If you follow these basic rules when decorating your confined quarters in the Big Apple, you will be on the right path to fully use your space. Here are more suggestions you could incorporate into your apartment to make it your oasis of peace.
No dinner table, no problem
Hosting big dinner parties while living in a studio apartment is something you probably won't be able to do. But when it comes to intimate dinners for two, you can still enjoy those. You just need to get a fold-down table, like this one from IKEA. It is big enough for two people to share a mean on it while exchanging romantic glances preferably. And when you are done, you can just fold it down, and it won't take up precious space while it's out of use. And it can permanently serve as a shelf since one part of it doesn't fold. Talk about thinking creatively and multi-purposefully!
Use your vertical space
If your living space is so limited that you can only put the basic furniture in and it fills up, you might be left craving some cool design ideas. When it seems like there's nowhere to put your signature pieces, think vertically. Use your walls to maximize the chic effect of your apartment, and possibly add it another function or two.
Vertical garden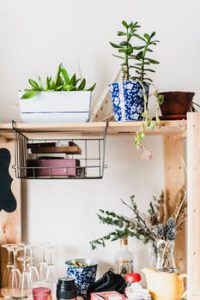 If you used to live in a house before relocating to New York, you must be missing your garden. Don't worry, you can still have one, but it will be miniature and on a wall. But it will give your place an air of freshness. Use hanger wire to make a base onto which you can hang your little pots.
Vertical makeup station
When your apartment is too small to fit a vanity table, per say, you can make one on the wall. Hang a mirror and a magnetized message board. Attach magnets to your makeup and voila! You have yourself a vertical makeup station.
Picture frames everywhere
If you want to add some flair to your NYC apartment, put up picture frames on one wall. They make a really strong statement when there's many of them and they are different in size. You can put up dear photos of family and friends, artwork or simply add a few empty ones.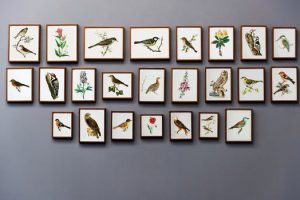 Pop of color
Choosing light colors for foundations means you can have fun with the details. You can opt for a colorful and effective strip of wallpaper on one wall to liven the space up. Or you can breathe fresh air into the room with some colorful cushions.
Hopefully, you found our NYC apartment design tips useful. And if you are a newcomer to the city, you might find our tips for NYC newcomers useful as well. And whenever you become economically stable to move to a bigger place, you know where to find the best local movers in New York City.