Considering the fact you are reading this article, we believe some congratulations are in order! If you are looking into baby proofing your home, it means that you are an expectant parent. We can only imagine the excitement you must be feeling right now. And, as any responsible parent to be, you want to make sure your baby is safe at all times. Since we here at Big Apple Movers NYC have only your best interest in mind, we have decided to help you. Follow our simple tips and let your toddler roam freely around the house. After today, no corner in your home will be hazardous for your baby.
Start baby proofing on time
The first thing you should know is that babies start crawling 6 months after their birth. Of course, this is only a ballpark number, as not all babies develop at the same pace. If you became a parent just two months ago, you should not delude yourself by thinking that it is too early for you to start baby proofing your home. There is no such thing as too early when it comes to this topic. You will not be able to predict the exact moment your baby will start crawling. You will have no warning, as that is not how babies work. Hence, if you feel like it, you can start baby proofing your home even before your child arrives. It is better to get this task out of the way while you are still not sleep-deprived.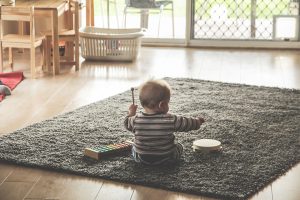 Stoop to your baby`s level
We realize that this might sound ridiculous, but the best way of spotting any potential baby hazards in your home is by putting yourself in your baby`s shoes. Once you start seeing the room from their point of view, you will quickly spot a few things which might be dangerous for your baby.
Electrical outlets could be the greatest danger for your baby, as they are just at the right height. To baby proof your electrical sockets, all you have to do is buy child-resistant outlet covers.
If you have stairs, you need to place baby gates, so that your child will not be able to crawl up the stair and then, unintentionally, fall down.
Cabinets and drawers should also be included when baby proofing your home. All you need is a magnetic locking system, which will make it impossible for your baby to open a drawer. Of course, for those drawers and cabinets that are positioned way out of baby`s reach, no childproofing is necessary.
These were just a couple of basic items every parent should pay attention to. However, your job does not end here. All of those furniture pieces you found cute when you were a young couple moving in, you will now have to baby proof.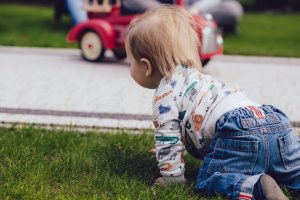 Baby proofing your home 101
For every event in our life, there are some things which go without saying. For example, if you are moving to a different state from New York, no one will have to tell you to hire professional long distance movers NYC to help you relocate, right? It will be your first instinct to behave in such a manner. Well, the same goes for baby proofing. There are a few common baby hazards which every home has. Be careful, and deal with yours on time.
Corners and sharp edges must be included when baby proofing your home
All furniture pieces that have sharp edges must be properly secured. Sooner or later, your baby will start walking. The scenario of a baby falling down and injuring themselves on a sharp edge is every parent`s worst nightmare. And, the worst part is that this scenario is easily avoidable. All you have to do is place clear corner guards strategically, and your baby will remain safe when falling down.
Take care of furniture that could tip over
While the prospect of building a home library was an exciting one when you were a newlywed, now that there is a baby on the way your home library present a huge hazard for your favorite little human. Moreover, all furniture pieces which could tip over, and on which a baby could climb on are dangerous. Taking care of these items will take some time, as you will have to secure them to the wall by using safety straps. Still, this will be time well spent, as it will be beneficial for your baby`s safety.
Deal with the bathroom hazards
Any place where there is water present is a drowning hazard for your baby. Thus, you should make sure to deal with this one in the most serious manner. To baby proof your bathroom, the first thing you need to do is make sure to always empty the bathtub after bathing. Next, to avoid your baby slipping up, you need to place a slip-resistant mat on the bottom of your tub. This way, even if your baby does manage to crawl into the tub while you are not watching, no great harm can happen. Finally, to finish baby proofing the bathroom, use a toilet lock. Even though it sounds impossible, your baby could fall down into the toilet bowl. As you can imagine, that would be a dangerous situation.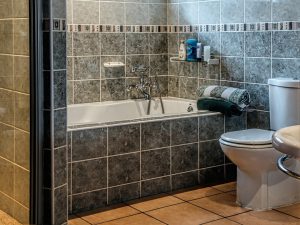 Baby proofing your home is not something you can do in one day. Some houses are simply not suitable for family life, and they have too many baby hazards which are out of the ordinary. If this is your situation, perhaps you could consider moving to a different house. And, if you feel worried that you have no time for relocation, think again. These days, you can hire movers that will do all the work for you. From packing and unpacking services to the transportation of your items, all you have to do is sit back and relax!