Moving New Yorkers Since 1979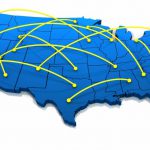 Moving across the country can be complicated, which is why we provide a wide variety of resources aimed at making this daunting task as seamless and safe as possible. Our broad moving network ranges from coast to coast and assists families and businesses move across the country conveniently and painlessly every single day. Our professional and experienced moving team uses top of the line moving equipment to provide our customers with secure and efficient moving solutions that will accommodate your transition and provide you with a smooth, comfortable moving process.
Cross Country Movers of Choice
Big Apple provides the highest quality of service, as well as an assortment of moving options available to ease the process for customers in the midst of a cross country move. We will always consider your satisfaction our top priority, and you can count on us to go above and beyond to meet your particular requirements. Let us handle everything from packing to crating, and take advantage of one of our wide-ranging, customized moving packages to handle the hassle for you as much as possible.
Our comprehensive, full-service cross country moving services include fragile item packing and unpacking, crating and uncrating services for custom items, junk removal, storage, custom moving for large or delicate items such as pianos, and much more. Leave it to us to handle all of your moving needs in a professional and well-organized fashion.
Cross Country Movers with Experience
Our experienced cross country moving team has been efficiently and professionally accommodating moves for over 38 years of happy, satisfied customers, and we are proud to be considered industry leaders in all things related to long-distance relocation across the country. Out staff is committed to meet the specific needs of every single customer, and make their moving experience as pleasant as possible. Our high ratings and enthusiastic testimonials are a clear indicator of our many years of reliability and professionalism, and we will always go the extra mile for the satisfaction of our customers.