One of the most popular boroughs of the NYC is for sure Brooklyn. It is not only one of the most popular but one of the fastest growing boroughs of the NYC. By moving to NYC you will encounter various opportunities for both personal and business growth. With all the advantages Brooklyn can offer, it makes a perfect place for a nice and quiet living. In this article, we will introduce you to the quiet neighborhoods in Brooklyn worth settling in.
Facing the process of moving
Whatever the reason for relocating your home and your life to a new place is, moving is quite a unique experience. This is the case not only because of the fact that you are making changes in your life and on some occasions starting everything from the beginning. Moving is a challenging task that one can certainly fulfill, but it, unfortunately, does not involve a lot of fun and joy. Setting your mind to priorities and making a good organizational plan, is a great beginning.  One should be prepared for a number of tasks that should be done before the final moving day. Finding a reliable moving company is one of the biggest and most difficult tasks. Hiring Brooklyn movers and storage experts can help you a lot in making your moving plan materialize. Not only will they reduce your stress level, but you can be sure that your belongings will be safe and sound. And nothing is more important than those two things. Save your energy for deciding which Brooklyn neighborhood suites you the best.
The quiet neighborhoods in Brooklyn
If you've been wondering what might Brooklyn neighborhoods look like, then you are at the right place. In the rows below, we will try to give an insight of the nice and quiet neighborhoods in Brooklyn.
Park Slope
The Park Slope section has been more than three decades a spot for young and ambitious professionals. With the proximity to nature and it's peaceful vibe, this neighborhood can be a great place for family living. Safe streets, a very good public school system and a high range of private schools, is what makes this place popular with people with kids. Apart from the great parks and kid-friendly organized places, there are many more cultural things one can enjoy. Some of them are The Brooklyn Public Library, Brooklyn Museum, Botanic Garden, Prospect Park etc. Park Slope can give you an "all in one" package. From corporate people to artists, such a calm place is yet very lively. Shopping streets and restaurants with various types of food are at the reach of your hand. Park Slope is hence probably one of the best quiet neighborhoods in Brooklyn.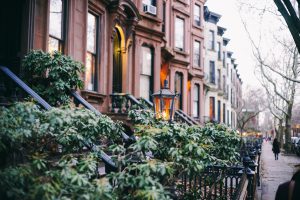 Bay Ridge
One of the most interesting places in Brooklyn is surely the Bay Ridge. This history-rich place makes one feel like living in a much smaller town. This is mostly because the streets near Verrazano- Narrow Bridge and those close to the bay, are full of attached and detached homes. Here you can find more affordable housing than in Park Slope or in other Brooklyn neighborhoods. On the other hand, one should have in mind that it takes a 45min ride to Manhattan on a good day and about an hour on a busy day. Different from other neighborhoods, Bay Ridge is a mixture of old and new. A great change of this place is it's growing into a diverse neighborhood. One can find good restaurants along the Third Avenue and dive into shopping on the main drag, 86th Street. A lot of parks are what makes this place an urban oasis, as a little green area can be found on almost every corner. Great for morning walks and having outdoor fun with your family.
Brooklyn Heights and DUMBO (Down Under Manhattan Bridge Overpass)
Those two great neighborhoods are well known for their scenic view, which you ought to see in many Hollywood movies. If you walk down the Brooklyn Heights Promenade to the Waterfront Brooklyn Bridge Park, the iconic view will take your breath away. Buildings of Manhattan in full glaze, Brooklyn Bridge, New York Harbor, all in one frame. Apart from the beauty of this place, it exudes the feeling of safety and security. You can easily adapt to this neighborhood and with a few tricks make your family house feel like a home.
DUMBO has its beginnings as an industrial complex, but it has in recent years has grown to something different. A fusion of 19th-century warehouses, art galleries, and elegant condominiums can be the sight of interest of many. Especially of well-heeled professionals, artist and corporate makers.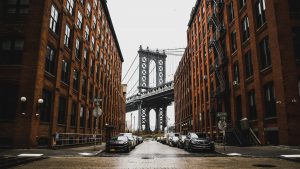 Williamsburg
"The new Soho" is a home to professionals and their families as much as to established musicians and artists. Old industrial buildings are attracting artists who are looking for large spaces and high ceilings. They are transforming them into nice workspaces, studios or places for living. Family oriented, this place is still for everyone's soul. A lot of bars, restaurants, and shopping opportunities are just a part of what Williamsburg can provide. One can also get to the shopping area of the Bedford Avenue with ease. As a waterfront community, Midtown or Wall Street are near you by using the East River Ferry. The famous Brooklyn Bowl is also situated here. Spending quality time with friends, with live music and a few cocktails seem to be a good fun. A vibrant mixture of people that are living there makes this place unique.
Clinton Hill – one of the quietest neighborhoods in Brooklyn for a living
In the 19th century, Clinton Hill was a fashionable neighborhood and many millionaires were living down the Clinton Avenue. Nowadays, this place can offer affordable and restful living options in Brooklyn. For people that consider the peace of mind and quality of life important, Clinton Hill is a perfect choice. Pratt Institute is what attracts young artists to commute to this neighborhood. Nevertheless, the vibe that is floating through this place is showing that renters are also looking for a place to live. Not only a place to party. Beautiful brownstones, as well as classic Brooklyn streets with restaurants and bars, is what makes this place special. On the other hand, there are also new condo developments. This shows how good differences and diversities can go together.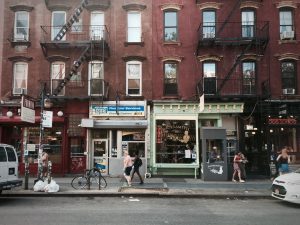 That is exactly what Brooklyn represents, the diversity. A combination of different languages, cultures, ethnicities, and religions. A place with skyscrapers full of business people and nature oasis for the young ones. We've mentioned just a few of many quiet neighborhoods in Brooklyn where you can move your home. Start making your moving checklist, pack your things, because Brooklyn is willing to embrace you.