Getting a permit for NYC renovation projects can be really expensive, frustrating and time-consuming for every DIY remodeler. But, for many NYC renovation projects permit is required.
Many home improvement projects require permits – these are major changes that involve structural work, electrical, heating, and plumbing. Simple repairs usually don't require a permit, but for major changes, you need to get permits from the local building department.
No matter where you live in NYC, even in affordable NYC neighborhoods, permit for your NYC renovation projects is an expensive must.
But, some NYC renovation projects, like painting, installing bookshelves, replacing bathroom fixtures, usually do not require a permit.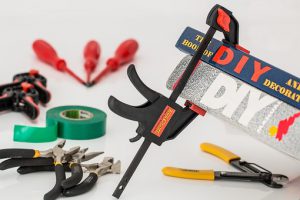 How to know which NYC Renovation Projects require permits?
If you want to know which home improvement or NYC renovation projects require a permit, you should contact a registered architect or professional engineer. For more information about the types of NYC renovation projects, you may contact your Department of Buildings Borough Office.
The majority of construction requires a Department of Buildings permit. Most often, Professional Engineer or Registered Architect which has a license in New York, must file plans and pull permits before work begins. A Department plan examiner will review the plans for any objections.  Then, if the plan satisfies Department will approve the application. There are many permit types. Such as construction, boiler, elevator, and plumbing.
Before you do any job in your apartment, think about your budget and a fair amount of DIY ideas for your New York apartment.
There is only one way if you want to know which NYC renovation projects require permits. Go on the website of your municipality or call them. If you have a contractor for your home improvement project, then he/she will know if the job requires a permit. But, don't forget that every renovation project is your responsibility and it is your job that everything is done with law. The contractor isn't a person who issue permits.
Building Codes & Permits
Before you start planning your NYC renovation projects, you should ask the building department to send you all information about regulations for your remodeling and what type of permits you will need.
Also, electricians or plumbers with a certificate can install wiring and pipes. So, ask for them your local building department before doing the job by yourself.
Don't forget to prepare for inspections. Get the information of the building code so you will know what thing will require inspector. This refers to DIY apartment ideas. But, if you have a contractor for your NYC renovation projects then ask them to be in your place when inspection comes to inspect work.
For most permits, you must pay fees, which depends on the value of the project. It will cost you more in permit fees if you overestimate the value of the work.
NYC Renovation Projects: When is required work permit?
Taking down a wall of building it is a job that requires a permit.
If you want to remove the wall and you want to take it down in parts or completely you want to have an experienced contractor and permit for this project. Also, if you want to build a new wall to create another room space in your NYC apartment, you need to be sure that contractor is doing it safely. For this job, you should know requirements for a room in terms of size, light, and ventilation.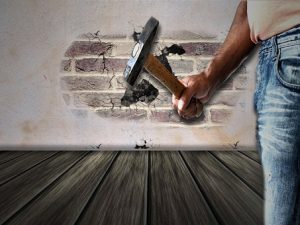 You need a permit if you are remodeling your kitchen
For kitchen remodeling that includes plumbing and fixtures of appliances, you need a permit. Because plumbing and electrical lines need to be re-routed. But, if you remodel cabinetry in your kitchen than you don't need a permit.
Remodeling your bathroom requires a permit
NYC renovation projects like bathroom remodeling require a permit for changing the location of plumbing. For example, if you want your bathtub to be a shower. Like kitchen remodel, for plumbing you need a permit, but for changing shelves or similar small jobs you don't need a permit.
If you want to have a window where you don't have one, then you need a permit for this job. Also, you can replace a window in an existing location without a permit. But you will need to hire a firm with a license in window replacements.
A work permit is not required when:
Installing shelving in your closets
You don't need a work permit to install shelving. But, if you are moving your closet's wall to make your storage space bigger or smaller than it requires a permit.
Replacing your light fixtures
Simply changing the light fixtures does not require a permit. But you should consider hiring an electrician with a license to avoid any risk.
Refinishing your wooden floors
This home improvement project doesn't require a permit. But your flooring contractor should have a license as home improvement contractor in Department of Consumer Affairs.
Painting doesn't require a permit. But you should keep in mind, if your building was built before 1978, your painter will need to be an Environmental Protection Agency Lead-Certified Renovator to do the job.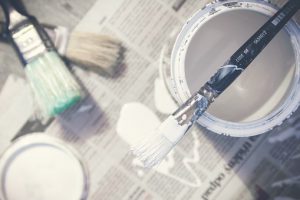 Re-tiling your bathroom or kitchen floor
In this case, too, the only requirement for these NYC renovation projects, is that work must be done by a licensed home improvement contractor.
Even with this our guide for NYC renovation projects, before you start doing any job in your apartment, you should consult a professional to determine if your work requires a permit or not.
Since there are no federal or state standards for a permit, you should get information about your city – in this case, New York. But, also, check about rules in your neighborhood and building. You should know that some municipalities charge 1% of the total construction costs to issue the permit. Also, be aware that inspections may take some time, even up to six weeks.
According to the National Association of Realtors, if you don't get a proper permit for your renovation project, this can cancel complicate or cancel your sale of an apartment. So, you need to take seriously permit requirements for NYC renovation projects.