New York City has been topping the list of the best cities to move to for a while now. Surely, it is something such as moving to New York City for work or going to the Big Apple because of college that's bringing you here? After all, it couldn't possibly be the weather… With the wonderful images of the city flooding Instagram, you wouldn't believe the truth if you haven't had a chance to experience it for yourself. So, before you start packing for your NYC move, here is a short NYC annual weather guide for you information only…
If we're talking about yearly weather in NYC, we should talk seasons
New York is the northmost major city with the official classification of a humid subtropical climate. Though, the suburbs the north and west lie in the transitional zone for another climate, the humid continental climates. Due to this, the NYC annual weather is clearly divided into four seasons. The summers tend to be warm. Though, there are days which are hot and humid, as well. All in all, you may need more than just some sunblock and a bottle of water to cool down. The winters are typically cold and damp, with snow. Due to the nearby Appalachian Mountains and offshore blowing winds, New York tends to be warmer than other cities with similar latitude.
However, the winters and summers aren't the troublesome part of the NYC annual weather. It is the spring and autumn that make New York a tricky destination for expats. The usual conditions are days with mild temperature and low humidity. Though, be careful of the infamous temperamental weather! Spring and autumn days can change from a perfectly sunny occasion, begging for a picnic, to a rainy storm, when you're not certain if you want to leave your home. The weather in NYC can change completely in a matter of an hour!
Our NYC annual weather guide will prepare you for the summer first
Most of the moving is usually done in the summer months. Keep in mind the weather while you're packing for your move to the Big Apple. So, be sure that you can access clothing and items which you will need during this period with ease. With loose categorization, here are the summer months: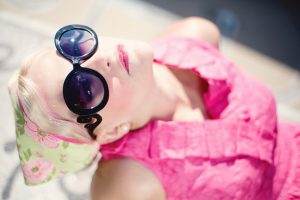 June – among the most gorgeous month on our NYC annual weather guide for newbies. The days are hotter than in spring, while not unbearable. The average temperatures range from high 60s to high 70s in Fahrenheit. If you're packing clothing especially for this month, we'd suggest shorts and T-shirts. The New York locals advise the clothing at this time of the year to be cotton, too.
July – still great weather, but getting a bit hot. This is the perfect time for a picnic in the shade of any of the amazing parks in NYC. If you're in the market for a perfect spot at the seaside, head to Coney Island. On the side note, the wardrobe is still light cotton shirts and shorts, according to our NYC annual weather guide.
August – forget leaving the apartment if you have AC. Well, you'd better first get an AC, if you're not planning on dying. This is the month when in New York the locals only talk about the three Hs: hazy, hot and humid. If you're looking for a great place to use as a sauna for free, we suggest a subway platform. All in all, your clothes will stick to your back and you will find yourself wishing for a swim.
Next, let's talk about NYC annual weather guide estimations for an average winter
Winter is the month where one should definitely have a good, layered wardrobe. The locals in NYC like to say that there is no bad weather, only bad clothes. So, to help you get through these months, we'd suggest a pair of warm and waterproof boots, as well.
December – It is one of the colder months, but still festive! According to our NYC annual weather guide, though it may get cold, December is by far the favorite month in the city. Despite the fact that you're wearing your thickest jacket, the first snow of the year is always fun. Not to mention all the shopping for the numerous holidays. With Christmas, Hanukkah, New Years and others around the corner, take care of the inflood of tourists, as well.

The NYC annual weather guide says: Keep in mind that winter holidays are coming and you will be just fine! As a side note: waterproof boots help.

January – Let it snow, let it snow… This month is full of cold and snow. You will definitely need a warm jacket and waterproof boots at this time. If the winter is nice, you'll have plenty of time to enjoy the pure-white snow outdoors. However, hurry up, as it will turn to slush in no time.
February – How good of a 'slush jumper' are you? Our NYC annual weather guide suggests that you do your best and bear with the winter for a bit longer. It's true that by this time everyone in New York is sick of snow and slush. After all, there is a reason why they call February: January 2. Luckily, the month is only 28 days long!
And finally, a short explanation of the NYC annual weather guide expectations of transitional seasons
As we've mentioned before, spring and autumn tend to be the most bothersome seasons. Luckily, you can prepare for the shock with well-set expectations. Here's a short introduction:
March – the biggest of liars in NYC. Don't be fooled by the wonderful, picnic-worthy days during this month. Soon, a lower temperature will appear and you will be in bed with a cold.

If you're planning a picnic in spring, we'd suggest that you do so in May.

April – is it spring yet? According to our NYC annual weather guide: No. If March is usually described as cold with a couple of hot surprises, April is the opposite. Don't forgo your jacket yet and bring an umbrella for safety!
May – finally! Yes, the days are actually warm and you can enjoy some budding flowers here and there. Officially, spring had arrived… just in time for summer…
September – the weather is finally good… It is the perfect mix of summer and winter. The temperature is great for everything. Though, we would suggest layered clothing in case of cold waves.
October – one of the best months in NYC. Together with May, October probably has the mildest weather. The leaves are changing color and it's a perfect time for sightseeing along the Hudson. As for the wardrobe: a light sweater or jacket is enough.

Our NYC annual weather guide tells you: Love autumn, but be ready for unexpected downpours – keep an umbrella with you!

November – winter in disguise. Sure, there are some nice days during this months, but, mostly it's chilly. According to our NYC annual weather guide it's time to bring out the winter jacket and boots gear once more.
We hope that your move to New York will be less stressful with this small NYC annual weather guide for newcomers!