It's not strange that many romantic movies are filmed in New York during the winter months. New York is the most magical place when the snowfalls. New York is not famous only for fast lifestyle and downtown fun activities, but for amazing winter resorts and winter activities. Even in the coldest weather, New York winter resorts will make you feel instantly warm and happy! We'll show you interesting winter resorts and places you can enjoy this year in New York with your family and friends. Relocating to New York soon? Choose local movers NYC to relocate your household fast and safely before holidays!
Why choose New York Winter Resorts?
New York is one of the most beautiful cities in the U.S. during winter. This is why winter is a popular time to visit this place. New York winter resorts and activities such as ice-skating, skiing, tubing and other, attracts a lot of people, from young people to families and seniors. Besides winter resorts, NY has famous holiday attractions which include the Rockefeller Center Christmas Tree and ice skating at Rockefeller Center and more. What's more amazing, during winter, the streets of New York have smaller crowds and more accessible restaurant reservations. And if you plan to visit NY during winter from January through March, hotel rates dip below 90% making it more affordable to book an apartment. If you need professional help with relocating to New York, check reliable residential movers NY and move without stress.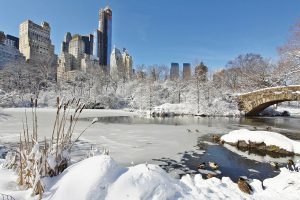 Enjoy Whiteface Lodge in Lake Placid
Our favorite among New York winter resorts is Whiteface Lodge in Lake Placid. It's rated the world's best hotel by Travel+Leisure. This winter resort has uniquely designed rooms with stone fireplaces, deep soaking tubs and outstanding views on Whiteface Mountain. No matter your age, this resort offers various winter activities such as skiing, hiking, snowshoeing and others. There is also the 84-degree heated indoor swimming pool! You can also enjoy a game room and fitness center. There's also a private movie theater! You can also take the romance package which includes dining for two, the classic sparkly and chocolate-dipped strawberries and king-sized beds. New York is one of the most photographed cities in the world. If you want to capture amazing moments with your loved person, explore the most instagrammable places in NYC and visit them!
Stay at Mohonk Mountain House
What can be more relaxing than enjoying cozy New York winter resorts with your family and friends? According to Conde Nast Traveler, Mohonk Mountain House is ranked no. 1 resort spa in the U.S. Mohonk Mountain House is located in New Paltz about 90 miles north of NYC. It is a Victorian castle that dates back to the late 1860s. Rooms are designed in Victorian style with wood-burning fireplaces. Winter activities include cross-country skiing, snow tubing, ice-skating and more. If you're taking kids with you, during some weekends, they can stay and eat for free! For those on a romantic vacation, there are special occasion packages which include wine, flowers, and breakfast in bed. Consider relocating your pets to New York? Make sure to find out how to help your pet adjust to NYC.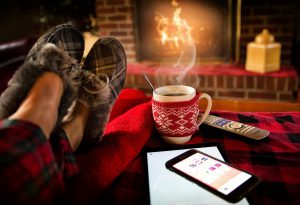 Visit Red Coach Inn
Red Coach Inn is among the best New York winter resorts. It is located 500 yards from the brink of Niagara Falls. This winter resort is designed in a warm English country style. Since Niagara Falls State Park is near, you can take your family or beloved person to enjoy the outstanding view. Red Coach Inn offers winter activities and delicious dishes in the award-winning restaurant.
Find great vacation activities in the heart of New York
If you want to experience winter activities in NY, not only New York winter resorts, go to the heart of the city. There are famous winter activities you don't want to miss. You can try ice skating at Rockefeller Center – one of the most iconic places in the world for ice skating. If you get cold you can have a hot chocolate at Rock Center Café. You can take a tour around the center or take pictures of the New York City skyline. Don't miss the chance to see the world-famous Rockefeller Center Christmas Tree scene! And if you're staying in NYC to celebrate New Year, you can celebrate it at Times Square.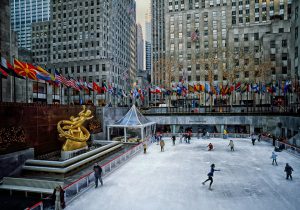 Take your family to Holiday Valley in Ellicottville
Looking for all-inclusive New York winter resorts for a family vacation? If so, choose to visit Holiday Valley in Ellicottville. For winter sports addicts, there are 58 slopes to choose from skiing! This winter resort features family-friendly quad chairs. It's not strange that this place is constantly rated as one of the top family resorts in the East. There are various restaurants with amazing dishes from Italian, Asian and other cultures. This place has everything you need to fully enjoy winter charms. New York during winter is a very romantic place. If you want to surprise your dear person with vacation, check out cozy up upstate romantic winter gateways and enjoy.
Ride horses at Rocking Horse Ranch Resort
Kids love winter but they love animals, too. This is why Rocking Horse Ranch Resort is one of the best New York winter resorts. This ranch is located in Highland, about two hours north of New York City. All-inclusive services include amazing dishes and enjoying winter activities. Kids and adults can enjoy horseback riding, but also classic winter activities such as skiing, tubing and sleigh rides.  Definitely one of the most exciting resorts to visit with your family during winter.