Are you moving to New York City with your dog? Feeling stressed and restless? Are you unsure of how to properly introduce your dog to the idea of moving? Need help getting it to acclimate to the Big Apple after the move? Then read further, and hopefully, we will answer your questions about moving with a dog to New York City.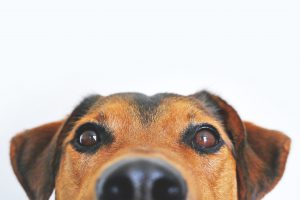 Research the New York Dog-friendly Buildings
Let's be honest here – finding an apartment building that allows you to keep your dog can be extremely hard these days. Make sure that before you decide on an apartment, you talk to the building supervisor or the landlord about whether or not your dog is allowed in your new place. They might ask you more about your dog, such as its breed or their size. Some might even ask about your dog's habits!
You can talk to your realtor about this if you have one. Also, you research your NYC housing options here.
Prepare for the move
Once you have found a perfect apartment for you and your dog, it's time to start preparing for the move. First, you need to visit your dog's vet a few weeks before the moving date and talk to them about the process. Ask them for any helpful tips, since they know your dog personally.
Is your dog is due for the vaccination? It might be the best to give them a bit early rather than a bit late. Remember, once you move, you will have to find a new vet for your puppy, so getting paperwork early is not a bad idea. While on the subject, you should ask the vet if they have any recommendations for vets in your new area – some professionals they know will be great.
Get the dog's documentation ready. If you're traveling by plane, check what airlines will need. You might need to show proof of vaccinations and dog shots. The vet might also recommend something to help the dog rest during the travels.
Reduce the Stress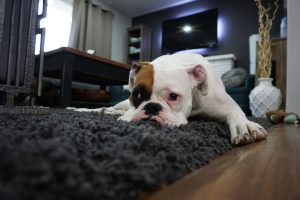 You are dealing with a lot of stress right now – there are things to plan, boxes to pack, and million other chores that need to be done. But you're not the only one going through stress – your puppy is suffering too. There will be so many things changing in their lives, they will feel confused and scared. 
To reduce your dog's stress, try to keep your composure. Remember, dogs can feel it when you're feeling down, and they will reflect that feeling. Next time you want to throw a tantrum while packing, count to ten and think about your puppy. How will that make them feel?
When packing, take your time. Start packing early so you can do this as slow as possible. Things will start disappearing around the house, and your dog might get confused. Packing slowly will let it accommodate better.
Finally, if your dog will be traveling in a kennel, you should introduce it to it a few days prior to the moving day. Let the dog adjust to being in it, and get your dog some treats for when the dogs sleep in the kennel.
On the big day, consider sending your pet away to a friend's house or a doggy daycare. Dogs may get excited with all the boxes being placed on the pickup truck, so they might run away. This way, neither you or the dog need to worry about one another for the day.
Finally Moving with a Dog to New York City
There is always a question of whether you should travel by car or by a plane when moving with a dog to New York City. This mostly depends on where you are moving from. If it is a drive you can accomplish in a few hours, and your dog enjoys car rides, maybe it's best to move by car. However, if it's a cross-country trek or if you're moving internationally to New York, you might want to consider the plane.
Talk to your NYC movers about what advice they might have for you. They have been doing this for a long time, and they might give some real insight into your problems. Some might even suggest the best way to transport your pet, or might offer pet moving services, so think about that as well.
Moving with a Dog by Plane
Moving with a dog by plane can be tricky. However, sometimes this is the only option available, so make sure you prepare well. Every company will have different rules, so be sure to phone them and check. Usually, you are allowed to keep smaller dogs in a kennel under your seat (with an added $100-$150 fee), while bigger pets need to stay in the plane cargo area.
The kennels in the cargo area need to adhere to Agriculture Department rules, as well as the regulations of the International Air Transport Association. Another difficulty is that many airlines will not transport pets if there is a stop in your journey with a significantly lower, or higher temperature change (for example, if it's colder than 45, or warmer than 85 degrees Fahrenheit). This is why it's the best to transport your puppy during Fall or Spring when the temperatures are not so drastic.
Moving with a Dog by Car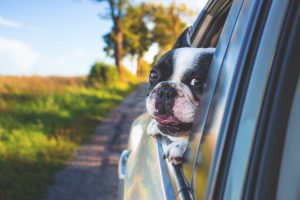 If you're traveling by car, there are other things to consider. You will need to take more stops for toilet breaks, and you might need a dog harness or a dog seatbelt, as well as some toys and a no-spill water bowl for your pet.
If the dog gets car sick, feed them a few hours before travel. Feed them again only after you have arrived. Again, talk to your local NYC movers for any tips and tricks they might have for transporting the pet by car.
After Moving with a Dog to New York City
You may think it is, but after moving with a dog to NYC, your job is still not done! Now's the time to acclimate the dog to their new surroundings.
New places are brimming with various noises and smells. If you think your dog might not be comfortable exploring right away, keep them inside for a few days. Once they feel better, go out and explore.
If the dog seems sad and uninterested, we advise not to worry but to give it some time. After a few days, it should get used to your new place. Get your dog set up first in their personal part of the house before starting to unpack all other boxes.
After that, it's time to go out and enjoy New York City with your dog!