What to expect when you are moving to NYC from Europe? Many Europeans dream about moving to NYC. There is something alluring and different about the Big Apple that fascinates Europeans. So if you are one of those dreamers who are preparing for life in New York you are probably already prepared for a cultural shock that follows, right? If you thought that moving from Europe to NYC is going to be a piece of cake, think again. It's going to be difficult from a cultural standpoint and from the logistics side as well. Organizing relocation from Europe to New York City is going to be costly, too. So try to be very careful when you are doing your moving estimates NYC. But you should let your movers worry about the logistic part of your move. You should concentrate on differences in lifestyle that are most surprising for newcomer Europeans.
Moving to NYC from Europe – Where will you live?
As you probably already know New York is not just incredibly tall skyscrapers of Manhattan. It consists of 5 boroughs and they all look different. And their residents lead different lifestyles. Of course, depending on the borough you plan to move to your moving costs NYC will be different. So you need to see this from the financial side as well. If you find some good and honest relocation service you will have no trouble in finding a suitable place for you.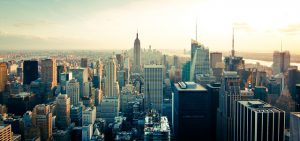 But before you start looking for your landing spot you need to know some things about differences between 5 NYC boroughs. It is not the same to live in Manhattan or in the Bronx. So search the internet and find some worthy and reliable information about different parts of the Big Apple.
Here is some common information about 5 NYC boroughs.
Manhattan – The central, most popular and most famous part of New York City. It probably has to say a little thanks to the Hollywood movies that made it so famous. But it is probably well earned. If you are moving to NYC from Europe you'll need to have a good salary to support life in Manhattan.
Brooklyn – It has also become famous thanks to Hollywood movies but of a different genre. Of course, today's Brooklyn has nothing in common with its criminal past. If you like Manhattan lifestyle but you can't afford it; Brooklyn is the place to go.
Queens – The largest of 5 boroughs and one of the ethnically diverse places in the entire world.
Bronx – Things have also changed in the Bronx which is now a very peaceful area with some very affordable housing.
Staten Island – The least populous Borough of NYC yet only a half an hour away from Manhattan.
Moving to NYC from Europe – Manhattan
Manhattan. Also known as the center of the universe. If you are thinking about moving to NYC from Europe you are probably fantasizing about life in Manhattan. There is one thing you should know. If you are not very well situated you can only continue to dream about living in Manhattan. The price of living in Manhattan is just too high for a person who lives alone and does not earn at least 40,000$ a year. That is exactly 3,333.33 per month, so if you are not in that salary range you should probably try living somewhere else.
Moving to NYC from Europe – Fast pace
If you happen to move to Manhattan the first thing you will notice is that your usual European walking speed is not going to be enough.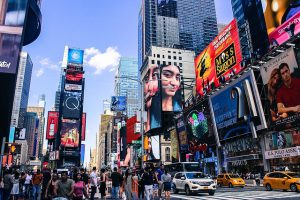 Walking in Manhattan will require you to at least double the speed of your usual pace. Manhattanites will look like they are always in a hurry. And you will have to adopt that very fast if you want to survive on the streets of Manhattan.
Moving to NYC from Europe – Healthy eating
When a healthy European move to Manhattan if he is not aware of what he is eating he will quickly notice some changes on the weight scale. When you move to NYC from Europe you will need to watch what you are eating. There are many options for healthy eating in Manhattan but on the other hand, you could easily fall into a trap of eating fast food every day. So think about what you are eating when you move to NYC.
Transportation in NYC
Manhattanites usually do not own cars. To be precise, 22% of people in Manhattan own a car and only 8% use their car to drive to work. If you are coming from Europe you are probably used to own one or even more cars per family. So using a New York subway system as a main mean of transportation is going to be a change, to say the least. Another good way of getting to work is walking. You will usually need 20 minutes of walk to cover the 3 subway stops. So if you are in for an easy everyday exercise walk to your work.
Moving to NYC from Europe – Brooklyn
Brooklyn is the first place you should consider if you like Manhattan lifestyle but it is out of your price range. Brooklyn is the coolest NYC Borough with lots of different neighborhoods that have differences of their own. There are parts that are considered elite with some unbelievable apartment and house prices. And there are parts that are perfect for living on a budget with affordable renting.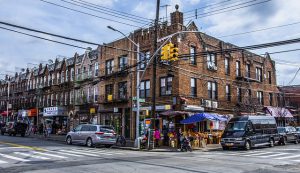 If you read about Brooklyn you will see that there are many good options for you. Some of the oldest and most reliable moving companies in NYC operate throughout Brooklyn so you will have no problems as far as moving is concerned.
Living Space
When you move to NYC from Europe you will notice a big change in the amount of your living space. New Yorkers, especially those living on a budget, live in some really tight spaces. So they usually have to rent additional storage spaces where they keep their excess belongings. So if you move to Manhattan or Brooklyn you will have to rent a storage unit yourself. Keep that in mind too.