So, we've talked before about moving from NYC to California, as well as going to the other coast, right? Well, it's time for all willing expats to consider another beautiful destination. Just south, down the same coast, is the wonderful city of Miami. If you aren't overly familiar with it, let us tell you that it's also called the Capital of Latin America. Before you start packing for your relocation, you should probably know what moving from NYC to Miami entails. So, it's time to ready your Spanglish and enjoy the ride.
If I'm relocating from NYC to Miami, what should I expect?
If you've been reading our blog, you've already read a bit about moving from NYC to Florida. Miami, as you know, is one of the most populous cities in the state. If you've ever been there on vacation, you will kind of know what to expect when relocating there. If not, here are some things which will come with moving from NYC to Miami…
Going to Miami means a drastic change in your seasonal wardrobe
If you haven't heard already, the Capital of Latin America has wonderful weather. From the coldest estimate at 68°F to the hottest month when it goes up to 82°F, it really can't be beaten. It's never too hot for not leaving the home or too cold for a swim. And, have we mentioned the beaches? From the most infamous South Beach to the quieter places, like the North Beach, anyone can find a place for themselves in this city.
As for the wardrobe, you may need to leave your winter jacket behind in New York. There simply won't be any need for it in the Sunshine State, even during the colder months. On the other hand, a good pair of waterproof boots is always welcome. Take care especially in October, as it has by far the most rain. An average estimate of 234mm has been recorded. Though, a pair of good shoes and an umbrella in your bag will solve this issue in no time!
When moving from NYC to Miami it's time to welcome the food

Moving from NYC to Miami means gaining a new appreciation for Cuban food.
So, you've tried a burrito, some tacos and perhaps had a brunch at Calle Ocho? Let's just say that it might be best to keep this a secret when moving from NYC to Miami. Instead, look forward to enjoying the culture in Florida. There are a number of things which we would suggest you try, once you've settled in. Start with a cafecito in the morning and continue on to a frita. The former is a Cuban version of an espresso, which will definitely become a morning habit. And the latter is a burger, also Cuban style, with papitas, matchstick potatoes, and a secret sauce.
The wonders of food don't end with this, though. We'd give you recommendations, but there are simply too many! As Miami is a large city, just like New York, it's best to look up online and then go from there. And, if you are in the mood for one of the most authentic experiences, just pick a stall in the street. The best way to judge their food quality is the size of the queue in front of it.
Apartment hunting and rent in Miami is pretty much the same as in NYC
Have you tried apartment hunting in New York? Then, you're pretty much familiar with the whole ordeal. If you had searched online or hired an NYC broker, you had paid one of the two ways: time or money. When moving from NYC to the Biscane Bay City, the process tends to be similar. If you're going to be looking for an apartment online, prepare to set some time aside for that. Be careful of scams on Craigslist, if you do decide to do so. Brokers in Miami, on the other hand, are a bit more affordable than in NYC. They will usually charge you 6% of the final price. If you're wondering when to rent an apartment, September to January is the best time. On the other hand, the worst deals are made between May and June.
If we're comparing the cost of living in New York and Miami, you're definitely in luck. The former is definitely the more expensive one. So, perhaps you won't be needing all of your DIY ideas on a budget this time? The estimate from entries of about 1500 people tells us that they pay 66% more for housing in NYC. This is definitely the most drastic gap in cost between the two cities, though. In total, with food, clothing, housing, transportation, personal care, and entertainment combined, New York is roughly 41% more expensive. All in all, prepare that piggy bank for some savings after moving from New York City to Miami!
You will meet your neighbors fast and make friends even faster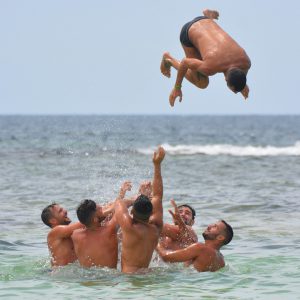 New York is a place where meeting your neighbors is a sport. There are, of course, numerous reasons for this. New Yorkers tend to be busy people, as you already know. Usually, you can catch them coming home from work exhausted or going to their office barely awake. And, if you do manage to see the neighbors during the weekends when they're not out of town, they won't be overly fond of socializing. After all, they'd been looking forward to the calm and peace. True, once you've met them, you've most likely got friends for life, though. In Miami, it's a little different…
First and foremost, when relocating from NYC to Miami, forget to do anything alone. You don't eat alone here. Going to the museum is done in company, as well. Working is the best with a cheerful crowd, too. Long story short, Miamians love to hang out. And, you will soon have one too many circles to keep switching between. Moving to Florida might actually mean forgoing most of your 'alone time' in favor of socializing. Enjoy the party!
The relocation from NYC to Miami means gaining a new respect for art
Sure, NYC has its art walks and a number of wonderful museums and galleries. However, with the hectic schedule of a college student in New York or an employee, there is no time for real appreciation, is there? If you're relocating from New York to Miami, it's time for a change. The Capital of Latin America is not only infamous for its modern buildings but also, for the numerous art deco hidden treasures. Be sure to take an art walk and appreciate it. Another thing which is definitely worth the time are the numerous little galleries. If you're looking for an authentic experience with a mixture of cultures with an art twist, visit the Coconut Grove.
So, when moving from NYC to Miami, what should I know about the city itself?
Migration from New York to Florida means a dictionary on Spanglish
If you've taken a Spanish class back in high school, you'll be glad for it now. We've mentioned that Miami is the Capital of Latin America, right? It is the time to brush up on your skills and embrace the fusion of the two languages. On the other hand, if you've never tried Spanish, that's alright, too. The Spanglish of Miami is surprisingly catchy, though sometimes hard to understand. We expect that in a few weeks after moving from NYC to Miami, you'll be speaking, pero like, perfect Spanglish!
We've talked about the weather in Miami, but have we mentioned that it's brutal, as well?
After tasting the New York winter you are probably wishing for an eternal summer, right? Well, perhaps for a couple of months. The weather in Miami varies from nicely cool, to pouring buckets, and finally to absolutely scorching. Similar to the weather in NYC, spring and autumn are generally the nicest times of the year. In the winter, you may need a light sweater. But, other than that, you're good. The brutal part of the weather in Miami is actually in summer. Unlike in New York, it gets really humid in Florida. And, we do mean humid. Luckily, almost everywhere inside there is an AC cooling the room, so, you may still need that sweater from winter. And, don't forget an umbrella!
Miami isn't just a beach, it's good to remember that

While the beach is attractive, don't be a tourist after moving from NYC to Miami.
The rite of passage for becoming a true Miamian is finding that tourists aren't as fun as they may seem. True, when you first go from NYC to Miami, you will love the beach and the tourists and the commotion. It is, after all, on a completely different frequency from the one in New York. However, just like in the Big Apple, you'll soon learn that steering clear of tourists might be a good idea. So, yes, there are plenty of things to do in Miami that don't involve a bikini. And, yes, the locals will love you more for realizing that faster.
Welcome your non-human neighbors after moving from NYC to Miami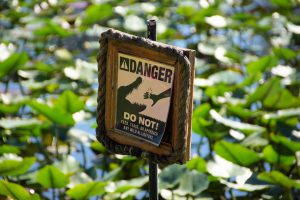 New York has taught you that a roach or two is nothing to fear, right? Maybe, if you'd struck a jackpot back in the city, you had both the roaches and the rats? Luckily, you're leaving them behind. In Miami, the scene is a bit different. Here, there is the option of numerous bugs, still, as well as mice, rats, and the most troublesome gators. Though, there are a number of great pest control companies in the city which will be able to fix your problem. On the other hand, moving to New York with your dog and doing the same in Miami is a completely different world. You will definitely find your pooch being welcomed by the neighborhoods of its own kin.
Moving from NYC to Miami you should also know that people here love to exercise
Yoga, bike, gym, swimming, sailing, etc. There are plenty of options for sports in Miami which will keep you fit and healthy. So, we'd suggest preparing yourself mentally for your new friends of neighbors to invite you for any of them. After all, everything in Miami, unlike New York, is done in a crowd! Don't worry, after a bit of practice, you will learn to enjoy both the exercise and the mingling.
Your New York clock might be running on early, it's time to wire it to 'chill'

Moving from NYC to Miami also means learning how to relax.
After a job relocation to NYC or something of the similar sort, you probably learned how to speed walk, rapidly talk into your phone as well as drink your coffee, at about 6 am. In Miami, this isn't the most usual practice. The locals prefer to take some time to themselves and relax, once in a while. So, you may need to slow down a bit after relocating from NYC to Miami. The beach and the numerous outdoor activities are sure to keep you busy, as well.
When moving from New York to Miami, forget the subway and get a driver's license
You've been enjoying the transportation after moving to New York, right? Well, Miami is a whole different beast. While leaving behind the crowded subway might be great for you, there are also the downsides. Living in Florida means having a car. And, as Miami is a huge city, it means leaving early for everything. We may have mentioned that Miamians are wired on 'chill', yes? This applies to everything except public transportation.
After going from the Big Apple to Miami, it's time to welcome the visitors

After relocating from the Big Apple to Miami, you'll be welcoming plenty of visitors.
You've probably had a fair share of people asking for couch surf in New York. Prepare for something similar in Miami, but all year-round. The city is one of the favorite vacation destinations in the world, during both winter and summer. After going from NYC to Miami, you may find your friends and relatives popping in here and there, just for a few days. If you're going to be getting a bigger apartment, we'd advise considering a guest room, too. That is if you want to keep the numerous guests off of your living room couch.