In recent years, many people are deciding to move from Manhattan to Jersey City. But, why would anyone want to leave Manhattan or even NYC? Well, when you are moving from Manhattan to Jersey City you won't get that feeling you are leaving New York. Even though Jersey City is in another state, it is so close to NYC that some people are referring to it as a New York City's sixth borough. Manhattan's proximity and still affordable rents make it a new target for people who are sick of living in Manhattan's tiny apartments with astronomical rents. But, with many newcomers who are migrating from NYC to Jersey City, the rents here, are starting to get pricey, too. So, before others beat you to it, hire Manhattan movers and start packing today.
Moving from Manhattan to Jersey City is becoming popular
Jersey City is the second-most populous city in the state of New Jersey. It has around 265 000 people according to the 2018 population estimate program. They also found that from 2010, Jersey City had an increase in population for almost 10%. That is the largest population increase in the state of New Jersey in this period. This means, that Jersey City has become a popular destination for many people. And it is not hard to see why. Jersey City is actually a part of the New York metropolitan area. So, you can still feel like a New Yorker, but with a larger apartment and with lower rent.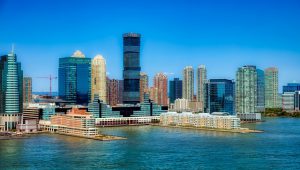 That does sound very nice, but as you can see, Jersey City is becoming very popular And, rent prices are starting to go up. But, if you hire cheap movers NYC, you can save some cash, at least for first-month rent.
Learn about the neighborhoods before Moving from Manhattan to Jersey City
When you are moving from Manhattan to Jersey City, first you need to find an apartment. But, there are many neighborhoods in Jersey City and how to know where to look? Well actually, before you start looking for an apartment, you will need to learn a little bit about Jersey City neighborhoods. If you want to make sure that you are making the right choice when picking the apartment. So, here is the small list of cool Jersey City neighborhoods.
Newport, this is the first neighborhood you will see when you are moving from Manhattan to Jersey City and crossing the Hudson River.
Grow Street area, sits next to Newport. A place with many bars and restaurants that were opened in recent years.
Paulus Hook is a neighborhood with many young families. Beautiful streets are full of trees, greenery, and red brick apartments.
Hamilton Park is considered to be one of the safest and most enjoyable neighborhoods in Jersey City.
Exchange Place is a great neighborhood if you are a striving professional looking for luxury residential complexes.
Moving from Manhattan to Jersey City because of its location
The best thing about Jersey City is its location. It is so close to so many great places. And Manhattan is just a bridge away. Some locations within Manhattan are just 15-20 minutes away if you are using the Path train. Financial District is even closer. It will take you just 5 minutes to reach it. You cannot get much closer than that.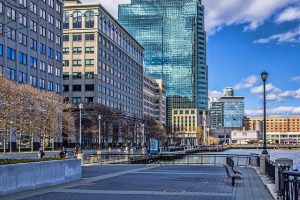 And you already know how important is to have a short commute to work. Besides Manhattan, Jersey City is close to many other great places. You can go to the beach or take a hike through many hiking trails in its vicinity. You can go hiking at Bear Mountain or visit numerous small and beautiful towns. Living in an urban area can be very stressful sometimes, so it is good to have a quick getaway option at your disposal. And in Jersey City you really have plenty.
Get new furniture before Moving from Manhattan to Jersey City
If you decided that you are moving to Jersey City you need to start thinking about packing and hiring movers. The first thing to think about is what things are going to your new place and what you want to get rid of. When you are moving from Manhattan to Jersey City you are probably moving to a larger apartment. That is the whole point of your move, right. Therefore, you will probably need to buy some new furniture to fill up the larger space. But if you decide to sell your old furniture, you will get some money for it, but you will also lower your relocation cost. That is the most effective way to move and to have only new furniture in your new apartment.
Think about hiring packing services
Packing on your own is not such a great idea anymore. Packing and unpacking services are not expensive these days. And if you count in the prices of packing supplies and effort you will have to invest into packing on your own. It is more than obvious that hiring a packing service is the right choice. The packing crew will come to your home with all materials needed for quality packing of your items. You just need to give them some directions, so they are aware of fragile or valuable items that need special attention during packing and transportation.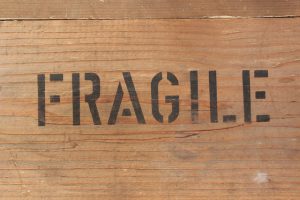 They will also unpack your items when they arrive at your destination home. Just make sure that you are present during packing and unpacking. You want to inspect your items and report possible damage to the head of the moving crew.
Packing on your own
The only thing that could force you to pack on your own is that bad feeling of some strangers going through your personal belongings. So if you are not feeling comfortable to leave your items to the packing crew, you will need to pack on your own. Make sure that you get someone to help you. If you have to move some heavy objects it is always good to have someone around. Get all packing supplies before you start anything. You will need lots of quality moving boxes NYC, packing tapes, bubble plastic, trash bags, and some small tools. Make sure that fragile items have enough padding. And don't overload the boxes. Pack your items in similar groups, and make sure that everything is labeled properly. If you do this right, moving from Manhattan to Jersey City can be a great experience.