Are you tired of living in your New York apartment? Feeling anxious when you need to host a party? Maybe the apartment just doesn't work for you anymore? Instead of immediately contacting your NYC Movers, maybe you should give your apartment another chance? Sometimes, all it takes is a couple of new furnishing items to transform your living space. If you're unsure about the interior design, this is the place for you! In this article, we discuss some modern interior design solutions for your New York City apartment. So get an NYC storage for your old furniture, and let's dive right in!
The Principles of Modern Interior Design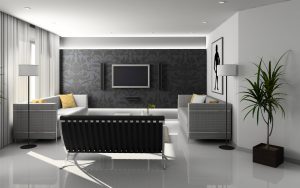 The basic principle of modern decor is its simplicity. The lines are clean, the colors are simple and neutral, and there is an abundance of geometrical shapes. This, however, does not mean the modern decor is boring. On the contrary – it can be quite inviting, lively, and warm. What's even better is that modern decor looks great in any place – whether it be your family house or a tiny New York City apartment. There are, however, certain principles you need to follow. You cannot just walk into a furniture store and buy everything with a geometrical print on it.
Modern Interior Design Simplicity
The first rule of modern interior design is this: keep it simple. There are some researchers that show clutter items can lead to stress if there is a whole lot of them. Modern design does not need clutter. You don't need to go bare necessities with just two chairs and a dining table in between them, but keeping it simple should be the guideline when refurnishing your apartment.
Modern Interior Design Functionality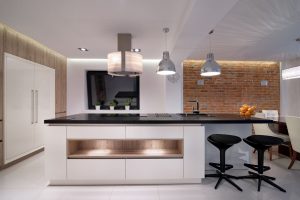 The next principle of modern interior design is its functionality. Anything in the room needs to be easily accessible so it can fulfill its function. Having less clutter helps with this, but also think about ways in which you can arrange your furniture. Will your couch be blocking your path? Try moving it against the wall. Kitchens, on the other hand, need to have enough room for you to move and do the cooking.
Also, think about what you will use the room for. For example, if you intend to entertain often, acquiring various seating options for your guest will be a good idea. Don't only settle on couches or sofas – include other furniture too! Benches, sitting chairs or a chaise are all great additions to any room!
Modern Interior Design and Technology
Another important aspect of modern interior design to keep in mind is the use of technology and electronics. However, this does not mean cluttering technological items in your room and calling it a day. When getting electronics, think about clean lines and thin designs. Getting devices that streamline into one is often an advise. Flat screen TVs and computers are much neater than the chunky ones. Another thing to keep in mind is how well the equipment will fit with the rest of your furniture. Remember – keep it simple!
Open Spaces in Modern Interior Design
One of the main characteristics of modern interior design is the use of open spaces. This may be harder with small New York apartments, but there are ways around it. Using lighter colors on walls and furnishing gives the appearance of an open space. Also, getting some light, bright window coverings might be a great idea – they make the room feel open and airy.
Color in Modern Interior Design
Although neutral colors often follow modern interior design, adding a splash of a bright color won't hurt. You need to make your apartment personal, and yours. If you are buying new furniture, it is a good idea for the larger pieces to be of neutral color. You can incorporate these items into almost any interior design, so it's nice to think in advance. On the contrast, smaller items can be very personalized and colorful to make the apartment interesting and lively.
Modern Interior Design Tips
Keeping it personal
As we mentioned before, adding color to your furniture is not a bad idea. Keeping it personal by adding clutter and paintings you have collected over the years is even better. This helps if you're on a budget and can't afford for some modern design decor items. Making colorful points of interests with the items you already own add a dash of excitement to your apartment, and might also be great conversation starters.
However, keep in mind that, when you are working with multiple colors and designs, items do need to follow some thread. Having a mixture of different patterns and color might be just too much for the eye. The rule of the thumb is to follow the tread of a shade or a pattern. Another idea would be to use a dominant color (like hot pink) to connect varying patterns and shapes.
Sometimes you can use a pop of color in unexpected places to keep the room glamorous. For example, metallic tones add a hint of reflection, so using a strip of metallic color on the wall might be interesting. Another idea is to use some bright color (like yellow or orange) on the back of the chairs to keep it both exciting yet conservative while dining. Think along those lines when planning on surprising your guests with bursts of color.
Patterns and Texture in Modern Interior Design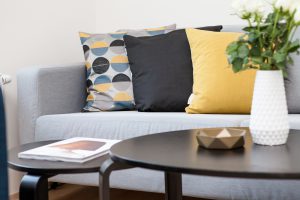 Learning to utilize various patterns in modern interior design can be a lifesaver. When working with bold colors and straight lines, use high-contrast patterns on various materials and textures. They will be the things that make the eye move across the room.
Using textures on walls is something to consider too. Newever New York apartments are often architecturally boring white boxes, so adding a wallpaper with a texture or a pattern can give the place a whole new look. One thing to remember is to try and keep the wall colors muted, even when using your favorite color.
Hopefully, this guide was useful in giving your apartment a new life. Even in you are only moving to NYC, these tips will be of great help! There are many other various tips and tricks for the modern interior design you can find online. If you're lacking inspiration, Pinterest always has something for you! Enjoy!