Everybody likes more space. When you were a kid, you probably imagined a big house, with a wide open-space living room and big yard. But not everyone can afford that when they grow up. However, your apartment is a place where you should enjoy and where you should create your own world. So, be creative. Even if you don't have the opportunity to buy a bigger home, you would feel more relaxed if you make the space around you more appealing. Therefore, don't despair if your apartment isn't very large, there are still a few tricks that you can use to make your apartment appear bigger.
Most effective and not so expensive tricks to make your apartment appear bigger
People imagine that they need a budget the size of a house to make improvements to their home. But the fact is that there are a lot of things you can do with a minimal amount of money. Never mind if you need a new nursery or to make your apartment appear bigger. There are effective tricks to do it: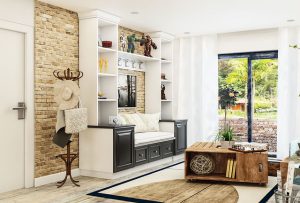 use light colors for your walls,
paint the ceiling,
use storage ottomans and tables,
do not crowd your room,
use stripes and create the illusion of a longer place,
don't cover your windows and don't use kitchen doors,
place a few mirrors so you would make your apartment appear bigger.
Once you try some of these things, you will find out soon enough that it's only a matter of a good idea and not the big budget. Make your own plan, list your actions and start. Firstly, since the spring is slowly approaching, do the thorough household spring clean, and then move on. Decide which of these tricks would work best for you. Nevertheless, you don't have to rush. Make slowly the changes and try to enjoy every one of them.
Use light colors for your walls
This is an old trick. Space in the room would definitely appear bigger if you paint it in light violet or light yellow, instead of dark blue or dark green. Any light color would make your space look bigger. Choose your favorite color, a color that makes you feel free and enjoy every day in it. Try to make a contrast to your furniture.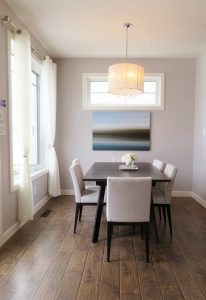 The best thing is that you can make painting fun for the whole family. Ask around where to get free cardboard boxes, put your belongings in them, to not get in the way, and start. Remember to cover the furniture with some sheets, of course. Also, buy some new painting as an additional change to your walls. Place some sweet plant close to your window. And just watch how easy it is to make your apartment appear bigger.
Paint the ceiling
No matter which color you choose for the wall, it is recommended to paint the ceiling in white to make your apartment appear bigger. Rooms, bathroom, and kitchen would look much bigger with a white ceiling. The dark ceiling can make a big room appear small. Find some wallpapers or stickers for the ceiling. Stars could be a great solution for those who don't like pure white color and could be very effective. If you have kids, they love these stars on the ceiling. There is a different way to transform your ceiling and make space feel wider. And always think about your floor. Doesn't matter if it's wood floor or carpet floor, the color of the floor affects the space of a room a lot.
Use storage ottomans and tables
Especially for small apartments, storage ottomans and tables are always very useful. This furniture will add additional storage space to your home. Pack your papers, rugs, even clothes for the different season, and the space that you make in your wardrobe will make your bedroom appear bigger. Pack the towels that you use only for guests take them out. Wash them when your guests announce that they are coming. Storage tables are recommended for all kinds of rooms because you should have some space for small stuff like pens, cards, and notebooks. It is a good place to keep your folder with bills and guarantees. It is close and organized enough.
Do not crowd your room
Small pieces like vases, photo frames, figures in different shapes and forms are very cute. However, they could make your room crowded. Think to change these small decorative things with few bigger things. Think about using some public storage facilities, and get rid of the stuff which you don't currently need. Less clutter will definitely make your apartment appear bigger.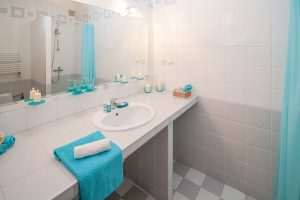 Once in a while organize good purging and throw away everything that you don't use. Things with sentimental value pack in separate box and place below the bed. Clean your kitchen. Do you really need 10 different measures and 20 different measuring spoons for the kitchen? Firstly, get rid of the surpluses and make your kitchen appear more spacious. Same thing with the bathroom. Throw away all old soaps and shower gels that you didn't use for months. It is unlikely that you will use it ever again and at the end, you will throw it to the garbage.
Use stripes and create the illusion of a longer place
The same trick we use with our clothes when we want to hide a few pounds. Stipes on your carpet will make the whole room looks longer. Even stripes on walls or furniture could be used as a good trick. Place a few longer pillows with stripes on your cough. Visit the supermarket and choose a few things which match with your old furniture and stile. Make the illusion of a bigger apartment. Also, think about wallpapers with stripes. Maybe only one wall with stripes would be a great solution for your apartment or hallway.
Don't cover your windows and don't use kitchen doors
Windows are our source of daylight.  In small rooms, curtains would make it look even smaller, especially dark curtains. Try to avoid it. In the bathroom, use a light curtain for your shower cabin. On the other hand, if you have a small window in the kitchen, find some short and cute curtains for that window. It will appear bigger with small curtains on it.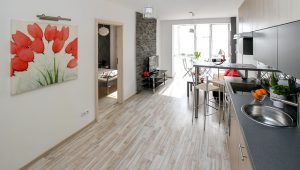 Everything that takes up your space should be moved. If you have some old piano, that you don't use any more, call piano movers NYC and move it to your parents' house or give it to your niece. Same thing with kitchen door. Kitchen doors are very convenient and help with smells from the kitchen, but if that door is taking a lot of space in your home, get rid of it. Make your apartment appear bigger and enjoy the smell of your food!
Place a few mirrors so you would make your apartment appear bigger
Mirrors are a great trick. Therefore, place a few mirrors in your living room for the beginning. It will appear bigger and wider. You can place it either on one wall or on two or even three walls, so when you look around you, space will appear really big. Choose different shapes and frames. Refresh your apartment. Mirrors are fragile and not very convenient for packing if you are planning to move one day, but then you will think about hiring professionals to pack your furniture for relocation. However, for now, try these tricks to make your apartment appear bigger and enjoy the good work.