No matter how magnificent New York City is, it has one big disadvantage – the traffic. Trust us, you haven't experienced a real traffic jam if you haven't been to NYC. This isn't so surprising considering the fact that more than 8.5 million people live in NYC. Because of this, a lot of people try to avoid driving around and use the subway instead. However, a lot of NYC's citizen stick to driving through the streets of NYC. Whether it's by driving their own cars or by Ubering, they manage to get from point A to point B. But, which of these two is a better option? Is it better to buy a car or Uber in NYC? Let's find out!
Driving in NYC
Owning a car is one of the best things! Whether you like driving or not, you'll manage to get everywhere you want with ease. There will be no more being late, and you'll be able to explore top weekend getaways with the people you love. However, driving around NYC isn't so great. This gigantic city is literally everything but pleasant for driving. But hey, don't let this bring your spirits down. Driving around NYC isn't so horrible when you get used to it. So, if you decide to buy a car and drive it through NYC's streets, take the next things into consideration.
Street signs
People who drive all the time complain about the street signs in NYC. There are a lot of them, but they aren't so visible. So, if you have just moved to NYC you'll have some troubles navigating the streets. Keep in mind that in most major avenues you won't be able to make a left turn during some hours. Also, garage signs can trick you if you don't read them carefully. For example, one sign can say something like "$5 All day", but it will also be written in a tiny print "up to half an hour" at the bottom of it. Oh and one more thing. If you plan to move to NYC and hire professionals to help you, don't worry if they'll be able to find your street, because affordable Manhattan moving company knows how to handle NYC's streets like a pro.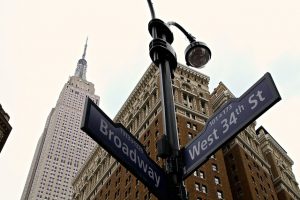 Parking tips
Finding a parking spot in NYC cannot be called the easiest thing in the world. And not just that. Garage parking prices can differ widely even if they are next to each other. There are no rules! Because of this, it's necessary to have a plan for parking. People who don't want to deal with this chaos, when it comes to choosing between the options to buy a car or Uber in NYC, choose Uber. However, finding a parking space in NYC can be easier! Before you leave your home, visit the NYC Bestparking website and search for a free parking space. All you have to do is enter your arrival and departure date, as well as the location, and the website will find you the best deals for parking.
And don't forget where you've parked! A lot of people forget where their parking space is if they've parked in the street. All streets look alike and create this confusion. So, instead of searching for your car in a panic, write down its location or put it down in your smartphone.
Additional advice on driving in NYC
Apart from the things that are listed above, here are a few other things about driving in NYC:
Drivers can be aggressive. NYC sometimes can be like a real jungle full of animals. It's almost like people who drive in NYC have two personas – one as a pedestrian, and the other as a driver.
You cannot make a right turn on red if there isn't a sigh that will allow you to do it. So once again, pay attention to these signs.
Pedestrians are everywhere. So, when it comes to the question of whether you should buy a car or Uber in NYC, people go for Uber so they don't have to deal with them.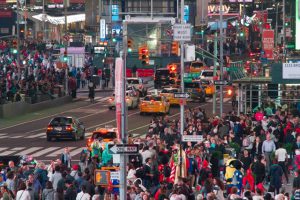 Using Uber in NYC
One of the newest trends in NYC, but also in the world, is using Uber for driving around instead of getting a taxi. However, there are still people who don't understand how Uber functions. So, let's learn more about it in order to differentiate between a taxi and Uber.
Getting a ride
In order to get a ride with Uber, you'll need to install an app for your smartphone. Only through this app will you'll be able to set the location from which you want to get your ride and wait for the drivers to come to pick you up. Most people who are working in NYC choose Uber because they can get their ride easier. However, keep in mind that if you forget your phone, you won't be able to get a ride.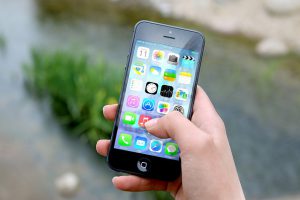 Making payments and customer safety
One of the best things about Uber is the fact that you won't be needing your wallet to get a ride. All you have to do is connect your credit card with an Uber app and you'll be able to drive around NYC. This keeps both you and your driver protected from the possible theft. Also, if you forget your wallet, you'll still be able to Uber in NYC.
Since we're already talking about safety, we have to mention this – people like driving in Uber because they don't have to stand alone in the streets of NYC. You can get a ride while sitting in your home or in a restaurant with your friends. Wait for the ride with your friends, but not in the streets. Your app will notify you when the driver arrives at the location.
So, should you buy a car or Uber in NYC?
Only you can know whether you should buy a car or Uber in NYC. This is your decision to make. It's like deciding between two reliable and cheap moving companies NYC. Both of them are good, but you should hire the one that suits your needs. Therefore, think about the pros and cons of using Uber and owning a car in NYC. Only then you'll know which one of these two options suits you most.