Living in New York City has its ups and downs, of course. A lot of people would agree that the size of the apartments, especially in Manhattan, is the biggest downside. If you're moving from Brooklyn to Manhattan, for example, you'll need to adapt to the size of your new home. But, don't worry about it, you can make it work. So, find some cheap movers Brooklyn and start packing. There are many ways to make your small apartment appear bigger and there are tricks you can use to make the space feel larger. If you're dealing with a particularly small bathroom, there are some helpful tricks you could use. Here's how you can remodel a small bathroom and make it look more spacious.
Tiles to use when remodeling a small bathroom
When you're planning the move, you have to calculate moving costs NYC, but you should also think about the cost of remodeling your new place. Something you're likely to invest in and change in your small bathroom is the tiles. You can, of course, go for any tiles that you like. However, if you're interested in making the bathroom appear larger, you should think about more than just a pretty pattern. Colors are very essential in making a small space look bigger. What you want to do is go for white or a different light color. If you opt for darker colors, the room will appear even smaller. Another thing you can consider is getting different floor tiles. You can get darker tiles for the floor so that the light walls draw the eye upward.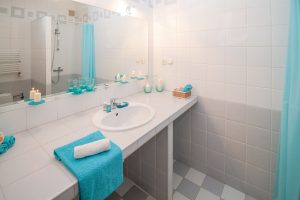 You don't have to make your entire bathroom white, though. You can play with colors in different ways, which will add some interest to the room. Maybe you can get some colorful towels and even match them with the bathmat. Don't be afraid to experiment and try different things out. Also, the tiles don't have to be plain and boring if that's not something you like. You can choose light tiles that still have a fun pattern and show a bit of personality.
Use mirrors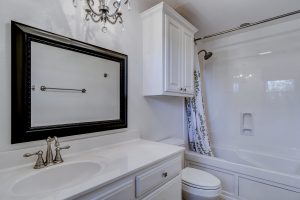 Optical illusions that will make the room look bigger are the key to making a room appear larger. Mirrors are known for this ability, they will add depth to any room. You can get a big mirror and place it above the sink. It can be tall or wide, it can cover most of the wall or it can be the same width as your sink. Choose what your preference is. Another great thing is that you can find cabinets that have mirrors for doors. That way, you get both storage and a mirror at the same time. So, if you're making over a small bathroom, you should really look into different kinds of mirrors. Mirrors are also a good decoration for the bathroom.
 Storage is key when you remodel a small bathroom
Having enough storage is important in every home, especially if you're someone who hates clutter and likes everything to have its place. You can always get a storage unit in Manhattan if your home doesn't have enough space for all of your items. But, when you're remodeling your small bathroom, you can't rely on putting things in a storage unit. Stuff like towels and toiletries are things that you need to have on hand all the time. If you're redoing your small bathroom, think about how much room you'll need for storage. Also, think about different storage options to use in the bathroom.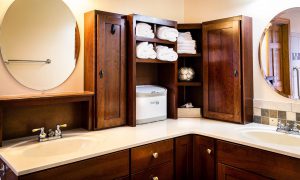 You can get a hanging cabinet to go above your sink. It won't take away from the space or get in your way. Again, you can even find a mirror with hidden storage space behind it.
If your sink lies on a counter, that's a great place to store your items. Keeping stuff in the under-sink cabinet is a way to keep your bathroom clean and clutter-free. This is another way to avoid storage space getting in your way or making the bathroom look even smaller.
In the case that your bathroom has enough space, you can get a storage cabinet and place is next to the sink, or wherever there is room for it.
So, think about installing some extra storage when you decide to redo your small bathroom.
Focus on the details when you remodel a small bathroom
Remodeling a small bathroom is your chance to focus on the little details that make the room come together. You can't really get big plants or extra furniture items that would complete the room. You have to get a little bit creative if you want your bathroom to look finished, but not crowded. There are little things you could add to make this happen. If you have a counter, you can place some plants there. There's surely some space on the walls – use it to hang some pictures, prints or photographs. You can even put a hanging plant on the wall. Think about getting some candles, diffusers or room fresheners to make your bathroom smell nice. Try not to go overboard, though, keep the bathroom as minimalistic as possible. A small space can easily start looking messy if there are too many items.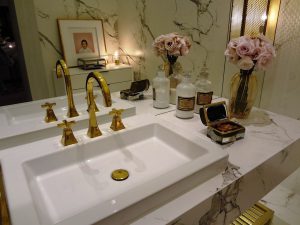 If you are redoing your home, you can find lots of New York home improvement tips online. These are just some of the things you can do when you remodel a small bathroom to make the space look fresh, bright and roomy. Try to keep it clutter-free and add some bright light bulbs – lighting is always important.