People who are often moving know how the whole process works. Still, that doesn't mean that they won't need help once in a while. For those who haven't had much experience relocating, we suggest getting informed as best as possible. Especially if you have a pet. Before the final day, you will need to prepare your NY apartment for a pet. One thing's for sure. A pet in a home represents a huge milestone in your life. Almost as if you had a baby. And that's one of the most beautiful aspects of having a pet. However, don't get surprised if your pet shows a dose of nervousness. Remember, this is as new to him, as it is for you. In this text, you'll get to read how to get things ready for the new family member.
Before you prepare your NY apartment for a pet, talk with your family members about it
Before you make any final decisions, it's very important that all the family members agree with it. You'll need to be very serious about this idea because there's no turning back. It would be very unpleasant if one of the family members strongly opposes this idea. So, until all the household is on the same page with this, we suggest you continue negotiations or leave it for the more suitable moment.
Obligations you'll have as a pet owner
If you all agree with having a dog, then it's time to get prepared for the new set of responsibilities. Some of them include:
Proper feeding of the pet. This depends on the age, kind, and the specific breed of the pet. Also, it might depend on the season of the year. The diet can also vary depending on the current condition of the pet.
Training the pet. Now, this also has to be taken very seriously. The whole atmosphere in the house will depend on it. You might consider taking your pet to the training sessions. However, not only your pet is required to get trained. Your family members should also be equipped with the practical knowledge and tips. Just like the parents educate and raise their children, you'll have to take some time to do similarly with the pet.

Take your dog to a park to spend a quality time with it.
Taking the pet out for a walk. If it's that kind of a pet, for example, dog, then you should know how important it is to take your furry friend regularly for a walk. If the time conditions allow, and you have enough time, take your dog to a park and play with it.
Devote enough attention to your pet. Even if you might not notice that animals are sensitive creatures who also feel love and appreciate attention and care. In case you adopted a pet after being tortured, you got yourself a loving creature who also needs love. As for a misfortunate pet, you can use all of your love to help it get through the difficult period, and start feeling love again.
Now it's time to prepare your NY apartment for a pet
Under the assumption that everyone now knows everything, at least in theory, it's time to make the necessary preparations for the arrival of your pet. If you're about to move to a new apartment in NY with your family, you might consider hiring experienced moving company which will help you relocate. In the following part of the article, you'll get to read some of our suggestions how to prepare in the most efficient way. Also, you can check online moving quotes which will provide you with a good estimation of how much you'll need to pay for the service.
Prepare the space for the pet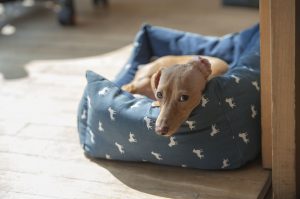 Decide in what part of an apartment you want to keep your pet. Unless we are talking about a bit unusual pets such as a snake, lizard, scorpion, etc. that need to be kept in a terrarium, or not if you trust your instincts, it would be wise to prepare a place for your pet. The soon it learns that is its place, and get accustomed to it, the better. Teach the pet to sleep there, rather than on the floor, sofa, or some other piece of the furniture. This will also make your cleaning of the house easier. If you have a cat, train it to use a litter box.
Buy all the necessary things for your pet
When preparing your New York apartment for the pet, you'll need to make sure to equip it with all the essentials. This will provide a more comfortable life for your pet. If you own a bird a spacious cage would be a good option. Also, get a swing, and a water feeder. We recommend you release the bird once a while to fly around the room for a bit, but only if you know you wouldn't have too many problems getting it back. In case you lack the space, maybe you should consider removing some old pieces of the furniture you're not using anymore. If you don't want to throw it away, you can move it to a storage. Your moving company can help you find a storage in NYC at affordable prices.
Take the pet to vet
This is probably the first step you should take before you fully prepare your NY apartment for a pet. It is necessary it receives all the vaccinations such as for rabies. In this way, you will enable it to be healthy, and at the same time, you are taking care of the well being of your family.
Gather all the necessary documentation
Owning a pet requires a license. Before it arrives at your home you need to collect every necessary documentation and the proof of ownership. Register your pet to avoid legal issues.
Owning a pet is a big step in your life. However, it this loving creature can make your life so much nicer and more fulfilled. Make sure to prepare your NY apartment for a pet before its arrival, and make sure to treat it right. We are sure the whole family will enjoy this new chapter of life