So you just moved in and you want to decorate and adjust your kitchen according to your needs and ideas. Or you are simply tired of your old kitchen looking like that for ages and you want to change. The problem is – it is way too small to some big changes. With spaces like this, it is important to be practical and use up space as much as possible. But after being practical, is it possible to decorate a small kitchen? Yes, it is. Even though you can hire New York kitchen designers, there are things you can do by yourself, with just a couple of ideas. In the text below you will find some interesting ways to decorate a small kitchen and use up the spaces as much as possible. Enjoy!
Choose the colors wisely
Small spaces can appear larger if they are colored properly. That's why you should choose some bright colors for your kitchen walls and cabinets. Paint "the base" in a light color – walls and cabinets, and then add some extra touches with bright yellow or blue details, like chairs or other kitchen items.
Hidden storage
A small kitchen should have a small nook for dining. This doesn't have to be a typical, desk-chair setup. Instead of chairs, you can put a bench in the corner of your kitchen, to sit on, and have some storage underneath. These could both be closed and open shelves and the bench can be topped with some interesting, bright-colored seat cushions to liven up space. However, if you moved from a bigger space to a small one, you may have a lack of space for your things. In this case, you can check our storage facilities to solve that problem.
Have a useful bar
In a small kitchen, having an extra space is priceless. That's why you can easily transform a windowsill or the edge of your countertops into a useful bar. You will just need a new piece of a wooden countertop, and a couple of bar chairs, and there you have it! This place can become your favorite nook for having a quick breakfast and coffee in the morning.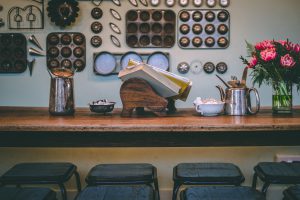 Use up the walls
To decorate a small kitchen, you must first think of walls. They can be used for many things apart from hanging a picture frame. Hang some extra shelves, and let them be open – this way space will appear larger. Put your favorite cups and glasses so you can have them on hand all the time, but they can also serve as a decoration. Furthermore, you can hang some other kitchen things on the walls, like a couple of interesting cutting boards or flower pots, for example. However, be careful not to put too many things on the walls, since having a lot of items can make your kitchen appear even smaller.
A couple of more words on open shelves …
Having an open shelf setup on your kitchen wall is a great way to both decorate and utilize the space. However, you need to be careful to keep it organized and tidy. Otherwise, your kitchen will look like a mess, and appear even smaller. Open shelves can be used for many different things like cups, glasses, spice bottles, wine bottles, etc. The trick is to combine these kitchen items with some decor – like a picture frame, a plant, a small lamp, etc. The reason why these shelves are so popular is that they are cheap and extremely easy to install.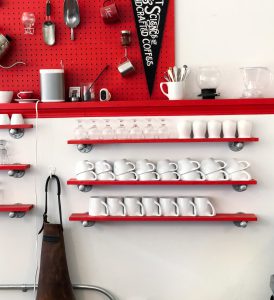 Can you use ceiling to decorate a small kitchen? Yes, you can!
Kitchen items don't just have to be in usual places like shelves and in kitchen cabinets. You can hang your favorite pots or pans to the ceiling, and have them always on hand. Furthermore, it will look interesting and creative!
Textiles can wake up your kitchen
Small kitchens tend to look dark and dull due to the lack of space. One way to "wake up" your kitchen is by using textiles in bold patterns and colors. Change your curtains or mats for something that will attract the attention once you walk in the kitchen, and you will see a huge difference.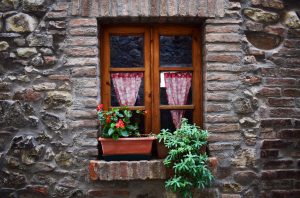 Play with the light
A small kitchen can look very interesting and chic with a cool pendant. This is an item that has to be in every kitchen, both big and small. So why not use it to lighten up space and make it unique and interesting? Kitchen lights don't have to be expensive, but they can make a huge difference to a small space. Furthermore, you can add some cool LED light strips from a more modern, open kitchen space. These can be particularly useful above your working kitchen area.
Moving? We've got you covered
Moving is a stressful project so you need to plan everything and stay organized. Once you decide where are you moving, you need to start planning and packing. Packing your kitchen can be difficult, since there are many small items that are often fragile, like glasses, cups, plates, etc. Therefore, there are a lot of things that you need to pay attention to. Also, you will need to be a lot careful and have a good and systematic approach if you want to pack everything in a proper way.
Hire professional help
The best way to move is to hire professional NYC moving companies and enjoy a quick and safe move. However, if you are moving to a home where the kitchen is not as big as your old one, you need to think a lot. You will not have as much space now, so before you start packing, do some decluttering of your kitchen.
If you don't need as many of those old cups, plates, and cutlery, so it is maybe time to get rid of it. You can sell them online or at a garage sale and make some money. Reducing the number of items you move is very important, for reducing the moving costs, especially with the long distance move. We just hope that some of these ideas have helped you get a vision how you can decorate a small kitchen of yours.