Having your own apartment for the very first time is exciting! That is, it is all fun and games until you realize how much effort it takes to clean thoroughly just one room. As the top full-services Brooklyn movers, we have picked up a few tricks during our years of doing business. Today, we give you all the little secrets to help you clean your apartment with ease. The next time you entertain guests, they will be in awe of your housekeeping skills!
Get rid of the trash first
One thing we are all guilty of is occasionally accumulating unnecessary trash in our rooms. We could be talking about a few cups only, or we could be talking about pizza boxes, empty soda cans, and napkins. Thus, we won`t get into your particular situation. Whatever the case may be, you need to take a garbage bag in your hand and start walking around your apartment. Any type of trash you spot should go straight to the bag. Once you are done collecting your excessive trash, take the bag outside for pick up, or take it to the dumpster yourself.
For more extreme cases, where a simple garbage bag won`t be enough, you could find moving boxes in NYC for free. Moving boxes are well-known for their capacity to carry a lot of items, so they are perfect for a big amount of garbage. All you have to do is think outside the box, and you will find a solution.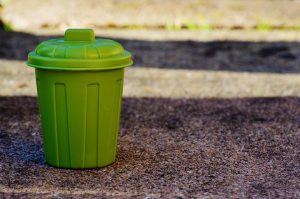 Pick up all of your clothes
Whether dirty or clean, no one is immune to leaving their clothes on the chair after a hard day`s work. Unfortunately, this quickly becomes a thing of habit, as we all have to work five days a week. Thus, we are pretty sure you have some clothes around your apartment that are outside of the closet. That is why the next step to cleaning your apartment is talking yet another walk-through. This time, you will be searching for any clothes, including the towels you have in the bathroom. Pick it all up, and put them in your washing machine. There is no better time for doing laundry than when you are cleaning your home.
Wash the dishes
We know this is not your favorite chore to do. However, when cleaning your house, dishes have to be washed. Otherwise, your apartment will not really be clean, will it? If you have a tendency to eat in front of your bedroom TV, don`t forget to peak in and see whether you have left any cups or plates there. You want to be thorough, and wash every dirty dish you have in your apartment.
To clean your apartment with ease, you must get your best cleaning supplies
Every household should have a place dedicated for keeping cleaning supplies. Whether it is the walk-in closet or your attic, it does not matter. Now is a fine time for you to dig into your cleaning supplies, and let them help you get your apartment sparkly clean. One good advice we can give you is to try and keep all of your supplies in a portable container, such as a bucket. While cleaning, you could spot a surface that needs to be sprayed with a chemical you know you have somewhere in your home. Wouldn't it be easier to just reach into your bucket and find it there, without having to rummage through your house?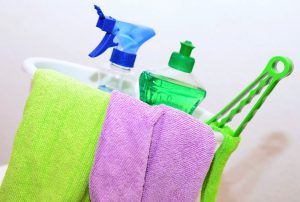 Dust, dust, dust
Now that you have your supplies on hand, all you need are two cloths or rags. One rag will be for your wood surfaces and the other one for the rest of the house. Spray pledge, or some other similar product, on your rag for wood surfaces. For the other one, it is enough to dampen it with water. Go through your house room by room, and wipe every surface in your apartment which could collect dust. Note that it is important to do this step before vacuuming.
Clean the kitchen and bathroom surfaces
Having a pristine kitchen and bathroom is a satisfying thing. The kitchen is said to be the center of a household. Thus, people are always looking for ways to cheaply improve the look of the kitchen. Little did you know, that the prettiest kitchen is the clean one. Therefore, the next step in your cleaning spree should be cleaning the kitchen and bathroom surfaces. Besides the aesthetic appeal, this is also important for hygienic reasons. Toilet bowl, bathtub, microwave, and stove – nothing should be skipped.
Clean your apartment with ease – the finish line
Finally, you are approaching the light at the end of the tunnel. A big portion of your apartment is clean by now. All that is left to do is vacuuming the rooms. We are sure you have done this chore many times so far; there is no need for us to get into details as to how to properly vacuum a home. All we will say is that it is important to vacuum every room in your apartment, including your hallway. Get the last bit of strength you have left and do this one in the right manner. After your finish with vacuuming, the time has come for you to enjoy your freshly cleaned apartment.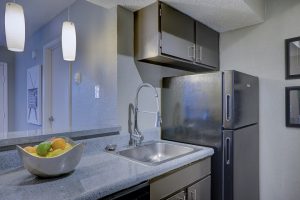 The conclusion
As long as you stick to our tips, you will be able to clean your apartment with ease. If you are a grad moving after college for the first time, these instructions will be particularly useful. Chances are you have never had to clean more than a room at a time. Well, all of that is about to change now. A thorough cleaning of an apartment does take some effort.