Are you a bookworm who has always dreamed of owning their own home-library? Do you love nothing more than to spend your free time reading all the timeless stories? Well, prepare yourself because good news is coming your way! Even though moving to New York has limitations, there are no boundaries for how high your imagination can soar. We are here to serve as your muse and spark your imagination, all the while giving you some tips and hints on how to build a home-library which fits every budget. What are we still waiting for? Let`s start building your library with joint effort.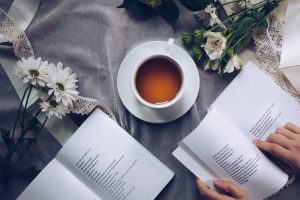 Choose a spot where you want to build a home-library
You might think how choosing a spot for your home-library is a no-brainer. Right? Actually, that is wrong. There are some things you want to make sure the aforementioned spot has. For example, you need a room in your home which is the quietest; also, you need a room with plenty of natural light, and, of course, with lots of wall space for you to put shelves on. Do you still think that choosing a spot is easy? We thought so.
Build some shelves
Once you have decided on a place, it is the right time to build some shelves. Whether you plan to transform your entire wall into a home library, or just a part of it, you should know what to pay attention to when doing so.
The first thing you need to do if you want to build a home-library is to check whether your floors can support it. You know from experience how heavy books can be, so consult a professional contractor if the need be. Just stay safe!
Decide what type of shelves you want for your library. Do you want them all to be identical, or are you going for a more eccentric look?
If you are not in a stable financial situation, you can always look for secondhand bookcases on the internet. Why not use every chance to save money in the Big Apple?
Arguably, this is the most important step on your way to building your own library. This is the time to worry about one thing, which is the most important at the end of the day – safety! Everything else can additionally be changed or altered, but your safety comes first.
Work on the display of your books
Now we are getting to the fun part! As a book lover, we are sure you could hardly wait to start stacking your shelves with books. If you have enough space for all of your books, lucky you! If, on the other hand, you have not been so blessed, you are going to have to work on your display. We understand it might be impossible for you to decide which books to keep, and which to pack. However, that is the hand you have been dealt. You must adapt to the situation and overcome it.
There is no right or wrong display of books. Everything depends on the type of person you are. Some people prefer an organized look, and some like for their books to look randomly placed. After all, you are the one who is going to spend the most time in your home-library, so why make something that will be an eyesore for you just to please others?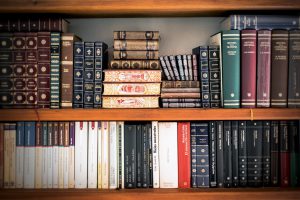 Have a place to sit
Well, you didn`t plan on standing around and reading books on your feet, have you? Of course not, so the next thing for you to do is to work on a cozy sitting solution. Again, you have all the freedom in the world to decide whether you want an armchair, a lazy bag or a couch for your home library. The right choice is the one you feel most comfortable with (or in, in this case.)
Pay attention to the lighting in your home-library
You are going to need some good lighting solutions for all of those nights you plan on staying up and reading. Moreover, poor lighting can lead to vision loss, which is something you want to avoid for as long as possible. Therefore, don`t shy away from dedicating some time to lamps and chandeliers when building your home-library.
Moreover, if you want to add additional appeal to your library, you should add accent lights. As their name suggests, they strategically highlight a part of the wall. Why not let them highlight your favorite books?
Make your home-library cozy
A person`s definition of cozy may vary from someone else's. However, what makes a room cozy, in our opinion, are all the small details you add that give life to space. Coziness can be achieved by adding pictures and photo frames; for others, pastel and neutral colors are what makes a room look warm. However, trust us when we tell you that it is worth working on your library`s decor. Nothing like a good, old, cozy library to make a house feel like home!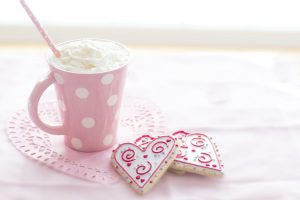 The conclusion
By now, the conclusion should be simple. We as the most reputable and affordable movers and storage NYC – based think that everyone should make an effort to build a home-library. It is one corner of your house or apartment which will be all yours. No amount of stress can burden your mind and body when you have a home-library. Moreover, you will always have a place where you can unwind and forget about the daily struggles of living in New York City. Don`t waste a minute of your time. Make a plan, gather the necessary supplies and get down to work. Your home-library won`t get built on its own.