New York has topped the list of most expensive cities to live in for a long time. Naturally, the moving process is going to be expensive, no matter how innovative you are. There are also ways to negotiate with your movers, in order to bring down the price of the move to NYC. You might be surprised to find that there are plenty of cheap moving companies in the city. Finding one of the affordable neighborhoods is a good way to save money long-term. Though, there comes one part of the move which unfortunately tends to be expensive: decorating your new home. So, we've decided to give you some DIY NYC apartment ideas, which can help you creatively save some money!
The first one of our DIY ideas for your NYC apartment will be about tables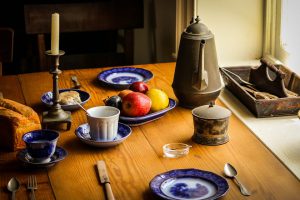 Knowing the apartment marked in the Big Apple, you won't be having too much space for furniture. So, depending on whether you will need a dining table or a coffee one, there are plenty of cheap options. If you need an easy DIY idea for your dining table in your new NYC apartment try this:
Table top: If you plan on decorating it later, you can use pretty much any pallet of wood. If you want to get really creative, we would suggest considering using an old door.
Legs: Here is where the world of DIY expands. There are plenty of affordable options for table legs which you can get easily in New York. The most versatile are probably hairpin legs. Though, if you are using a heavy table top, we'd suggest wooden ones. One of the easy DIY NYC apartment ideas you could try here is the Sawdust Girl's X Leg desk. This table is estimated at about $50 to make. So, we'd call that affordable, right?
On the other hand, if you're planning a quirky coffee table for your living room, we have a good idea, too! Here are some cheap and easy options:
Old wooden windows – a definite favorite of ours. A great do-it-yourself project for your apartment in New York, since it is as useful as it is great to look at. After re-painting the window and possibly replacing the glass, but adding a simple bottom to the box, you can have containers for everyday things as an option. Not to mention that you may also add some hairpin legs, in case you're looking for height.
A tire – provides a great way to make a useful DIY coffee table. With a bit more work than our previous picks, this is a way to re-use an old tire in a clever way. With or without legs, it makes for a great storage space, as well as a cute coffee table in your new NYC apartment.
If we're talking about DIY NYC apartment ideas, we need to talk about shelves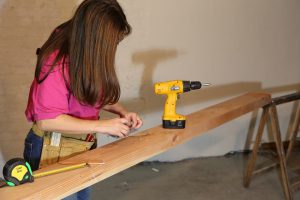 If you're moving to New York, you've probably already become aware of the main trouble here: rent. Everything tends to be a little bit more expensive, which also includes the price of an apartment. Of course, hiring a NYC broker is always a good, though, costly idea. If you're planning to look for cheaper options, the best way is to seek a smaller place. Hence, comes our second tip regarding DIY home decoration ideas for New York. Instead of using up space with numerous armoires and nightstands, pick shelves. They are easy and cheap to do DIY!
Leather strip + wood – possibly the easiest and classiest out there. Estimated at about $5 without a lot of work, this is a very nice DIY project for your new NYC flat. Making the shelves with leather straps is a quick process with great results. If you're looking for something chic and convenient, this might be the perfect thing.
Crates – always versatile with their uses. Another one of the cheaper DIY NYC apartment ideas is this one. It includes recycled wooden crates, repainted and stacked. Of course, padding or baskets inside them are optional. Don't forget to fix them to the wall, as well!
Modular shelving with wine crates – similar to our suggestion above. Wine crates tend to be more stylish than regular ones. Also, they can be sturdier. If you're worried about the quantity, try asking at a local restaurant. They might be happy to give you a couple once they don't need them anymore.
Book shelves – the perfect choice if you're an avid reader. If you're planning on bringing your library with you to New York, you may have found the perfect way to build shelves. This is one of the great DIY NYC apartment ideas which will help you save space. Don't worry, your books won't be damaged either.
And, there are still plenty of DIY NYC apartment ideas to explore
The leading website for nifty DIYs these days is definitely Pintrest. Though, if you've tried making something already, you may be familiar with the 'fail bane'. Some things shown on the site may not be as easy to make as you think! So, here are a few DIY projects which can be both easy and affordable for your New York life:
Shelf above the door – nifty and space maximizing! Easy to build with a number of materials, a small, crate-like space above the door may be perfect for you. It's a perfect DIY project after moving to Manhattan, especially, considering apartment sizes in the area!
Rolling pantry – a space-saving clever solution for the kitchen. There is always that little bit of space between the fridge and the wall and never enough room for the pantry. Here's an easy DIY project for your New York flat to fix both problems. A rolling pantry costs about $75 and is relatively easy to make.

With a can of paint, any DIY project can become a masterpiece!

Storage space where you can sit – a handy ottoman. If you find yourself in need of more space to both store things and offer a seat, this is a near idea. A tufted storage ottoman is easy to make and cheap, too. It would be a perfect DIY project after successfully moving to New York!