Let's get this straight, right at the beginning. The life in NYC costs. Like, a lot. But still, the life here can be the best possible if you're able to seize the moment and use every chance that comes out. Being quick, not losing the time is one of the mantras you should adopt. Do this, and be sure that New York will award you. Big time! Now, if you wish to relocate here, and join the jungle, you don't have to get broke. How's that gonna get you closer to achieving your dreams? A cheap NYC move is possible. More than you think. You'll just have to know how.
Tips for conducting a cheap NYC move
If this is your first time moving, then you'll probably need a little bit more time to get things together. Not that we want to rush you, but somehow it seems that no time is never enough. On the other hand, our first advice of a day goes in favor of time.
Planning on time
Moving to New York is a serious mission. No matter in how large a city you've lived so far, we guarantee you that New York is a different league. A universe for itself. It's easy to lose a compass. Both literally and metaphorically speaking. That's why it's not for everyone. If you've set your mind and you're determined to succeed, let us first help you get there. Take a piece of a paper and put down the steps you plan on taking regarding your relocation. An approximate plan gives you a closer insight of the upcoming tasks. Also, it will help you stay focused without losing time of remembering what else you had to do once the moving process begins. If you can't do it all alone, then calling up a more experienced person to help you out is a good idea.
Set a date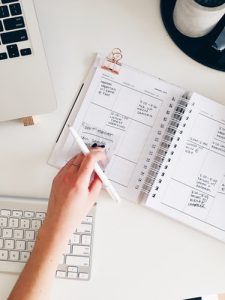 Let's not forget that one of the most important things you need to keep in mind is the moving day. As you approach it, be sure to finish every task from your list.
Determine the budget
Together with being time sensitive, making a budget is actually one of your most important homework. Your plan is doomed to fail unless you manage to keep the budget under control. This is why our next advice is to get familiarized with moving estimates NYC. Don't rush into anything this important. Compare several of these from different moving companies. Hopefully, there's going to be the one which will satisfy your requirements and will offer a fair price. Now, we know this can be a very stressful job, so consider using some online budget tools to help you keep up with the expenses. If, after all, you determine you determine this moving will drain you financially, we suggest you wait for a more favorable time.
Get help from a moving company
If we're still on the moving track, and you're clear about the size of your budget, then you proceed to the next phase. The one with hiring the best moving company in New York. By doing everything yourself, you risk getting tangled and torn apart between many obligations while trying to achieve a cheap NYC move. Leave the matter in the hands of the experienced ones. What you are looking for is a company which is reliable, professional, efficient and always available for you. Expose your plan to them, and they'll help you develop an operative strategy. They'll even bring some suggestions to the table, but feel free to speak up about anything you are not comfortable with. Also, make sure they are fully licensed and equipped.
Know how to pack
After you've successfully handled finding a trustworthy moving company which will enable your cheap NYC move, it's time to think about packing. There are numerous ways to deal with this, too. You can choose to pack the things on your own, or your movers can provide you the team of professionals to do it for you. Both have their advantages. The first saves you some money. The second saves you time. Both are equally precious. We guess it will come up to what you value more. Or what more of these you've got.
Packing on your own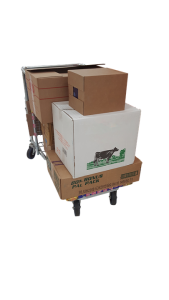 This option will contribute to a cheap NYC move. If you choose it, then make sure to be careful how you're packing your belongings. For that, you'll need some packing supplies. Try to find some cardboard boxes for free to cut down the expenses. You can ask some of your family members, relatives, friends. Or you can ask in local supermarkets. They usually have tons of these. The next thing you should do is sort the boxes by their content. Make sure the boxes are not too heavy. Otherwise, you risk the boxes getting ripped. If this happens, in case the box was filled with some fragile stuff, you can only say goodbye to them.
Get your box packed by a professional
With the help of a team of professionals, you can rest assured your belongings will be properly packed, without anything getting broken. Furthermore, a professional moving company will provide you with an insurance in case something like this happen after all. Also, they will load, and transport all of your stuff to NYC. And if you want, you can even ask them to pack them once you arrive. So you can expect all around service from them and stay absolutely calm.
Sell the stuff you don't mean packing
You can actually earn some extra dollar when relocating. If you have some pieces of old furniture, or clothes, books, kitchenware, etc. you don't have to throw them away. Put an add online, or spread the word around the neighborhood that you're selling these things. With a little bit of luck, you'll find some people you'll use what you don't need anymore.
As promised, a cheap NYC move is possible with a few tricks. We hope these we provided will help you prepare easier and better.