It is impossible not to love New York City. As vibrant as it is, it offers you a lot. You can eat your favorite meal in a great restaurant and then head out to a newly opened art gallery. You can spend your afternoon in a museum and in the evening dance in the most popular nightclubs. This is a city of opportunities and you are lucky for moving to the Big Apple. Everything you need, you can find in this exciting city. Hence, there is no need to move everything you own to your new home. When planning your relocation, know there are many belongings you won't need in NYC. And we usually realize that after the move. We don't want for you to make these common mistakes, so we have made a list of the items you won't need to bring to your home.
What to know when moving to NYC
Before you start packing your items, you will need to know a few things about your move to New York City. Knowing these things will help you decide what to bring to your new home.
NYC homes are small. Well, they are smaller than you would expect. This is very important to know because it will help you plan and learn which belongings you won't need in NYC. Smaller apartments have less space for your items. You want to live a clutter-free life.
You will walk a lot. Keeping that in mind, don't forget to bring to NYC your most comfortable walking shoes.
Choose your neighborhood wisely. Although New York is a great town, there are some neighborhoods you will want to stay away from. Especially if you are moving with your kids.

Choose carefully the neighborhood where you want to rent an apartment.
Declutter your home before the big move
Since the size of the apartments isn't something New York can brag about, decluttering is a must. Every one of us has homes filled with things we don't use anymore or things that have never been used. So, why would you move them to a new home? Instead, find the best way to decide which are the belongings you won't need in NYC. Not to mention the advantages of moving less stuff. First, if you plan to hire professional movers like movers Manhattan, your relocation will be cheaper and faster. And second, you can make someone happy by donating them your unwanted stuff. So, let's find out what you won't need in your new home.
Old clothes
Our closets are filled with the clothes we don't wear anymore. Some of the clothing items are gifts from our beloved ones, a memory. Others are still there for an unknown reason even though we don't wear them anymore. These are one of the most common belongings you won't need in NYC.
Car
People say New York's traffic can give you a serious headache. This city is enormous and has a lot of people on the streets, in their cars. If you want to have your car, you will need to know how to survive New York traffic. But, our strongest advice for you will be to forget about having one. The irony in it is that you can get from point A to point B much easier by a subway. And if you have an important event, like going to a friend's wedding all dressed up, you can always get a cab. There is another advantage of not having a car – you will walk more. Thus, you will with an ease stay in shape after your move.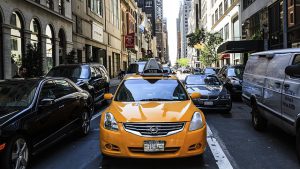 Bulky furniture
Moving your entire furniture to a new home isn't something we recommend. It will make your relocation last longer and it will be harder, too. Also, there is a chance your NYC apartment won't have enough space for these items. Try to create a clutter-free environment and move less. Even if when you are moving light items, know how to avoid injuries while relocating them.
Washing machine
Even though this might seem weird to you at first, it really is true. There is no need for you to relocate your washing machine. This is because most buildings in NYC have a washer and a dryer for everyone to use. You will probably have to pay to use them but will save you from troubles of relocating your own washing machine. Just imagine you are moving into a high rise apartment and you have to carry it to the tenth floor.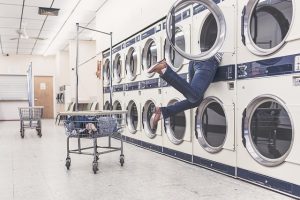 Garage junk
Unnecessary things aren't just in our homes, they are in a garage, too. Some of them you never used, but you still keep them in there just in case. Think hard which are the items you never use and get rid of them. Keep in mind you probably have a lot of chemicals and other potentially dangerous stuff in there, so learn how to dispose of Hazardous waste without hurting anyone.
Don't toss the belongings you won't need in NYC
Even though you gathered a pile of unwanted stuff, don't just toss them in the garbage. Since you already know what stays and what goes, think of the best way to get rid of your stuff. There are a few options for you to consider. You can always take the clothes you don't wear anymore and donate it. If you have items that are not suitable for donation, try to sell them. You can do it online or you can organize a yard sale. Even though getting your items ready for a sale and organizing can be stressful, it can also pay off.
If there are some things you want to keep but don't have space for them in your new home, renting a storage unit is something you will want to do. Storage units vary in sizes, so don't think there won't be enough space for your belongings. Also, anything you store here will be safe and secure. You just have to know how to organize it properly.