Are you looking to go to the suburbs to buy a house in NYC? You're basically done with all the city noises and the ridiculously large crowd always being in a hurry? Right you are, it can be annoying. Usually, people deal with this by moving out of the city entirely, but this is not the only way to deal with it.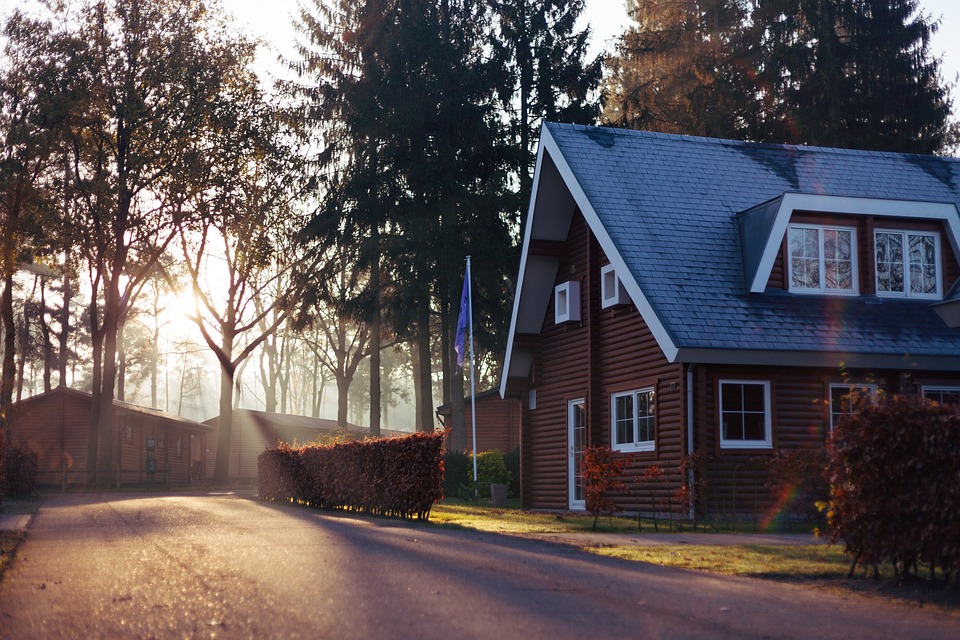 If you really are done with all the city downsides, but still wish to remain within the proximity of one – you should be probably looking at the suburb parts. The suburbs bring the perfect balance and the best of both worlds! You'd get your peace and quiet, small neighborhoods and beautiful houses. You also get to have a safe community where people stick together and are usually friendly to one another. You even get to know everyone's names since there aren't that many people curled up together.
If anything, NYC has a gorgeous suburban area. If you're aiming to relocate to suburbs to buy a house in NYC, you'll be in for a treat, especially if you're looking to start a family. One of the biggest challenges that people who desire such homes face is the absurd real-estate tax and the obnoxious commute. And we understand, and we agree. We've come up with a few suggestions that will still allow you to live out your suburban dream. We've even included a few New Jersey locations given that even though they are not NYC they are closer than some neighborhoods that are.
Honorable Mentions – Suburbs to Buy a House in NYC
There are locations that somewhat 'go without saying'. Even though I'd wish not to include them on our list, I will still mention them as they are glorious.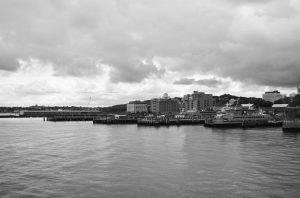 If you wish to go to suburbs to buy a house in NYC, the first honorable mention you should know about is, of course, Staten Island. Moving to Staten Island is like moving to one big suburban neighborhood. An obvious choice, indeed. However, too obvious to be included in this list. Still, we can't go and talk about suburbs without at least mentioning it.
Secondly, there are locations worth exploring. They have not made it to the list – not because they are bad. They just didn't flawlessly meet our requirements, which doesn't mean they won't meet yours. Still, consider exploring them as well. They are Middle Village in Queens, Country Club in the Bronx and Manhattan Beach in Brooklyn. Also, there are numerous New York City neighborhoods for families.
Moving forward, let's explore a few options we had for you.
North Riverdale, Bronx
The location is settled back to back with Yonkers to the north and grants you a very fast and easy access to Wave Hill and Van Cortlandt Park (fun fact – Van Cortlandt Park has horse stables!). There is an undeniable resemblance to Westchester, at just a far lower price.
The range of houses you could be looking at vary from those taking on the Dutch colonial style to those simple, red brick houses (both semi-attached and detached). In some cases houses will have their own driveways, otherwise, there are shared ones. There are ones that offer street parking only. In a far lesser amount, there are co-op buildings. But they are not going to be your focus.
The prices are very fair and affordable. You could be looking at a normal, two or three bedroom, one and a half (or two) bathroom home for about 790,000 dollars. You can also be looking at the same thing, for rent, from between 650,00 to 850,00 bucks.
When it comes to transportation the place is very car-owner friendly. Given the proximity to Saw Mill, getting to Westchester is a breeze. The trains are not accessible. There is one and it's only reachable by a city bus. However, there is an express bus going into Manhattan, and a shuttle bus taking you to the Riverdale Metro-North station.
Dyker Heights, Brooklyn
There is a vast majority of people go to Dyker Heights under rent, and after a while, they end up buying an apartment of their own and settling in. The neighborhood is sandwiched between Bensonhurst and Bay Ridge. One cool addition to the suburban vibe is the Dyker Beach Golf Course, giving that extra flavor of green scenery.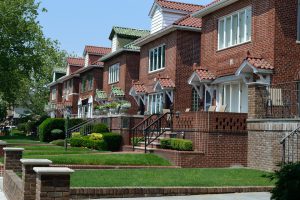 This place is home to one, two, three and even four bedroom family houses. The vast majority are in the Queen Anne style. Large backyards and front lawns are not a rarity in these parts. Additionally, most houses will have driveways (shared in some cases), meaning that it's car owner friendly.
Prices are so-so. I mean, it isn't as cheap as our previous contender, but it still manageable. There is a three bedroom single family house with a price of 999,000 dollars. On the other hand, semi-detached houses can be found for 750,000 to 800,000 dollars. Detached start from $950,000.
Lastly, the transport. The express bus will take about 35 minutes to reach downtown Manhattan. Otherwise, people can walk about 10 minutes in order to reach the D or R, taking additional 45 minutes to reach downtown Manhattan. Lastly, there are your cars.
Holliswood/Hollis Hills, Queens
If you're looking at suburbs to buy a house in NYC, you can't skip seeing Queens. Even though the taxes have significantly gone up, this place is still a suburban bargain. For comparison, the taxes are about 7000 dollars a year, however same house taxes in Long Island can be double that, or more.
The place radiates the Long Island feel. To the point where you could have some streets even without sidewalks. You have a very easy way to access Long Island via the Grand Central Parkway. The best part of this area is no doubt the Cunningham Park, with its amazing biking and hiking spots, as well as soccer, baseball, cricket and many other fields.
Houses are somewhat affordable. Detached homes can start at about 700,00 dollars and go all the way up to a million. Prices are, however, capped at 2 million.