Spending time inside is the biggest part of everyday life for most New Yorkers. That's why they value the time spent outside and always search for new ways to have fun. It is probable that you think of the Big Apple as a concrete jungle, with no place to enjoy the fresh air. However, it is not true. New York gives you a lot of opportunities to enjoy the outside, and some of them are not that obvious and popular. That's why you need to read our guide on the best outdoor activities in the Big Apple and enjoy!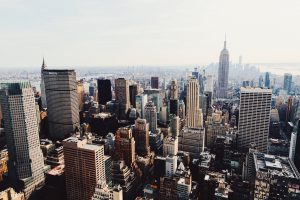 First of all, is New York really a concrete jungle?
In a way, yes. However, the Big Apple and its surrounding land is the home to many natural spots perfect for different outdoor activities, like biking, hiking, running, bird watching, etc. So if you are moving to NYC from abroad, don't be afraid that you will miss natural spots. You have so many parks and gardens to visit, that you will need a lot of free time to see them all. Some of those that you shouldn't miss are The Ramble, Brooklyn Botanic Garden, Jamaica Bay Wildlife Refuge, Pelham Bay Park, etc. As you can see, so many natural spots, apart from the Central Park, give you the opportunity to enjoy outdoor activities in the Big Apple.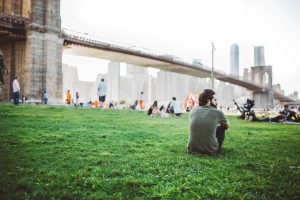 Running
All the sports and exercise in New York doesn't have to happen inside a gym. Running can be one of the best outdoor activities in the Big Apple if you know where to go. Here are some of the best places to go running, and avoid busy streets and crowd:
Central Park – yes, this is the most popular one among runners. This run around the park has the distance of around 6 miles. The negative side is that you are not going to run alone, with so many New Yorkers loving this trail. however, you will enjoy the sight on some of the most popular buildings in the Big Apple.
Prospect Park – this public park in Brooklyn offers a 3- mile run through its beautiful nature.
Hudson River Greenway – this one is for those who like the longer runs. Run along the Hudson River Greenway, but also stop to see some of the NYC's attractions like the Whitney Museum of American Art.
Rockaway Boardwalk is perfect for running in the summertime because you can cool down in the ocean if the weather is nice.
Central Park tours as the most popular outdoor activities in the Big Apple
This famous spot of nature is not just for running and sitting on a bench. Here are some walking tours you can do in Central Park:
Central Park Secrets tour – take a two-hour walking tour around the park and discover its secrets. You can visit some unexplored places that are not popular with the tourists.
sightseeing tours – you may go through the park every day, but it would be cool to know details about some of its sightseeing spots like Central Park Zo, the Pond, the Dakota Apartments, Belvedere Castle, Strawberry fields, etc. Feel like a true tourist and enjoy your day!
 Movie and TV tour – visit some of the places used as filming locations for some of your favorite movies and TV shows. You can make some cool photos, comparing them to the real scenes.
Go sailing
Sailing is a great way to spend your day outside. If you haven't been sailing before, don't you worry. You can have sailing lessons at Flushing Meadows Corona Park and enjoy deep blue waters, or if you are too scared you can go sailing at the Meadow lake, too.
Visit the rooftops
Even though being part of a building, rooftops can count as outside, right? Choose a nice weather evening and visit some of the rooftop bars to enjoy a drink or two. The best part of it – the view.
Watch a movie under the stars
Summer is the perfect time to enjoy a movie outside. You can watch some of the romantic or action films in some of the NYC parks, or even in some rooftops cinemas. The coolest thing about it – you can do it for free. However, these don't always include the newest screenings, but some of the classics and forgotten blockbusters.
Buy a vintage item on a flea market
Flea markets in NYC are something that you have to experience. If you are a hunter for vintage items, these places will be a heaven for you! However, you can also enjoy some great street food and meet some interesting people, too.
Go to the beach
This one will cost you almost nothing. If you are on a budget and you don't tend to spend too much money, but yo ustill want to have fun, and want to do some outdoor activities in the Big Apple, why don't you hit some of its favorite beaches. Grab your towel and Coney Island Beach, Jacob Riis Park Beach, Cherry Grove Beach, Fort Tilden beach or many others.
Visit a farmers market
We already mentioned the vintage flea market, but farmers markets are also something that can be your weekend outdoor activity. You can smell and buy some fresh vegetables, fruits, and homemade meals.
Have a picnic
Yes, having a meal outside doesn't have to be a fancy one. You can make a simple sandwich and go outside your home to enjoy it. Grab a takeaway coffee and pick a park – and enjoy one of the most common outdoor activities in the Big Apple. You can go with your friends, or even alone – so many people do it, so you can meet someone new, too!
Life in New York City is busy and hectic, that is true. But certainly, there are ways to slow down and enjoy some outdoor activities in the Big Apple. They don't have to expensive, but they can truly make your day more interesting. And if you need to do some moving before enjoying these activities, we advise that you pick one of Brooklyn moving services, to speed up the process. Welcome to NYC!