When you find yourself in a situation where you have to move out of your home country, it can often be difficult. Leaving everything you have grown to know and love behind, and moving to an unknown country. However, to matter what your reasons for this move are, it absolutely doesn't have to be a sad event. Especially if you're moving to New York City! A dream of many, the Big Apple is truly a wonderful place to live, no matter if it's just temporary or permanent. The magic of this urban jungle will creep under your skin (even if you're moving from Europe!) and make you fall in love with it almost instantly. If you're curious about what are the best NY neighborhoods for expats to live in, read on!
The five boroughs that hide the best NY neighborhoods for expats
While many people only associate Manhattan with New York, in reality, there are so many more areas worth talking about. Firstly, we will try to list the five boroughs of the city and tell you a little bit about each. Then, we will weigh the pros and cons of living in each one. Not every NY neighborhood will be suitable for you and your needs. Are you single and don't have kids? Your housing preferences will differ so much than those of families with children. If you are moving from Miami to NY, you might already be familiar with the different kinds of neighborhoods.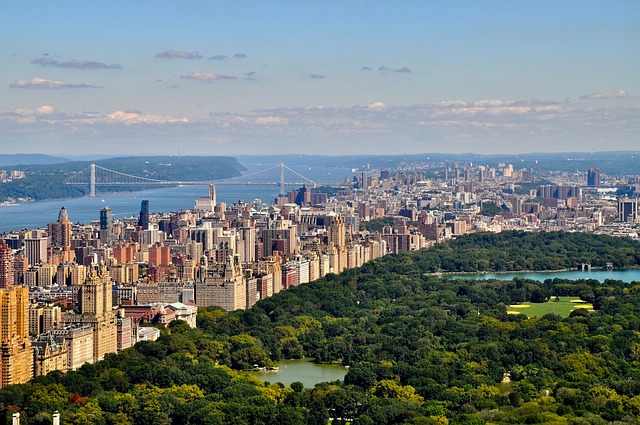 Manhattan – the star of the show
The most famous, and thus the most expensive neighborhood is Manhattan. The home of many landmarks and tourist spots, such as Times Square, Central Park, the Metropolitan Museum, the Empire State Building, the Financial District, Madison Square Garden, etc. We could go on to list every attraction in Manhattan and we wouldn't have any space left to discuss other boroughs! Now you might think that Manhattan may be too crowded and busy for your preferences and that not a lot of people actually live on this island. This is where you are wrong. For example, let's take the Upper West Side. This is a great option for families! It is a relatively quiet place to live in, right next to Central Park. Other great Manhattan areas for expats include:
West Village
Gramercy Park
Hell's Kitchen
TriBeCa
Brooklyn is one of the best NY neighborhoods for expats
Over the last few decades, this particular NYC borough has improved so much. Due to its incredible transformation over the years, it became one of the most sought after neighborhood in the City, by New Yorkers and expats alike. If you take the time to meet some Brooklyn residents, you will learn that most of them are really proud to live in it. There are few people who would want to move to Manhattan, even if they won the lottery! The close proximity to most subway lines and great connections with the rest of the city make it a perfect location. Brooklyn is located southeast of Manhattan, and you can reach the island in just 10-15 minutes by using the metro! Here are a few great Brooklyn areas:
Park Slope
Dumbo
Bedford-Stuyvesant
Crown Heights

One of the best NYC neighborhoods for expats might just be Brooklyn, due to its quiet streets, yet close proximity to the rest of the City.
Don't underestimate what the Bronx has to offer
Located in the north/north-east of Manhattan, this NYC neighborhood shouldn't be overlooked. The Bronx had its ups and downs and has a number of biased representations in the media. Sure, there are still parts of it which are very dangerous and quite dirty, but not all of them are like that. There are many cultures represented in this borough, and that's why it might be ranked among the best NY neighborhoods for expats. However, you still need to be careful when renting a place in the Bronx. Make sure you hire a reputable moving company and rent only from verified landlords. A few good areas of the Bronx are:
Riverdale
Kingsbridge
Fordham
Pelham Bay
Let's not forget about Queens
A neighborhood that is already a home for so many expats and immigrants, Queens might be a great choice for you as well. If you want to live outside of the city, away from all the hustle, but still have an easy commute, Queens is the right pick for you. Many of its residents describe it as "living in a small town or a suburb, but without the boredom". Even though navigating this borough may be tricky, due to its confusing street names, there are so many great areas to live in:
Astoria
Long Island City
Ridgewood
Flushing
Last, but not least, let's discuss Staten Island
Many people don't realize (or know) that this is actually another NYC borough. Living in it feels like living in the suburbs, but being only a free ferry ride away from the busiest place in the States. Staten Island offers tons of opportunities, schools, restaurants, and shops for its residents. It has 170 parks and it is the least densely populated NY neighborhood. No matter if you're coming from another country or just moving from Florida to NY, this amazing borough will sweep you off your feet. Its great neighborhoods include:
Huguenot
Great Kills
St. George
New Dorp

Merely a ferry ride away from the busy streets of Manhattan, Staten Island could be your ideal NYC neighborhood.
Finding the best NY neighborhoods for expats isn't hard
As you have now learned, this great city has so much to offer for every expat. With a great variety of neighborhoods, it is prepared to welcome everyone into its arms. Do your research and think carefully about your needs. Not every NYC neighborhood will suit you, even though they all have their good sides. Don't be afraid to go further away from Manhattan – some the best NY neighborhoods for expats are hiding just a subway ride away!