There's always that moment in life when you desire change. You're not always what, or how, but you know you crave it. Usually, it can be changing your car, your smartphone or certain pieces of your house. In most cases such change is expensive. I got extremely tired of walking in my dated bathroom, and I wanted to change it. Redesign it, if you will. But it needed to be cheap or as cheap as possible. I went ahead and I scrapped up a few ideas on how I could do bathroom decorating on a budget. It's simple really. Everyone always expects something major expensive, but the fact is – you could do it cheaply. Just add a bit of creativity mixed with some essential DIY tools and presto pronto.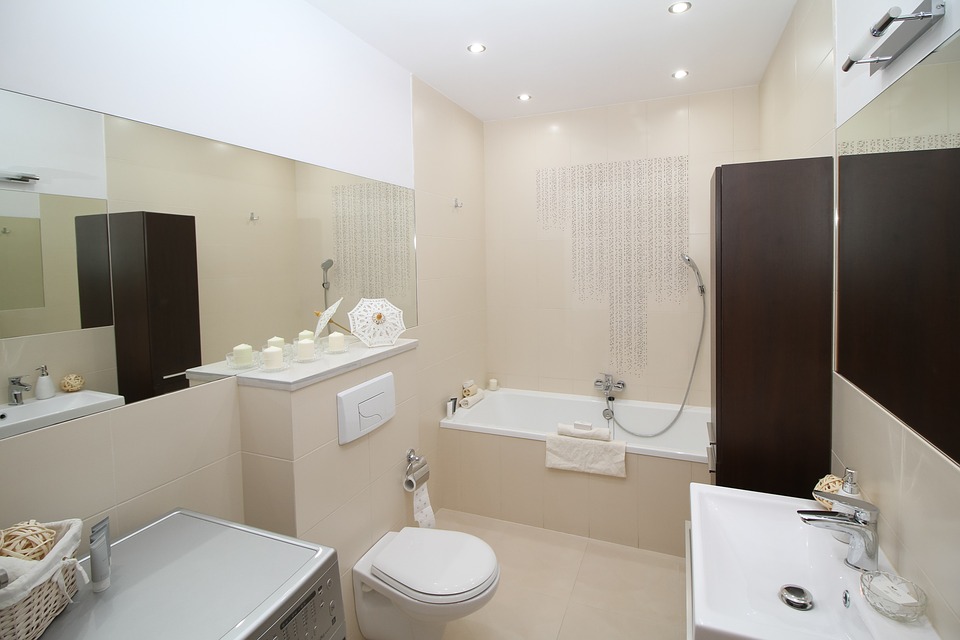 Bathroom Decorating on a Budget – Paint
This one is cheap in two ways. First, you can do it yourself. Second, buying the materials is not all that expensive. And you'd be amazed at the change you will be making just with paint. It will be an amazing upgrade. The most expensive part is investing into mold-proof paint, but the upside is that you won't need that much of it to cover an average sized bathroom.
You don't have to paint only the walls. Grab some corresponding paint and do the cabinets too! Just pick the perfect shade and transform your bathroom! The amount of DIY ideas are limitless, and each one brings you closer to what you'd like to have. For less money. There are some creative DIYs every New Yorker needs, and you should have some of your own.
Bathroom Decorating on a Budget – Replace the Hardware
There is hardware all around you in your bathroom. The thing is – these are extremely cheap to replace. What do we mean by hardware? Well, this basically includes all sorts of knobs, faucets, toilet flush handles, towel bars, toilet paper holders, soap holder, toilet brush stand, etc. All of these are replaceable, and by having new and shiny ones you can have an entirely fresh new look.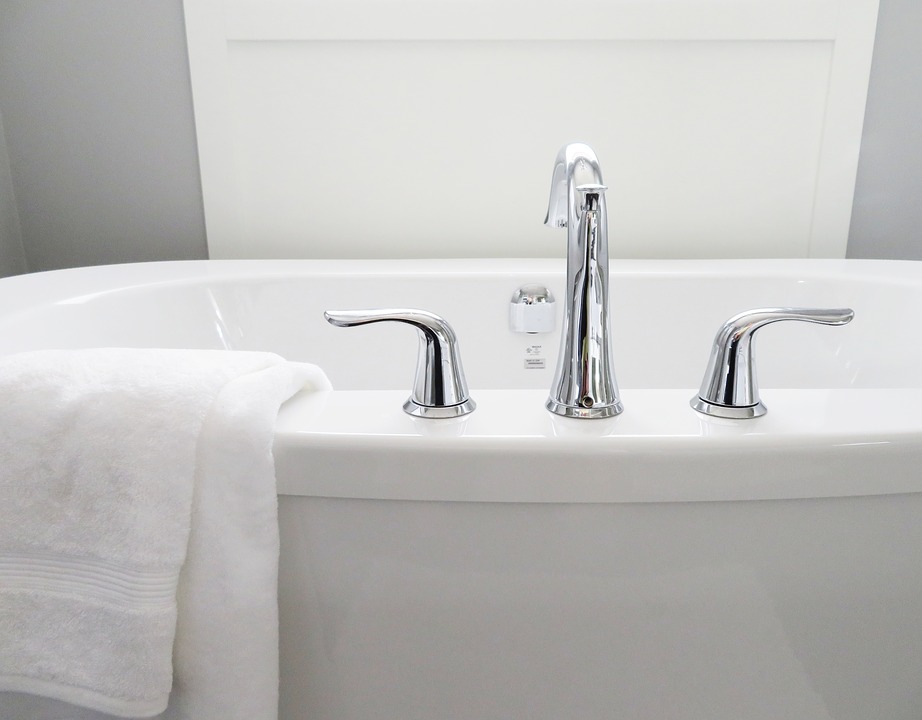 Basically, you can take all of these out and put brand new ones. You could even put the new ones in a new color, say some polished brass style. Combine this with the new paint-job you've done and you're already halfway through upgrading your bathroom!
Bathroom Decorating on a Budget – Light
The most important upgrade you can make in any room, including your bathroom, is the lightning. There is an entire study revolving around finding proof that light, in combination with the right colors can affect mood. I invest big into lightning, in all my rooms, and I wanted my bathroom to be no different.
If you want to upgrade your bathroom and make it feel rich and warm – spending some money on light is the best way to go. This does not have to be expensive. Not at all. First, you could replace the fixtures alone, or rather the entire placement. You could simply hang a small chandelier with a few crystal drops from the ceiling and you would get yourself a rich and sophisticated change. Mind you, these changes are nowhere near expensive. They just look and feel expensive. And invest in LED. LED lights may be more expensive, to begin with, but given the lifespan they have – they end up being far cheaper. You could grab an LED tape and slide it on the edges of your mirror. It will give an amazing glow and give your mirror a rich feel. Also, the edges of your ceiling could become home to some LED tapes that can be connected to a light dimmer. So when you're having a nice, long soak in the tub you could dim those LEDs for a nice, tranquil feel.
Combine these changes with the right paint and you got yourself a jackpot.
Bathroom Decorating on a Budget – Stick With the White
As dull as it may sound, if you're doing this on a budget, you should stick to white. This means that you should not look at rainbow colored toilets, tubs, and sinks. You should stick to white since all of these are at the lowest price when in white color. This way you can have a wider choice of shapes and sizes, as long as you keep them white.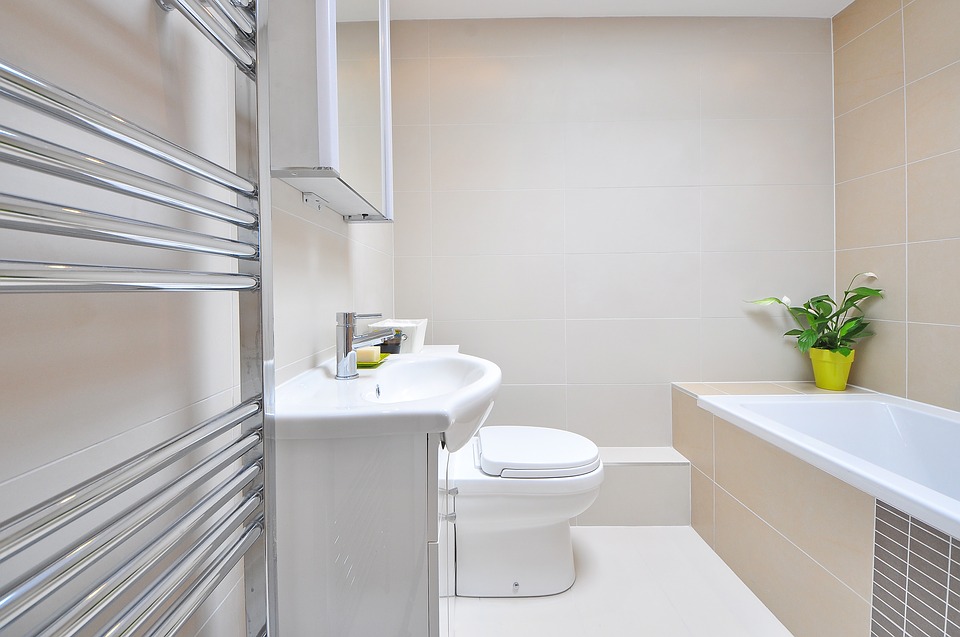 Another way to save by sticking to white is by choosing to have white tiles and tub surroundings. Don't think that this means that your bathroom needs to be dull. White is not dull, white is clean and sophisticated. Rich even. You can always turn the white tile into somewhat of a mosaic using glass. To make a contrast, you don't have to make everything white to save money. Parts of your bathroom such as towels, window shades, and artwork can be in all the colors of the rainbow. Just try to have taste and don't go overboard.
Last, but not Least – Accessorize
This is one of my favorite things to do, regardless of the room. Each room in your home can be accessorized. I've started my study and I've got kind of hooked on the accessorize bit. There are so many things you can add to your desk, walls, bookshelves, etc. My study ended up looking like a space shuttle.
When it comes to the bathroom, you can make dramatic changes for almost no money at all – accessorize! It will give your bathroom an updated look. It'll add personality. A few things you could include a wastebasket, a new pump for soap, a plant or two (real or fake) – Orchids are great for bathrooms since they crave humidity and bright light, and finally candles or diffusers alike. Adding a few details like this could entirely transform your bathroom. Just have fun and let your imagination run wild. You'll come up with unique DIY apartment ideas, and you'll get addicted to it, just like I did.