Are you looking for ways to add more in-house storage space to your home? In New York City, almost everyone is short on space. And people are constantly looking for alternative in-house storage ideas. So, if you are in a situation where you are tired of renting an expensive storage unit, just so you could keep your household items there. Try to find new ways to add storage space to your home, and maybe that would be enough to allow you to move from expensive to cheap storage NYC.
There are many ways to add more storage space to your home. There are DIY solutions and things you can buy. If you are handy with the tools, DIY is the best and cheapest way to do it.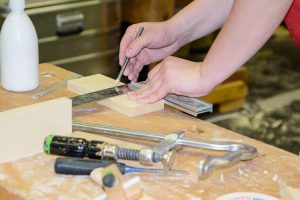 When you are building alternative in-house storage, prepare the tools and working materials
If you want to go with the DIY option, be aware that you will have an idea, prepare tools, buy materials, and prepare the space where you will construct your designs. After you decide what you want to construct, you will have to prepare the tools. Here is the list of necessary tools:
An electric hand drill is the most essential part of your tool assembly when you are constructing alternative in-house storage solutions.
Screwdrivers
An electric hand jigsaw is a necessary tool if you need to cut wooden boards
Small hammer
Pliers
Besides the tools, you will also need to get a lot of screws, hook screws, nails and ribbed plastic anchors for the walls. Also if are going to hang shelves on the walls, you need to get metal shelf brackets for wall mounted shelves.
Don't saw the wood in your home
If you want to build your storage solutions, it would be advisable to buy wooden boards somewhere where they can cut them according to your measurements. First, they will cut your wood perfectly. Second, you don't have to do it on your own with the electric jigsaw, which is not that easy to handle. And it is almost impossible to cut the wooden board perfectly with it. And third, you will not make a mess in your home. If you have ever tried to saw the wood with the electric jigsaw, you know how much mess it produces. If you want to do everything by yourself, be prepared for the wooden dust that will cover you and your surroundings.
Before you start searching for alternative in-house storage ideas, remove the clutter from your home
The best and easiest way to produce extra storage space in your home is to get rid of your clutter. If you are tight on space, maybe it would be good if you could go through your belongings and get rid of everything that you don't use. Of course, that is easier said than done. But, what is the point of thinking about alternative in-house storage ideas if your house is full of unnecessary things? That is why you need to relieve yourself from the clutter. Only then you will know how much additional storage space you need, and do you need it at all. Maybe after you remove the junk, you will have no need requisite for new storage space. So, first, remove the junk, and then think about new storage.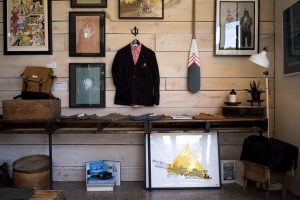 Your home's vertical space is the best place for alternative in-house storage ideas
The space that has lots of potentials when it comes to in-house storage is the vertical space. Your walls could hold so much of your stuff. And you have lots of available options for storing your items high on your walls. The cheapest and easiest way is to just use screw hooks. Use the electric drill to drill a hole in the wall. Hammer in one plastic anchor and just use your hand to screw in the hook. Use bigger hooks if you want to hang something heavier like a bicycle, for example. Even though this is the easiest and cheapest solution, it doesn't look very appealing.
Hang shelves and closets all over your walls
If you want to use your home's vertical space and you want it to look decent, you will need to build or buy some shelves and hanging closets. If you have lots of space on your walls, then it is best to buy already constructed shelves. Maybe you have some tricky corner that you want to use, then either you will have to construct a custom shelf on your own or you can pay someone to build it for you. If you buy materials at the place where they can cut it according to your measurements then it will not be that hard to assemble your creation. The tricky part is to hang a heavy closet or a shelf, on the wall in a way where you are sure that it will stay there even if you overload it.
Make sure to hang them properly
If you are using just a wooden plank as a bookshelf, use metal shelf brackets to mount it on the wall. For longer planks, make sure that you use at least three brackets, so your shelf doesn't bend in the middle from the weight of your books. If you are hanging heavier closets on your wall, there are different solutions on how you can do it. Just make sure that you check that everything is 100% tight and secured.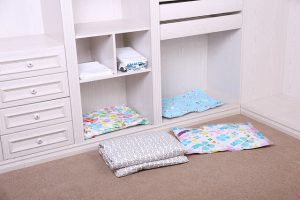 Other alternative in-house ideas
If you plan to find an in-house storage space for your pool table, that is not going to be easy. That is why hiring pool table movers to move it to your storage unit is the best solution. On the other hand, there are many alternative in-house storage ideas for storing your smaller items.  If you have used up all your walls maybe, you could try with the following ideas.
Smart alternative in-house ideas
Build shelf covers around your radiators.
Buy or build a bed with drawers at the base.
Hang a laundry bag on the back of your bathroom door.
Install toe kick drawers to your kitchen cabinets.
Use vacuum bags to compress your clothes winter clothes in the summer and you will have .half of your closet free in no time.
Buy under the sink bathroom cabinet.
Get free cardboard boxes, fill them up and you can stack them on top of each other in your closet.
You can do much in improving your living space by creating additional in-house storage
Creating alternative in-house storage is the most popular New York home improvement. If you have at least, basic crafting skills you can do much in improving your living space. You just have to find ideas that suit your home and start building.