Renovating a new home or an existing one is a big and not so cheap effort, but at some point has to be done. There are many different options for improving your living space. In case the kitchen is what you would like to change or improve – you are in the right place. In this article, we will try to introduce you to affordable kitchen improvements that you can have in NYC.
Moving to Big Apple and renovating your new home
If you are planning to move to New York, there are things that you should consider in organizing the whole process. We all know that moving is never an easy thing to do, especially if you need to improve and renovate your new home. Finding a reliable moving company is just one task that should be on your checklist. Packing your possessions is the other big task. When considering your packing process what matters the most are moving boxes New York relocation will require. You should pack your belongings safely to secure them from any possible damages. On the other hand, hiring professional packers will save your time and energy.  You will need energy for other moving tasks as much as for renovating your home. So let us find out what are affordable kitchen improvements that you can easily have.
Fine improvements that will change the look of your kitchen
Renewing your kitchen doesn't have to be expensive and you can do it even if you are on the budget.  A great improvement can be done without investing a lot of money. By changing some parts of your kitchen, you can have a new fresh look of the place.
Changing colors- one of the most affordable kitchen improvements
Painting the walls in your kitchen is not a difficult task but can give a new, fresh look. White color will give a clean look and will perfectly fit with any other color of your kitchen equipment. You should also think about changing the color of your cabinets. The most expensive part in refurbishing your kitchen is the work on kitchen cabinets. So instead of spending money on buying new ones, think about simply re-painting the old ones if they are still in good shape.  First clean and then re-paint your wooden cabinetry with high-quality gloss. White is always a good option, but dark-blue can add a sophisticated pop to your drab wood kitchen.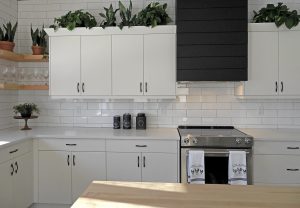 For cabinets that are made of a material that cannot be easily painted, resurfacing is something that can help. By resurfacing you will keep the existing cabinet framework, and will only need to replace the doors, drawer fronts and side panels with new ones. Your kitchen will look refreshed, and so will your mood. This is not only one of the most affordable kitchen improvements, but also the one that will change your kitchen look the most.
New lightning
Are you worried about the lack of light in your kitchen? Or your kitchen lighting is dim? By replacing or adding new lights, this issue will be resolved. Replacing overhead lightning isn't hard as it seems. Putting new decorative light fixture can upgrade your kitchen and also arguably give it a stylish twist. Choose from rustic, fancy or chrome light fixture that matches the overall color of the kitchen.
Installing LED or other light sources that don't require electrical work is also an option for lighting the kitchen. Place it inside or under the cabinet so you can have a better view of what you are doing while preparing food. You can always find cheap lightning solutions that still can make a great change to your home and kitchen.
Blinking sink
The focal point in your kitchen is for sure the faucet, so upgrading it is one of the affordable kitchen improvements. Choose a new one, stylish, or the one that fits your personality.  Even if they can get a little pricey, you can find a single-hand faucet with lower prices. Instead of buying you can try painting your sink. A can of spray paint designed for metal and sandpaper is what you need for refreshing your sink.
Backsplash
For adding some excitement to your kitchen, putting backsplash is the right thing to do. You can have DIY ceramic backsplash or stainless-steel. There are many other options such as tile, stick-on metal or chalkboard paint. This kind of affordable kitchen improvements will give visual appeal over your sink or behind your stove.
Use all wall space
Your backsplash can also be used for hanging all sorts of kitchen gadgets with different kinds of hooks, racks, and rails. Installing a hanging pot rack is a great way of saving your space and having pots within the reach of your hands.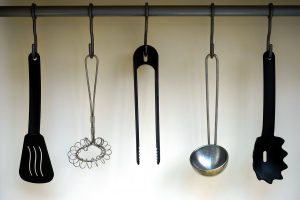 Kitchen floors
There are affordable options for refreshing your floors. Putting a new rug is the less expensive but can have a big impact on your kitchen appearance. It gives a warmer look to your kitchen and you can change it easily with a new one. If you are about to change the entire kitchen flooring, you should be prepared to spend a bit more money. Sealed cork can be a less expensive option for replacing a tile or vinyl floors. Refresh the wood floors by buffing and polishing them, or invest some money in the full sand.
Expand storage
Add more storage space for all the necessary kitchen equipment. Maximize the space for storing things by using empty walls or cluttered drawers. You can also put wire shelves and under- cabinet baskets.
Cover countertops
Another way of having affordable kitchen improvements is by changing the countertops. It can make a significant change to your kitchen at a reasonable price. Putting big cutting board is one option of doing it. You can change the whole kitchen or just one area with wood countertops.
There are many ways of improving your kitchen, and we've mentioned just a few of the most important. These improvements might have the biggest impact on your new kitchen look. We hope that these tips will be helpful to you when moving to New York and making your new living space. And if you are wondering how to find a professional moving company, Big Apple Movers NYC are here to help you. With the different kind of services that we provide, an experience that we have, your moving can be easy and stress-free.