You must be super excited about moving to one of the most modern cities in the world – the famous New York City. Fast and urban lifestyle, attracts people of all ages. So it doesn't matter if you are in your early twenties or you're about to turn forty, NYC has many treasures to offer. Moreover, you are informed about the basic information about this city. We are sure that there are some things that you are interested in and that you haven't explored yet. If you are of the newcomers that like to explore and walk around the city, we've prepared 10 must-see NYC spots that will make your relocation more amazing. Who knows, maybe some of our proposals become your favorite place in NYC.  
Must-see NYC spots: Central Park
Whether you are a tourist or moving to New York, Central Park is one of the first must-see NYC spots for newcomers. This is one of the most famous and beautiful parks in the world. Strolling through Central Park is one of the best ways to feel the spirit of NYC. Located in Manhattan, this urban and attractive place is great for exploring the city and outdoor activities. You can walk the Pond and Gapstow Bridge, go to the Central Park Zoo with kids or enjoy by the lake. Amazing place to feel NYC and its lifestyle.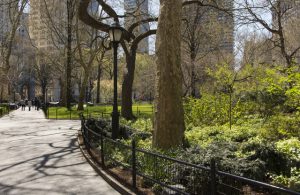 Must-see NYC spots:

Wall Street

You don't have to be a great fan of the book and movie "The Wolf of Wall Street" to hear of one of the most famous streets in the world – Wall Street. This street is most known as a paradise for the brokerage houses, banks, and international financial system. The old skyscrapers and art deco buildings will delight you. It's not strange that this is a major location for tourists in NYC. You can stroll through the famous street, take a tour, or even go on helicopter adventure to see how beautiful NYC is. Definitely one of the must-see spots. 
Brooklyn Bridge

If you are a big fan of social media platforms, you surely know that Brooklyn Bridge is one of the most famous landmarks in NYC. Tourist and newcomers from the whole world are "fighting" to take pictures on that bridge. If you're also searching the must-see NYC spots, Brooklyn Bridge will be in the top 3 results. This amazing landmark connects the boroughs of Manhattan and Brooklyn. The pedestrian walkway begins in Tillary Street, and you can walk and enjoy the scenic view in NYC.  This place is even more amazing at night, so consider strolling this bridge at night after dinner and relax. 
Times Square
Definitely one of must-see NYC spots, a major and favorite tourist location! Times Square is something that you need to feel. Besides walking the streets, you can see a lot of street musicians and artists, spend hours on shopping or see Madame Tussauds wax museum. If you're moving with kids, take them to a perfect place for kids – Gulliver's Gate – a massive place representing a miniature world. You can see iconic sites from other continents – Asia, Europe, Africa and of course America. Tiny Taj Mahal and Buckingham Palace at the same place – amazing!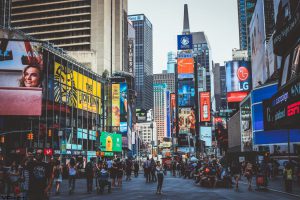 Statue of Liberty
A famous statue and probably the biggest landmark of NYC, Statue of Liberty is one of the first must-see NYC spots for newcomers. While moving to NYC, don't think a lot about everything you need to see. You can't see everything at once. So we have a proposition for you. Hire some of the unpacking services and take free time to see this amazing landmark. Statue of Liberty is a gift from French people to Americans – commemorating the alliance of two countries during the American Revolution, dedicated on 1886. You can go visit Statue of Liberty, Ellis Island and Battery Park with city guide from $24. While it's free to enter this statue, you must go to Ellis Island Ferry for $12 for ages 13 and up. For kids under 4, it's $5. But it's worth it!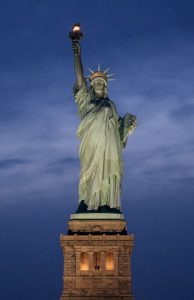 One World Skyline – Freedom Tower
Well, this is something costly but you won't regret it! Furthermore, the best time to visit this place is at noon when the sun is at its peak and you can take amazing pictures. Riding to the top with elevator will cost you $32, also the price to get into the One World Observatory. A great location, in Lower Manhattan, make it very accessible, and one of the must-see NYC spots for all adventurers. One World Trade Center is 1,368 feet tall makes it the 4th tallest building in the United States. 
The Empire State Building
This is amazing Art Deco skyscraper located in Midtown Manhattan, with a roof height of 1,250 feet. One of the most famous buildings in the world, an inspiration for many filmmakers, that appeared in movies such as King Kong and Ready Player One. Being one of the famous NYC landmarks, this is something you've got to see. You may enter the main deck on the 86th floor for $34 for an adult and $27 for a child.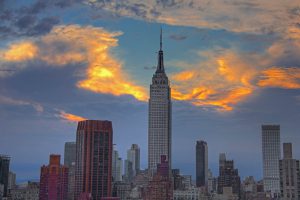 The
Metropolitan
Museum of Art
While relocating to NYC you surely search for ways and tips, for fast relocation. You don't want to spend every day moving your things. Consider renting storage facilities and take some time to spend quality hours at the museum! And imagine spending time at one if the most famous museum in the world – The Metropolitan Museum of Art. It's the largest art museum in the United States. For New York State residents the amount of pay is up to them. They can purchase tickets with a valid ID.  And it's free for children under 12. Amazing isn't it? 
9/11 Memorial
The National September 11 Memorial & Museum dedicated to victims, commemorating September 11, 2001. It is located at the World Trade Center site, the former location of famous the Twin Towers. Also, you can see the famous gallery tree that is recovered from the rubble at the WTC moreover it's called Survivor Tree. It became a symbol of hope and rebirth.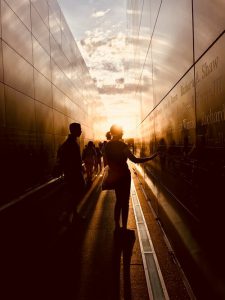 All around town hop-on-hop-off tour
If you want to spend your day sightseeing for the whole city this is definitely for you. From up to $30 you can see the whole city and everything from comfortable seats in double-decker bus or even a boat if you are a fan of cruising. This will help you visit almost all must-see NYC spots.